Delta Information Systems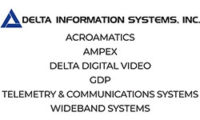 At Delta Information Systems, Inc. (Delta) we solve our customers' most challenging problems by delivering innovative & critical solutions. Our systems support the Aerospace & Defence community's mission to provide for the safety and security of our Nation and our Allies. To this end, we provide best-in-class products, exceptionally responsive support, and the lowest risk solutions.  Delta is organized as two lines of business:


Delta Telemetry Systems (DTS) produces products focused on ground telemetry applications for flight test, missile test, satellite and launch monitoring. DTS products come from our GDP, Acroamatics, TCS, and Wideband subsidiaries. DTS can provide individual products or fully integrated, end-to-end systems. Our end-to-end solutions reduce program risk by providing a single point of contact for pre-tested, pre-integrated components.
Delta Mission Systems (DMS) provides solutions for airborne and rugged processing and recording application for Electronic Warfare and Intelligence, Surveillance and Reconnaissance (ISR). DMS products come from our Ampex Data Systems and Delta Digital Video subsidiaries. DMS provides state-of-the-art solutions for edge processing, high-speed, high-capacity data storage/recording and video compression and conversion requirements.
We're committed to serving our government and commercial markets with the highest levels of effective quality management. Rigorous testing and qualification guarantee our compliance with standards and program requirements. We work together and share technology to deliver the most innovative products and solutions. Continuous process improvement along with aggressive research and development ensure that our products meet your demanding requirements. We are focused on your success and are dedicated to backing you up with enthusiastic support and exceptional customer service.
Certified AS 9100D / ISO 9001:2015