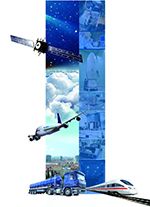 European Test Services (ETS) B.V. manages and operates the environmental test centre of the European Space Agency in Noordwijk, The Netherlands. Our core business is facility maintenance and the provision of test facility services to European industry.
ETS is active in the domains of Mechanical testing, EMC testing, Thermal vacuum testing, Space simulation, Altitude simulation and more. The broad range of facilities can accommodate small units up to large equipment.
---
Vibration Testing
[caption id="attachment_4907" align="alignright" width="150"]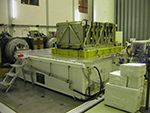 The test centre offers a
variety of electrodynamic
shakers.[/caption]
One of the major risks for hardware failure results from high vibration levels, to which equipment is exposed during its life. Our vibration test facilities generate mechanical vibrations, which represent any vibration environment equipment is exposed to. Our customers make use of a series of electro-dynamic systems and a six-degree of freedom hydraulic system.
The two largest electrodynamic shakers are the QUAD multishaker for vertical testing and the DUAL multishaker for lateral testing. The QUAD shaker provides 640kN nominal thrust and the DUAL shaker provides 320kN nominal thrust. The interfaces for test article installation are roughly 3.3m x 3.3m and 3m x 3.5m, the nominal allowable payload mass is 10000kg. The test envelope of both facilities ranges from 3Hz to 2000Hz with accelerations from 10 mg to 20 g (empty table).
[caption id="attachment_4902" align="alignright" width="150"]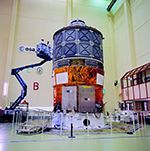 Multi axis vibration testing on payloads up to 23 tons is possible.[/caption]
The multi-axis vibration facility HYDRA complements the electrodynamic vibration test facilities. HYDRA has a 5.5m octagon test table for test article fixation and the allowable payload mass is 23 tons. The HYDRA test envelope ranges from 1Hz to 100Hz with accelerations from 20 mg up to 5 g (above 20Hz).
---
Acoustic Noise Testing

[caption id="attachment_4903" align="alignright" width="150"]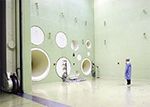 Large European Acoustic Facility (LEAF)[/caption]
The Large European Acoustic Facility is used to perform acoustic noise tests on spacecraft and their external payloads to assure that no damage will occur during the rocket launch. The facility simulates realistic spectral noise pressure levels comparable of those generated by the launcher engines and air flow passing along the launcher faring. The automatic control system offers a great variety of selectable noise levels, spectral shapes and test durations to meet user requirements also from outside space industry.
The noise generation system consists of four different horns with cut-off frequencies of 25Hz, 35Hz, 80Hz and 160Hz plus three high frequency generators: All together allowing acoustic excitation in the frequency range from 25Hz to 10kHz and an overall noise level of 155dBL. Acceleration measurement channels can be recorded by a mobile data handling system with up to 512 measurement channels.
---
Mass Property Measurements
[caption id="attachment_4905" align="alignright" width="150"]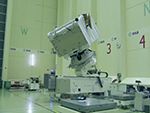 M80/MPMA MOI Facility.[/caption]
The Mass Property Measurement Facilities comprise a series of facilities that determine mass, centre of gravity, moments of inertia and unbalance on small up to large equipment (0.1kg - 5000kg). The dynamic unbalance can even be determined at low atmospheric pressure to reduce air drag during spinning.
Physical property measurements on satellties are mainly performed using the WM50/6 and M80 MPMA facility; these facilities are located next to each other. The WM50/6 facility is used for COG measurement along the lateral axes and MOI measurement around the longitudinal axis. The M80 MPMA facility is used for COG measurement along the longitudinal axis and MOI ellipse measurement around the lateral axes. The M80 MPMA facility prevents the use of an L-shaped adapter: The S/C can be mated in vertical position to the facility and is then automatically tilted. Within tilted position a COG height of up to 3.2m is allowed for a test article up to 5000kg.
---
Thermal Vacuum Testing & Space Simulation

[caption id="attachment_4904" align="alignright" width="150"]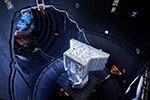 Large Space Simulator (LSS)[/caption]
The Thermal Test Facilities are designed for space environment simulation. A series of small and large chambers is available, in which different pressure conditions, temperature and sun fluxes can be simulated. All facilities are focusing on the thermal design of space hardware. The possibility to largely vary the facility parameter settings makes these facilities also very attractive for non-space equipment testing.
The test volumes range from Ø1.5 m x 2.5 m to Ø10 m x 15 m, solar fluxes can be simulated up to Ø6m and up to 20 kW/m2 and background temperatures between 40 K and 400 K can be created.
---
EMC & ESD Testing
[caption id="attachment_4906" align="alignright" width="150"]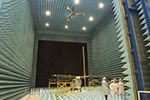 MAXWELL Large EMC Facility.[/caption]
For electromagnetic emission measurement and electromagnetic immunity testing, ETS uses the Maxwell large EMC facility. The Maxwell facility is a fully anechoic chamber (movable floor absorbers available) and offers fully automated EMC testing from 10Hz to 40GHz (radiation) and from 10Hz to 500MHz (conduction). The equipment available is compliant to MIL, DO, IEC and EN standards which enables testing for diverse industries.
---
Quality Assurance
Our testing services and management are performed in accordance to DIN EN ISO 9001: 2008. In addition ETS is certified according ECSS-Q-20-07A.