Helling GmbH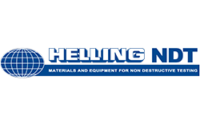 Innovative surface crack detection for the aerospace industry
In materials testing, the detection of the smallest material defects is crucial for the safe operation of aerospace components. As a leading company in the field of non-destructive testing, HELLING GmbH is continuously working on making surface crack detection more reliable and cost-effective.
As a long-standing partner of the aerospace industry, HELLING GmbH supplies high-quality
systems, equipment, and consumables for non-destructive testing. In addition to the widely used HELLING magnetic particle suspensions, state-of-the-art UV-LED technology, and the well-known
penetrant testing systems, HELLING has been increasingly focusing on the development of magnetization equipment for crack detection on components for aircraft manufacturers.
Furthermore, UV LED technology for the inspection of large components, weld seams and turbine blades of aircrafts is being continuously developed. Also, there are significant new developments in the field of non-hazardous and eco-friendly testing media. For example, a new type of dry concentrate of magnetic particles has been developed for the preparation of water-based suspensions. There are also significant innovations in the field of systems and equipment for crack detection: From ergonomic hand-held magnets to powerful high-current generators with pulse magnetization, and PLC-controlled MPI-benches.
The well-known Dykem® products supplied by HELLING are used with great success to monitor the properties of gear components during operation and to check the load-bearing capacity of gears.
The Hamburg Training Centre of the German Society of Non-Destructive Testing (DGZfP) / HELLING offers qualification courses in most NDT procedures such as VT, PT, MT, RT and UT according to DIN EN ISO 9712, as well as in the training of inspectors (PT, MT and UT) according to DIN 54161 and in radiation protection.
A well-equipped optical measuring laboratory, complex test series and certification according to DIN EN ISO 9001 make a decisive contribution to ensuring a high-quality standard and the further development of our products.
Product Portfolio
Penetrant testing
Contrast (red-white) penetrant testing
Fluorescent penetrant testing
Stationary facilities for penetrant testing
Test panels
Magnetic particle testing
Fluorescent inspection media for magnetic particle testing
Color inspection media for magnetic particle testing
Aerosol systems for magnetic particle testing
Oils and additives
Hand yoke electromagnets
Inductive UV and white light LED sources
DC yokes
Permanent magnets
Mobile and stationary magnetizing devices
Reference blocks and field indicators
Accessories
Instruments for magnetic field measuring
Spray systems
UV sources
UV LED overhead lamps
AITM UV LED lamps
UV LED hand lamps
Accessories
Leak testing
Bubble emission method
Leak testing with liquid tracers
Radiographic testing
X-ray view boxes
X-ray image quality indicators
Accessories
Instruments
Ultrasonic testing
Instruments and calibration blocks
Couplants for ultrasonic testing
Weld inspection
Weld gauges
Visual inspection
White light LED lamps
Optics
3-D Laser scanning anti-glare spray
Temperature indication
Temperature indicators
Self-adhesive temperature labels
Special coatings
Measurement instrumentation
Coating thickness gauges
Surface roughness tester
Hardness tester