Vibration Research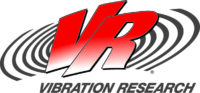 Celebrating 20 years in business, U.S.-based Vibration Research (VR) is the leading innovator in vibration control. We listen to our customers' needs and offer testing products, software and support that deliver unrivaled value. Our VR9500 Revolution Vibration Controller and VibrationVIEW software are used by testing labs and engineers throughout the world.
Hardware:
VR9500
Vibration Research's VR9500 controllers are specially designed and engineered to provide superior value, including reliable performance, accurate testing, and user-friendly features. Here's what you can expect from our flagship product:
• Three-year warranty
• Quality control testing before shipping.
• Common hardware platform and built-in self-diagnostics.
• No special boards or special drivers needed
• Compatible with any PC in your lab.
• Drag and drop capabilities • Full mounting capabilities onto an amplifier rack
• Robust and flexible reporting package.
• User-editable templates
• 128 Available Inputs
• One to 128 channels.
• Remote Interface
• Compatible with any Shaker
Software:
VibrationVIEW
Intuitive, flexible and powerful, VibrationVIEW is Vibration Research's proprietary software that is used to set up and monitor vibration tests and to perform automatic as well as custom reporting. VibrationVIEW can be configured for one or more of the following standard test modules:
• Sine
• Sine on Sine
• Random
• Sine on Random
• Random • Random Import
• Shock
• SRS
• Transient Capture
• Earthquake
In addition, Vibration Research customers can use VibrationVIEW to access our leading-edge test module innovations.
Test Module Innovations
The Vibration Research team is committed to solving our customers' challenges. From rapidly measuring a product's life expectancy to preventing over and under testing, we create innovations that increase the accuracy and speed of vibration tests. Here are our company's proprietary test modules:
Fatigue Damage Spectrum ("FDS"): FDS gives engineers a reliable way to use real world data to understand a product's breaking point.

Instant Degrees of Freedom® ("iDOF"): iDOF, our latest patented random vibration test module, is designed to solve the problem of over or under testing of high value products.
Kurtosion™: This innovation is a kurtosis control method that effectively brings large peak accelerations into the random vibration tests, making them more realistic than traditional Gaussian methods.
Field Data Replication (FDR) – Utilizing real-time adaptive control, FDR enables test engineers to reproduce the actual acceleration waveforms measured in the field in their test lab.