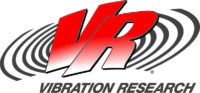 Vibration Research (VR) was established in 1995 with a vision to develop more realistic methods for vibration control. With an ongoing release of industry-leading applications, VR has secured its status as the innovator in sound and vibration technology.
VR equips its customers with innovative sound and vibration technology so they can, in turn, make reliable decisions and trustworthy products. Its team is receptive to their customers' needs and offers testing products, software, and support with unrivaled value.
VR's innovative applications such as iDOF®, FDS, FDR, and Kurtosion® solve troublesome industry issues such as over and under testing and predicting point of fatigue. Its best-selling VR9500 Vibration Controller and ObserVR1000 Dynamic Signal Analyzer are used by in-house and outsourced testing labs and engineers in a range of sectors internationally.
Intuitive, flexible, and powerful, VibrationVIEW is VR's proprietary software. Combined with the VR9500 controller, VIbrationVIEW is used to set up and monitor vibration tests and perform automatic or custom reporting. VibrationVIEW works with any electrodynamic, servo-hydraulic, or servo-electric shaker and includes single-axis, dual axis, dual phase, three-axis, multi-loop, and seismic control options.
VR's ObserVR1000 Dynamic Signal Analyzer is fully autonomous. It was designed and engineered with the purpose to provide superior value, including reliable performance, accurate testing, and user-friendly features. The ObserVR1000 comes in 4 or 16 channel packages that include a microphone, high sampling rate, TEDS, WiFi capabilities, and more. The ObserVR1000 guarantees the highest level of confidence in field recording.
VR also invests resources into training and technical support for customers. The company recognizes that providing customers with high-quality support contributes significantly to a long-term and successful relationship. The VR team is committed to keeping their customers' system running smoothly and providing answers in a timely manner. The VR control systems contain an abundance of features, including a variety of training programs. VR also runs Vibration Research University (VRU), which provides content and courses that are useful to vibration test engineers in all stages of product development.
VR is based in Jenison, MI, USA, and has satellite offices in China, the Czech Republic, Germany, India, Russia, and the United Kingdom. As a family-owned business, VR's greatest priority will always be its core values: Collaboration, Capable & Competent, Accountable & Responsible, Strong & Driven Work Ethic, Do the Right Thing, and Innovation.
If you want accurate and fast vibration testing capabilities, visit vibrationresearch.com for further details.