IPETRONIK's highly precise measurement technology, rugged DAQ and recorders are used for engine test cells, flight tests and new propulsion system tests under extreme climate conditions. For hybrid-electric engines, jet engines, gas turbines, flight test instrumentation (FTI), thermal vacuum test. Our highly rugged, fail-safe, and innovative data acquisition hardware and software provides perfect measurements solutions for development and maintenance tests of engines. Our DAQ for thermocouple, RTD, voltage, frequency, flow, vibration, strain gauge and pressure are a perfect fit for aerospace applications. IPETRONIK's thermocouple scanners with up to 96 channels and 0,2K accuracy are installed at the engine's pylon.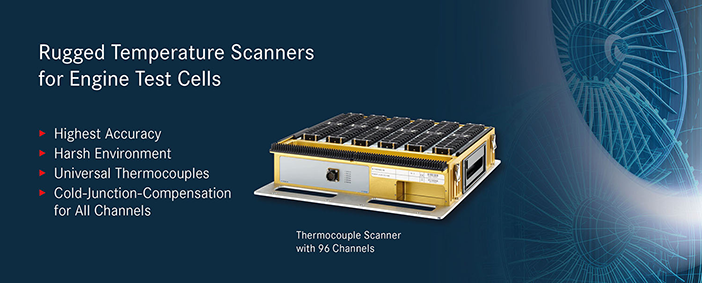 DAQ and Recorder Hardware & Software – One Solution
Our products meet the most challenging requirements, even under extreme conditions, in the desert, in the ice, in the snow. IPETRONIK's product lines include DAQ modules, Data Recorder and Software – providing a great measurement solution for aerospace for ambient temperatures up to +125°C. The modules are installed close to the sensors –reducing cabling effort and measurement noise. Data loggers record the measurement values and data can be processed online or offline. Beside measurement data our recorders process digital bus systems like ARINC 429, ARINC 825 and iDDS.


IPEmotion Software: Manufacturer-Independent Test, Measurement & Data Acquisition
On-the-spot measurement, reliable data acquisition and analysis are our primary focus. IPEmotion – the advanced measurement software - is intuitive to use and its features drives thermodynamic and acoustic tasks to perfection. IPEmotion connects avionics bus systems like ARINC429, ARINC825 with highly precise measurement instrumentation. Supporting online adjustments to your measurement screen while storing data. It permits the acquisition of large data volumes as well as automatic evaluation, reporting and offline processing of measurement data.
Rugged and Fail-Safe Measurement Technology for Challenging Requirements
IPETRONIK GmbH & Co. KG is a globally operating company for mobile DAQ and recording technologies, software, engineering services and test bench technology for the automotive and aerospace industry. Our innovative hardware/software solutions and test bench technology are developed and produced in Germany.
In aerospace and turbines, the demands are no less challenging than in automotive. This is why aerospace customers contacted us some time ago. They wanted to use the well-proven IPETRONIK measurement technology for a different application: jet engines. The birth of our new business unit "Aerospace & Turbines". A worldwide distribution network and our own subsidiaries for example in India, Sweden and North America ensure global distribution with local support. IPETRONIK is owned by INDUS Holding AG.