Airmo Inc. Pressure Technologies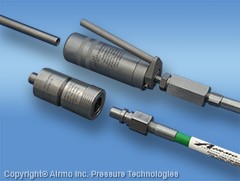 Airmo Inc. Pressure Technologies manufactures pressure systems and tool solutions for hydrostatic testing, tube end forming and expansion, and high-pressure components for use by aerospace OEM manufacturers and suppliers.
The TestMaster® product portfolio offers a range of tool options for hydrostatic testing with operating pressures from 5,000 psi to 40,000 psi (345 bar to 2,758 bar). TestMaster® tools provide a fast, convenient way to check the integrity of tubes or pipes during the production process or perform pressure leak testing in hydraulic fuel line assemblies. From airliners to military jets and exploratory spacecraft vehicles, Airmo tools are used globally for testing individual components to complete system assemblies.
We offer standard solutions or custom design tools built according to your specification requirements. Our technical team uses your tube properties, dimensional and tolerance parameters, and desired goals to construct the right tool for your project. Airmo tools are precision-machined from heat-treated stainless steel to give repeatable performance and long, trouble-free service in the field.
As a trusted aerospace supplier, Airmo continues to design innovative products to help OEMs build and test the aircraft for the future.
To learn more, call +1-763-786-0000 or visit our website at www.airmo.com. "Unparalleled Performance and Safety Under Pressure!"®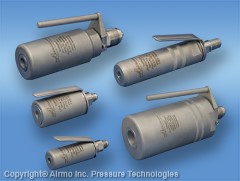 Hydrostatic Test Tools:
Pressures from 5,000 psi to 40,000 psi (345 bar to 2,758 bar)
Collet grip and seal on tube OD
Low-marking collet design
Use with helium, water, oil, Skydrol, and other gases and liquids
Pressure-compensated grip
Compact, balanced design fits limited space applications
---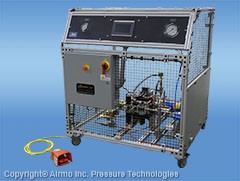 Hydrostatic Pressure Systems:
Pressures to 30,000 psi (2,068 bar)
Hydraulic power source with fast cycle times
Pressure testing and leak detection
PLC interface, manual, or semi-automatic systems
Portable configurations available
Manufactured to customer specification
---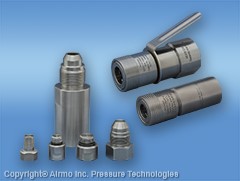 High-Pressure Components:
NuQuip® Automatic Air Bleed Valves – automatically vents air in test or expansion operations. Working pressures up to 40,000 psi (2,758 bar)
NuQuip® Quick Disconnect Couplers – self-locking design stays connected under high pressure. Working pressures up to 60,000 psi (4,137 bar)