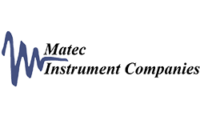 Matec Instrument Companies, Inc. is an industry leader in providing superior nondestructive ultrasonic testing solutions.  Our systems include conventional and phased array ultrasonic scanning gantries and immersion tanks, which a re deployed for testing composite metal and air frames, aero engines, primary metals, pipe and tube, automotive, railroad, medical and petrochemical applications.
Matec provides a full rang of in-house services, including mechanical, electrical, and electronic design; instrumentation; software development; and manufacturing, fabrication and installation.  This allows us to provide a seamless, fully integrated solution, and a single point of contact for our customers.  We provide installation, start-up and training, and comprehensive customer support services to ensure proper system alignment and calibration, and to deliver optimum performance and value.  Matec's strength lies in our ability to develop innovative solutions - both modular and expandable in design - within project budgets.
Matec has  along history of developing high-end instruments in the field of ultrasonics.  Our in-house designed instruments include a full line of board-level ultrasonic pulser/receivers as well as newer analog-to-digital boards.  The instruments form the backbone of our ultrasonic systems and are a key component of an integrated multi-channel, high-resolution inspection solution.
Matec provides a full suite of Microsoft Windows pc-based data acquisition and analysis software for ultrasonic testing applications.  Our team of software engineers has developed multiple software programs and collaborates with clients to develop customized scan forms and algorithms specific to application demands.  Matec's Aragorn data acquisition and control software is multi-channel, multi-gain based.  Multiple zone inspection can be performed on any or all channels simultaneously.
Matec's Analysis software provides a full range of C-Scan image post processing capabilities, including automatic flaw detection, flaw sizing, palette manipulation, distance measuring, histogram and group histogram setup, clustering, pan and zoom operations, and text annotation.  Matec's 3 View module merges 3D-wireframe models with ultrasonic C-Scan data to allow viewing C-Scan images as true 3D shapes.
Matec provides a full range of on-site classroom and system training services necessary to operate and maintain our systems.  Collaborating with our clients' operations staff, we ensure a thorough understanding of ultrasonics and provide a detailed step-by-step procedures required for setting up and running scans and analyzing and interpreting scan results to meet specific scanning requirements.  Our maintenance training includes an overview of the system operation and features, and thorough summary of all preventive and maintenance tasks required for all mechanical, electrical, instrumentation, computer and water system components.
Matec's team of highly trained engineers and technicians is fully committed to providing the best possible customer service.  We manage customer requests for information or service as quickly as possible, often immediately.  We understand the importance of keeping downtime to a minimum and are committed to getting our customers back online as quickly as possible.  We respond to all service calls promptly and use remote support tools to monitor the system in real time over the internet and diagnose and troubleshoot system issues quickly.