North Star Imaging

North Star Imaging ranks among the most sophisticated global resource for turn-key industrial 2D & 3D Digital Radiography & Computed Tomography (CT) X-ray equipment. Industrial X-ray imaging is often used for R&D, Failure Analysis, Quality Control, Internal Measurements, High-Speed 3D Scanning, 3D Metrology & more. X-ray scanning allows users to view & inspect the external & internal structures of a part without opening or destroying it.
NSI's efX® CT integrates the most powerful CT reconstruction & visualization software available, including modules for calibration, measurement, real-time density segmentation & surface extraction (point cloud & CAD capabilities). This technology is used in Aerospace and Defense, Automotive, Electronics, Medical Device & other industries.
NSI also offers additional services which includes as-needed X-ray Inspection Scanning Services at their global sites in Minnesota, California, Massachusetts, UK and China. The California site, now offers high energy scanning.
Other services include 24/7 NDT Technical Service and Basic & Advanced NDT classroom and online trainings all year round. NSI is ISO 9001:2015 certified.
Contact sales@4nsi.com to learn more about the company's industrial 2D and 3D Computed Tomography X-ray equipment,  X-ray inspection services and Technical Service & NDT Training classes. Visit our website at www.4nsi.com.
---
Building world class industrial digital X-ray & Computed Tomography Systems

NSI offers seven (7) standard X-ray and CT/micro CT systems. New innovations include robotiX® for automatic part loading and unloading.
---
Released in 2018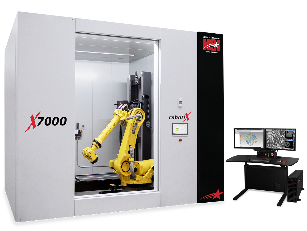 Robotic capabilities on larger systems such as the X5000™ and X7000™ series. Autonomous operation allows for reduced cycle time and increases productivity.  Capabilities include:
5 or 6 Axis
Reach dependent upon application
Capacity dependent upon application
Up to ±0.00079 in (± 0.02 mm) repeatability
Precision option available
Available on the X25, X50, X3000, X5000 & X7000
---
NSI's Imaging Capabilities for the Aerospace Industry – unbelievable imagery for quality inspection
NSI's Imaging Capabilities for the Aerospace Industry – unbelievable imagery for quality inspection
Computed Tomography, unlike conventional X-ray, takes cross section images and provides a three-dimensional image of the inside and outside of a part or component.
Other Value Added services

Inspection Services Group (ISG) offering need-based consulting for anyone needing X-ray and/or computed tomography scanning of single or multiple parts of all sizes.
Technical Service & Support team that is on call 24/7 to address immediate global customer service needs.
Basic & Advanced Digital Radiography (DR) and Computed Tomography (CT) Classes all year-round.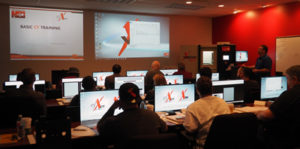 NDT (Non-Destructive Training) Classes are conducted in Rogers, Minnesota, USA. Customer on-site training courses are also available upon request.
---
Contact NSI to schedule your demonstration
The corporate office is in the city of Rogers, just outside Minneapolis, Minnesota. This facility has approximately 90 highly skilled employees including application specialists, mechanical engineers, software engineers, programmers, level 3 instructors and others.
NSI is an ISO 9001:2015 certified company.
North Star Imaging – Corporate Office
19875 S. Diamond Lake Road
Rogers, MN 55374
Tel: +1- 763-463-5650
Visit www.4nsi.com to learn more about NSI's products and services or schedule a demo meeting with our sales teams:
In Minnesota:
Technical System Sales
Phone: +1 763-312-8836
sales@4nsi.com
Inspection Services:
Phone: +1 763-317-9873
scanning@4nsi.com
In California:
Phone: +1 949-346-1299
Scanning.ca@4nsi.com
In France:
Phone: +33 (0) 1 48 17 02 00
Sales.eu@4nsi.com
In the UK:
Phone: +44 7557 034195
Sales.uk@4nsi.com
In China:
Phone: + 86 18516 332 893
Sales.cn@4nsi.com