The European Investment Bank (EIB) is to provide a €40m (US$43.6m) investment into German startup Wingcopter to scale up the production and operation of its electric delivery drones.
The battery-electric Wingcopter 198 cargo drone takes off and lands vertically and can carry 5kg (11 lbs) payloads up to 100km (62 miles). Wingcopter and the Hamburg-based ZAL Center of Applied Aeronautical Research, is also developing a green hydrogen energy system to power Wingcopter's drones for longer flight times.
The Wingcopter 198 is expected to be operated for the first time in Germany this summer during a pilot project in southern Hesse, Germany where it will be used to transport groceries and other consumer goods. The Germany Government-funded project's goal is to improve local supply in rural German communities through a sustainable delivery service.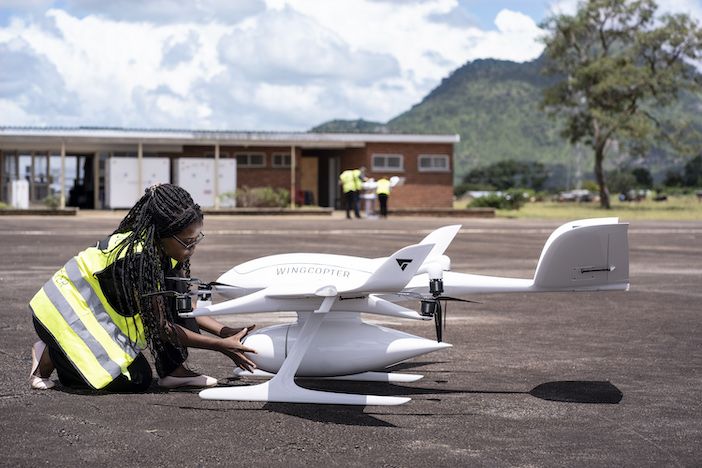 Wingcopter co-founder and CEO Tom Plümmer said, "Our goal is also to improve lives by creating many jobs — in R&D and manufacturing at our headquarters in Europe, as well as in the countries where we provide services, where we train and qualify local young people to operate our drone delivery networks. It requires strong partners like the EIB to build reliable, efficient and safe delivery drone technology and logistics services."
The EIB investment, which is backed by the European Commission's InvestEU program is a quasi-equity, meaning one part of the investment is equity in the company and the other a loan. Other private investors in Wingcopter include European retailer REWE Group, Japanese Fortune 100 conglomerate ITOCHU, Silicon Valley-based Xplorer Capital and Uber co-founder Garrett Camp's investment arm Expa.
The InvestEU program is an EU funding program that works to bring private and public investment to support high priority European policies, such as sustainability goals and digital transition.
EIB vice-president Ambroise Fayolle, who is responsible for activities in Germany, said, "Electric cargo drones are an important vertical segment for a future of sustainable transport and logistics. This investment underlines our commitment to supporting entrepreneurs growing and building advanced green technology businesses in the European Union, strengthening our technological competitiveness, creating highly skilled jobs and opening up new markets, while preserving nature."