The Boeing 777X testing program features many milestones and innovations that can be highlighted since development of the aircraft started in 2011.
The Boeing 777X is the largest twin-engined jet in the world and is powered by the the world's most powerful commercial aircraft engine developed – the GE9X.
Three versions in the 777X family were initially planned. By the time the 777X was officially launched to the aviation market in 2013, Boeing had abandoned development of an ultra-long version named the 777-8LX, leaving two variants, the 777-8 and 777-9 being worked on.
The 777-8 seats 384 passengers and the 777-9 seats 426, with ranges of 8,730 nautical miles (16,170 km) and 7,285 nautical miles (13,500 km) respectively. Boeing plans to introduce the higher capacity 777-9 model first with the 777-8 to enter into service a few years later.
At the time of writing Boeing's current target for first delivery of the 777X, which will be a 777-9 variant is late 2023.
Boeing's 777X testing and certification program was expected to conclude with the first delivery to an airline in summer 2020.
Boeing extended the testing program in early 2021 because of a combination of factors, including the Covid-19 pandemic, the tragic crashes and subsequent re-certification of the 787 Max and changes to global certification requirements.
However, 777X development also suffered setbacks before the pandemic hit the USA in March 2020, including problems with the GE9X engine, the aircraft's fuselage and teething problems with new manufacturing processes.
Design
The aircraft is essentially a stretched 777 with new engines and an extended carbon-fiber wing featuring innovative folding wingtips, a first for a commercial airliner.
The folding wingtips allow it to fit in at airport gates and hangars that Boeing's successful 777 widebody airliner currently uses, while enabling it to be larger than its predecessor and therefore carry more passengers.
The FAA set special certification conditions to address worst-case situations that could arise because of the design's folding wingtips.
Boeing 777X testing program aircraft
Boeing has been using four flight- and two ground-test aircraft for the three-year 777-9 test and certification program.
Each test aircraft examines specific features of the aircraft:
WH001 (N799XW) is dedicated to avionics, brakes, flutter, ice shape and low-speed aerodynamics, stability and control

WH002 (N799XX) is also focusing on stability and control, as well as Autoland and ground effects

WH003(N799XY) is being used to test the APU, avionics, flight loads and propulsion performance

WH004 (N779XZ) is investigating the environmental control system, ETOPS, overall functionality and reliability, as well as noise.
The two ground aircraft used for static testing are based at Boeing's factory in Everett, Washington. All aircraft were of the 777-9 variant, with two 777-8s to come later.
2020: Boeing 777X testing begins
The 777X program moved into its flight-testing phase in January 2020 when test aircraft WH001 made a four hour maiden flight over Washington State, taking off from Paine Field in Everett, and landing at Seattle's Boeing Field.
This test flight came after engine supplier GE Aviation had redesigned a static compressor that had worn faster than expected during engine testing. A pair of modified engines were subsequently fitted to test aircraft WH001.
On April 30 the first flight of the second test aircraft WH002 took place, lasting two hours and 58 minutes. WH003 made its first flight of 2 hours and 45 minutes, on August 3 and WH004 made its first successful flight on 21 September, 2020
"We began flight testing in January 2020 and it is proceeding well – we are pleased with the progress we are making. We're fully focused on safety as our highest priority as we continue to subject the 777-9 to a rigorous test program," said Boeing in October 2020.
2019: Boeing 777X ground testing progresses
At June 2019's Paris Airshow, GE disclosed a redesign of a high-pressure compressor stator that had suffered premature high-temperature deterioration. Subsequently, Boeing announced that the 777-9's first flight had been re-scheduled for early 2020 and acknowledged the consequent pressure this put on deliveries which were scheduled to begin in the same year.
Four GE9X "compliance" engines destined to power flight-test aircraft were recalled by GE in August 2019; a pair of modified engines were later rumored to have been delivered to Boeing.
During final load testing of the 777X static test aircraft in September, a process which started in July, a cabin door blew out. No one was hurt during the incident.
In November, Boeing stopped using a new manufacturing process called Fuselage Automated Upright Build (FAUB) that was proving problematic and returned to using human machinists. The robotic process had taken six years to develop but was found to be prone to errors resulting in significant rework.
2019 also saw final 777X gauntlet tests, take place, including factory systems-integration trials and runway taxi tests  completed. Production of a number of 777-200LR-based 777F cargo variants keeptw assembly lines open. Boeing also re-scheduled the shorter-bodied, longer-range 777-8 program that had been planned to enter service in mid-2021.
2018: aircraft structural testing begins
The 777X development program hit a key milestone in September 2018 when the first fully assembled aircraft was completed and a year of structural testing to verify its strength began.
The static test aircraft lacked  a nose cone, engines, horizontal or vertical stabilizer and avionics systems and its wingtips lacked the folding mechanism planned for production 777-8 and -9 variants. The completion of the static test was closely followed by another milestone, the final body join of the first test aircraft (WH001) – when the airplane's nose, mid and aft sections are connected, happened in November 2018.
Just a month later that test aircraft hit another milestone with the first powering up of the aircraft's internal systems during December.
Structural parts of the 777X had been made and shipped earlier in the year from suppliers including the wing box. from Subaru, the composite wings and parts of the fuselage from Mitsubishi Heavy Industries and the sub fuselage sections from Kawasaki Heavy Industries. 
June 2018 also saw engineers at Boeing Test & Evaluation begin integrated systems testing of the 777X in a laboratory specially-built for the purpose in Seattle. Called "Airplane Zero" the 11,600 square foot (1,000 square meter) Airplane Zero Lab features an accurate recreation of the 777X flight deck, integrated with all of the airplane's components and testing equipment in one place.
Engineers use the laboratory to run the aircraft's systems in a virtual environment before its first flight and verify them. This was just the second time Boeing had set up a lab for this type of xxx test in a commercial airliner program.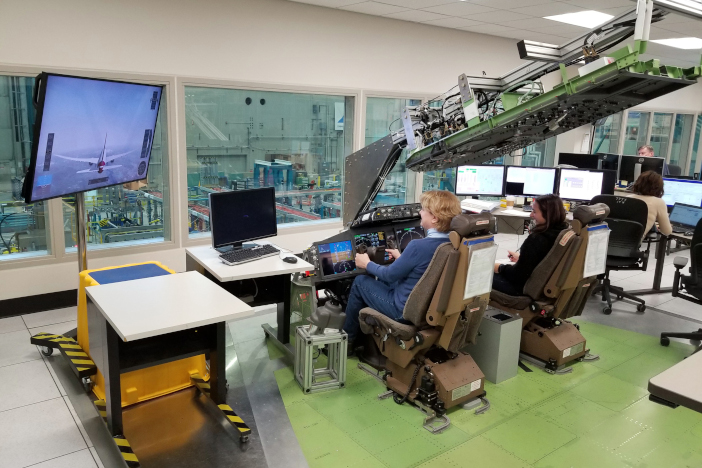 Boeing also built the Integration Test Vehicle Lab to test the 777X's flight controls and hydraulic systems, including the unique folding wing tips. The lab consists of an upstairs control room with an operational flight deck and electronic equipment to capture test data, and a large open bay below, where the airplane's flight controls and hydraulic system components are laid out.
2013-2017: Design, systems and component testing
The design for the Boeing 777X was frozen in August 2015. A firm configuration for the 777X  was then finalized in September 2015, enabling engineers to evaluate wind tunnel test results, aerodynamic performance and structural loads to ensure it will meet requirements. It also allows the detailed design of parts, assemblies and other systems to begin.
By November 2017 90% of the engineering drawings for the Boeing 777X had been completed, with 99% of the wing and 98% of the fuselage drawings released. The detailed design phase was completed as avionics, power and other systems were readied for ground tests and integrated into Aircraft Zero.
---
Further Reading: