Words by Ian Goold
Aerospace Testing International's annual flight test report and  program update for leading commercial airliners in development.
AIRBUS
The European aircraft manufacturer has just celebrated its 50th anniversary: the French and German governments signed an agreement to jointly develop the A300 at the Paris Airshow in 1969. Meanwhile its key commercial-aircraft development programs continued to make good progress through testing and certification.
AIRBUS A220
By September 2019, eight Pratt & Whitney PW1500G-powered A220s, the aircraft formerly known as the Bombardier C Series, had logged 7,161 flight hours (FH) over 5,541 flights, including 5,174 FH in 4,217 flights by six Series 100s. The Series 100 is the smaller of the two aircraft in the A220 family, seating up to 135 passengers compared with the A220-300s capacity of up to 160. 
Three A220s – Series 100 manufacturer's serial number (MSN) 50002/flight-test vehicle (FTV) 2 and Series 300s MSN55001/FTV7 and 55002/FTV8 – are involved in the flight testing, the remaining machines having been retired. With less than 1,000 FH "on the clock" 50003 / FTV3 is now being used for technical training at Montreal's École Nationale d'Aérotechnique.
Airbus plans to continue A220 in-service and performance-upgrade testing during 2020, including FADEC upgrades, increased-weight variant validation, and avionics- and configuration-options testing for customers. The initial flight-test work since the European manufacturer acquired the program has included: crosswind-limit expansion, wind-shear software upgrade, high-altitude (10,000ft) testing, satcom voice-option approval, RNP AR operational evaluation, emergency-exit dual-lane slide testing, additional performance-improvements testing, and in-service issues investigation and resolution.
FAA 180-minute ETOPS certification of the A220 was expected in the final quarter of 2019, while cold/extreme-cold weather testing with MSN55002 was postponed to early 2020.
The A220s have not yet been absorbed into the new owner's flight-test and integration center in Toulouse, the aircraft remaining at the equivalent Bombardier facility in Wichita, Kansas, with Airbus advice and support in defining long-term A220 flight-test planning.
AIRBUS A320NEO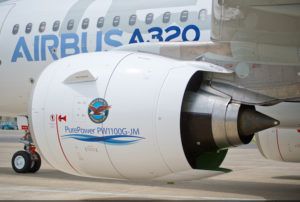 Airbus has been supporting Pratt & Whitney (P&W) in new-build standard PW1100G-JM continuous-airworthiness campaigns using A320neo MSN6101. Tests included incremental-development modifications in hot-weather conditions in Al-Ain in Abu Dhabi, for which results were still being analyzed during October.
Meanwhile, A321neo MSN6673 has been performing Category (Cat) III automatic-landing (autoland) "Step 2" flight-testing to extend the "authorized wind envelope," which will remove current wind limitations applied to both PW1100 and CFM International Leap-1A engines. MSN6673 will be refurbished and sold to a customer in 2020, while test work continues with a different airframe.
Under reorganized A319neo/Leap-1A24 arrangements – planned construction of MSN6620 for this was abandoned and the work reassigned to MSN6464 – flight testing was completed and certification received in December 2018. Cat III flight-testing for the model remained outstanding in October 2019.
Re-engined with PW1124G-JMs, A319neo MSN6464 first flew in April 2019 and was still in test October, ahead of expected airworthiness approval by the end of the year. Airbus has confirmed that updated or redesigned PW1000-series engines, such as Block D variants, can be installed on the aircraft.
The first A319neo/Leap-1A, a corporate version of the aircraft, was delivered in August after a flight-test campaign completed in April and May 2019. The main focus of ACJ319neo testing was validation of that airframe's specific fuel system with five auxiliary center tanks, supplemented with a 16 hour 10 minute long, record-setting endurance flight for the related ETOPS certification.
The initial A319neo commercial-service passenger version is scheduled for handover during July-October 2020. The manufacturer says that no date has been defined for first delivery of an A319neo /PW1124G-JM example.
Further A320neo-family flight-testing work includes Cat III certification for both A319/Leap and /PW variants, as well as A321neo autoland improvements and nacelle-integrated solutions, and the A321neoXLR extra-long-range version, which latter will be scheduled to permit certification and entry-into-service (EIS) in 2023. Work for A320ceo models includes angle-of-attack (AoA) vane re-location and other potential improvements.
AIRBUS A330NEO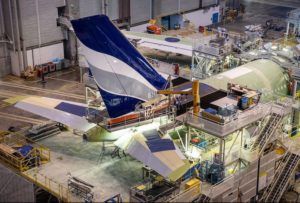 By September 2019, two A330-900 flight-test aircraft, MSNs 1795 and 1813, and the first customer example for TAP Air Portugal, MSN1819, had completed 1,851 FH and 557 test flights. Smaller A330-800 flight-test sibling, MSN1888, had logged 321 FH.
Scheduled A330-900 flight-testing after certification in September 2018 has included Cat III autoland, operations in "rotation" law, and extension to cross- and tail-wind performance. Before October 2019, A330-800 initial-phase testing covered anemometry, flutter, "high-lift" and climb handling qualities, and stalls. The subsequent development phase has included rotation law, take-off performance, design dive Mach number and velocity (MD/VD), Cat I autoland, braking and reverse thrust, and minimum "unstick" speed (VMU). The A330-800 has completed abused-takeoff and minimum ground-control speed (VMCG) certification tests.
Outstanding flight-test work included an "ice-shapes" campaign, maximum cross-wind handling qualities, and Cat I and Cat III autoland development. Before EIS, activities include flight-management system, required navigation performance (RNP), and Cat III autoland. Airbus has been working with the end of 2019 as the target date for certification but acknowledges that this schedule is "at risk." The manufacturer says that A330-900 MSN1836, the first production aircraft, previously cited for route-proving and service-entry readiness duties, has not been involved in flight-test work. 
AIRBUS A350
Airbus is continuing A350 development, which in late 2019 included in-flight trials of "connected cabin technologies." Recent growth in A350-1000 maximum take-off weight to 319,000kg and related extra fuel capacity has contributed to increased range that now approaches 8,700 nmi. In October, the manufacturer was refurbishing third-built (but second to fly) A350-1000 MSN071 for customer delivery in 2020.
AIRBUS A380
In late 2019, A380 very-large-airplane development centered on gaining FAA certification for 350-minute ETOPS. According to Airbus, this follows work to improve fleet operational reliability to "above 99% – a first for any four-engine aircraft" – and to reduce "severe" flight-disruption events that result in delays of more than four hours by 30 to 40%, said to be "now the norm within almost all A380 operators." Additionally, A380 heavy-maintenance C-check inspection intervals have been extended from two to three years and the manufacturer is "strongly supporting airlines in their cabin reconfiguration program."
AIRBUS BelugaXL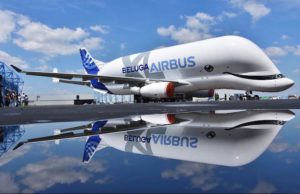 By the end of 2019, Airbus aimed to obtain certification for the A330-based BelugaXL heavy-transport aircraft, developed to ferry whole wings and large Airbus sub-assemblies between factories and final-assembly lines, and to have delivered the second example to subsidiary Airbus Transport International (ATI) for service entry in early 2020. 
First aircaft BelugaXL MSN1824 had logged 738 FH in about 15 months of type-certification duties by October 2019 (with only flight-in-known-icing to be completed), while second example MSN1853 had accrued 27 FH of supplemental type-certification work and a further 122 FH of function and reliability flying and ATI pilot training.
BOEING
Late 2019 found Boeing continuing to address technical issues with the 737 Max following two fatal accidents and the consequent suspension of certification and also dealing with an explosive decompression of a 777X door in static testing. Reports of apparent certification irregularities with the Max might lead to greater scrutiny of Boeing derivative projects by airworthiness regulators. Industry commentators believe that the marketing launch for the New Mid-market Airplane program, already dubbed "797", which was expected at last June's Paris Airshow may have been hit by the 737 Max problems. 
In October, Brazil's Embraer pushed back to 2020 its "timeline" for establishment of a joint venture under which Boeing will acquire 80% of its commercial-aircraft business (that will be known as Boeing Brazil – Commercial).
BOEING 737 MAX
In August 2019, Boeing began to recruit workers to prepare stored new-build Max aircraft for return to service. Nevertheless, US airworthiness regulators had not, by October, made public statements echoing the manufacturer's own declarations regarding a potential "re-certification" and related return to service before the end of 2019. 
Boeing reportedly reduced Max production from 52 to 42 a month in August with a return to the higher volume predicted in February 2020. The aircraft's return to service are predicated on the manufacturer offering the FAA new or modified software relating to the Max manoeuvring characteristics augmentation system, which it had not done by early October, followed by a period of checking and validation by the regulator.
BOEING 777X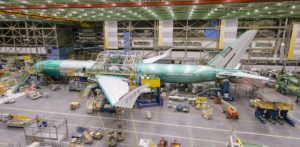 Boeing is using four flight- and two ground-test aircraft for the three-year 777-9 certification program, with first delivery still planned for 2020 – despite General Electric GE9X engine problems that delayed the first flight beyond 2019 and an explosive decompression during a static-load test that Boeing said would not impact schedules. 
The 777X is essentially a stretched 777 with new engines and an extended carbon fiber wing which features folding wingtips to allow. The FAA has set special certification conditions to address worst-case situations that could arise with the design's folding wingtips.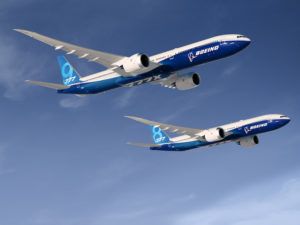 At June's Paris Airshow, GE disclosed its redesign of a high-pressure compressor stator that had suffered premature high-temperature deterioration. Subsequently, Boeing announced that the 777-9's first flight had been re-scheduled for early 2020 and acknowledged the consequent pressure this put on deliveries scheduled to begin in the same year. Four GE9X "compliance" engines destined to power flight-test aircraft were recalled by GE in August; a pair of modified engines were later rumored to have been delivered to Boeing.  Meanwhile, final 777X "gauntlet tests," including factory systems-integration trials and runway taxy tests have been completed. Production of a number of 777-200LR-based 777F cargo variants is keeping assembly lines open. Boeing also has re-scheduled the shorter-bodied, longer-range 777-8 program that had been planned to enter service in mid-2021.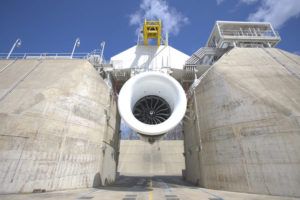 COMAC
Launched in 2008 to build what became the single-aisle C919 twinjet, Commercial Aircraft Corporation of China (Comac) inherited the Aviation Industry Corporation of China ARJ21 regional jet. Comac has a joint venture with Russia's United Aircraft Corporation (UAC) to develop the 280-passenger, 12,000km-range (7,450 miles), CR929 twin-aisle twinjet.
COMAC ARJ21-700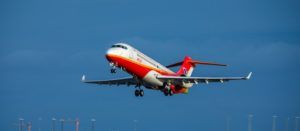 Increased production in 2018 brought Comac's ARJ21-700 regional-jet fleet to 15 aircraft with delivery of one to Chengdu Airlines. The Chinese manufacturer is planning a redesigned flight deck, expected to include a more practical layout of buttons, displays, instruments, and switches, that reportedly has been successfully tested on the ARJ21 flight simulator. The move has coincided with orders covering around 100 from three Chinese operators last August for delivery during 2020-24. The aircraft sports General Electric CF34-10 engines and United Technologies avionics.
COMAC C919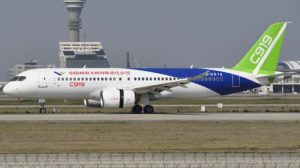 Third prototype C919 MSN103, which first flew in December 2018, was flown from the Shanghai factory to Xi'an flight-test center in central China in July for modifications before a new round of
flight tests, beginning with flutter and airspeed calibration. 
Comac's first prototype, MSN101, continues its flight-test campaign at Xi'an while MSN102 undergoes flight testing in Shandong Province. Comac planned to fly an additional three C919 prototypes – MSNs 104-106 – during 2019. The company has scheduled 4,200 FH for completion of more than 700 test items ahead of Civil Aviation Administration of China certification in 2021.
COMAC C929
Comac and United Aircraft Corporation's (UAC) China-Russia Commercial Aircraft International Corporation (CRAIC) is developing the CR929 twin-aisle twin-jet, comprising the initial CR929-600, and planned -500 and -700 shortened and stretched variants. Russian engine-maker Aviadvigatel is promoting its 77,000lb-thrust PD-35 engine to power the CR929, alongside proposals from six other manufacturers. United Aircraft met General Electric and Rolls-Royce at the 2019 Moscow Airshow and CRAIC expects to name initial systems suppliers later in 2020.
Construction is set to start in 2021, and the first flight is scheduled for 2023 – two years ahead of EIS. The aircraft is expected to feature "more-electric" systems and to share the cockpit design of the C919.
EMBRAER E-JET-E2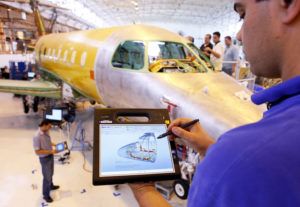 In handing over the initial E195-E2 to Azul Linhas Aéreas in September, Embraer delivered the first example of its final design to a fellow Brazilian company before surrendering its independence to become a minor shareholder in Boeing Brazil – Commercial. The 80:20 joint venture with the US manufacturer was to be formally established in early 2020, assuming anti-trust clearance from Europe and China, and has followed the 2018 acquisition by Airbus of Canada's Bombardier Commercial Aviation to neatly restore balance to global aerospace infrastructure.
The company will flight-test new aircraft, such as the upcoming 76- to 90-seat E175-E2, at Gavião Peixoto, while some "less complex" work will be performed at the Faria Lima facilities in São José dos Campos, Embraer says. A dedicated airspace area will be available for exclusive use at both locations, with no change to existing arrangements for any necessary international flight-test missions overseas.
EMBRAER E175-E2
Roll-out of the first E175-E2, the smallest and final member of Embraer's second-generation E-Jet family, was expected in November 2019, with first flight following before year's end. Earlier variants are the E190-E2 and E195-E2 (a "stretch" of the previous E195-E1), but there was no further development of the E170-E1.
Ahead of planned certification and EIS during 2021, flight-test plans call for E175-E2 prototypes MSN20.006 and MSN20.007 to be used for aerodynamics, loads, minor-systems compliance, and propulsion tests. Third aircraft MSN20.008, the first with a cabin interior, is earmarked primarily for "cold-soak," comfort, and intra-systems tests, and function and route-proving flights.
To cover "differences" from the E190-E2, the E175-E2 requires flight- and /- or static-testing of the composites horizontal stabilizer, engine, landing-gear, and wing. Embraer reports that the horizontal stabilizer has passed bird-strike certification tests. In late 2019, the fatigue specimen was in final assembly at the Évora factory, ahead of cyclic tests set for the first half of 2020. 
The new main landing-gear has passed development "drop" tests and test specimens have been delivered for laboratory certification testing. "A full aircraft static and fatigue [-test] campaign is expected to cover all the differences," says the manufacturer. 
The wing for the static test was in manufacture at Évora in October, with ultimate load tests scheduled for early 2021. Engine tests were under way at P&W and the first engine had been delivered for MSN20006 for US FAR Part 25 engine-certification flight-testing.
Commonality with the E190-E2 means that no dedicated E175-E2 is required to demonstrate systems compliance.
EMBRAER E190-E2
Following earlier certification, two  E190-E2 prototypes remain active: MSN20.003 is engaged in follow-on activities, including new in-flight entertainment, Cat III autoland, steep-approach, head-up display (HUD), and component-deviation list, and product improvements such as hydraulic-system cost improvements and cabin-noise reduction; MSN20.004 has been used in ETOPS, engine and auxiliary-power unit fire-extinguishing system weight and cost reduction, new smoke detector, and air-conditioning balance improvement work. It also has provided operation evaluation with Brazilian, European, and US airworthiness authorities for new operators without E-Jet-E1 experience.
E190-E2 prototypes MSN20.001 and MSN20.002 have been retired following "successful" 200-, 400-, and 600-FC structural inspections.
EMBRAER E195-E2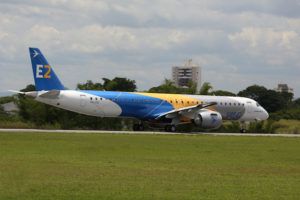 E195-E2 prototype MSN20.005 was initially laid up following certification and was scheduled to resume flying in November 2019 for further work, including ground-support equipment and HUD validation, new-operator training, Cat III autoland, and testing of Embraer's E2TS take-off system.
Continuing E190- and E195-E2 development work has seen E195-E2 MSN20.041 reconfigured with a new cabin interior with first-class staggered seats for its appearance at June 2019's Paris Airshow and a world demonstration tour to Asia, Europe, North America, and Oceania. 
Embraer says that E190-E2 and E195-E2 static tests have demonstrated a "good match" between results and calculations. Full-scale fatigue testing, which goes up to three aircraft "lives," has seen completion of 10,000 cycles before the specimen was updated to the latest design configuration for further testing at the end of 2019. 
Main and nose landing-gear testing has been taken to 20,000 and 40,000 cycles, respectively, and Embraer plans to finish the tests at five "lives." Component fatigue testing has been completed, with minor findings that have been corrected, according to the manufacturer.
MITSUBISHI SPACEJET

FAA authorization for certification flight tests has brought the Mitsubishi Aircraft (MitAC) MRJ regional-jet, recently re-branded as SpaceJet, closer to gaining airworthiness approval, albeit more than seven years behind the original schedule. The Japanese manufacturer expects the 81- to 92-seat SpaceJet M90 (formerly MRJ90) to receive certification and enter service by mid-2020.
Meanwhile, to meet US major-airline "scope clause" requirements specifying aircraft weight and seat numbers, the smaller SpaceJet M100 (previously dubbed MRJ70, and scheduled for launch in late 2019) needs capacity for 76 passengers in a three-class configuration within an 86,000lb maximum take-off weight limit. Also under long-term consideration is a 100-seat M200 development.
After an audit showed that four initial flight-test aircraft (FTAs 1 to 4) did not meet certification requirements, MitAC has committed the seventh and tenth customer aircraft to final compliance tests. Aircraft 7, the first series-production example destined for launch operator All Nippon Airways (ANA), will perform functional and reliability ("route-proving") flights, operational evaluation, and customer work. Test-instrumented M90 Number 10 is to qualify SpaceJet avionics-equipment configuration.
With over 2,600 FH logged by mid-2019, the four MRJ90/SpaceJet M90 FTAs will account for about 80% of such work. Ground-based FTA5 is undergoing software-release testing in Japan. 
MitAC plans to use SpaceJet M90s 7 and 10 for flight-test tasks such as environmental-control system, high- and low-temperature climate, high-intensity radiated field (HIRF), and lightning tests. FTAs 1 to 4 have been modified to the latest design configuration to meet certification requirements.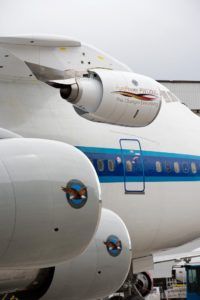 Continuing preparation for SpaceJet service readiness has seen MitAC submit technical publications to the Japan Civil Aviation Bureau, deliver a full-flight simulator to ANA, and establish a support centre in Montreal, Canada. SpaceJet customer support also will be enhanced by MitAC's acquisition of Bombardier's Canadair Regional Jet (CRJ) business, which it expects to complete by mid-2020. The deal, which is seen as a key step in expanding Mitsubishi's aircraft business in North America and then globally, includes all CRJ maintenance, marketing, refurbishment, sales, and support activities.
UNited Aircraft IRKUT MC-21-300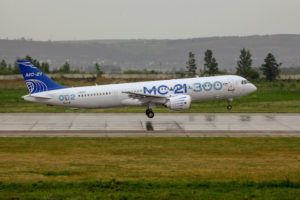 In June 2019, Irkut reported that the European Union Aviation Safety Agency (EASA) had completed a second round of MC-21-300 certification tests, during which the regulator evaluated aircraft behavior in various flight modes at altitudes of up to 12,000m. The flights involved aircraft performance at high and low take-off weights and over a range of center-of-gravity positions. 
Irkut says that the operation of the integrated aircraft-control system in "normal" mode has been verified. Furthermore, EASA pilots have sampled aircraft behavior at minimum control speed for take-off and landing, including with simulated engine failure.
Flights are performed at the Gromov Flight Research Institute's Ramenskoye airfield near Moscow. The MC-21 has been operated at up to 12,500m altitude and speeds of up to M0.89 on flights of up to 6.2hr duration. "Performance efficiency of all systems was confirmed in a wide range of speeds and altitudes," says the manufacturer.
After laying out the third MC-21 in a 163-passenger, two-class cabin configuration, the manufacturer is preparing a fourth example, which in September had not yet flown, with a high-density fit that accommodates more than 210 seats.