Rolls-Royce has officially opened the largest engine testing facility in the world, Testbed 80, at its headquarters in Derby, UK.
The £90 million (US$130 million) facility, with which Rolls-Royce partnered with Canadian company MDS Aero to design and build, covers 7,500 square meters (81,000 square feet) and features the latest instrumentation and digital networking technologies.
The company has also released a time-lapse video, showing the building's construction and equipment installation process over the last three years to mark the occasion (above).
Testbed 80 will initially be used to test Rolls-Royce's current engine range – the first engine run was conducted earlier this year on a Trent XWB – to test how biofuels run on its engines and for testing the company's next generation Ultrafan engine.
Warren East, CEO of Rolls-Royce said, "Testbed 80 is the largest facility of its type in the world. However, it is not only big, it is also smart and features the most advanced testing technology we have ever used.
"As the new global hub of our testing capability, it will support the next stage of our UltraFan program as we begin ground testing the first demonstrator in 2022. This incredible piece of infrastructure is a very visible sign of our commitment to this site and secures the future of Derby as the home of large engine development, continuing a history that began in the late 1960s with the RB211."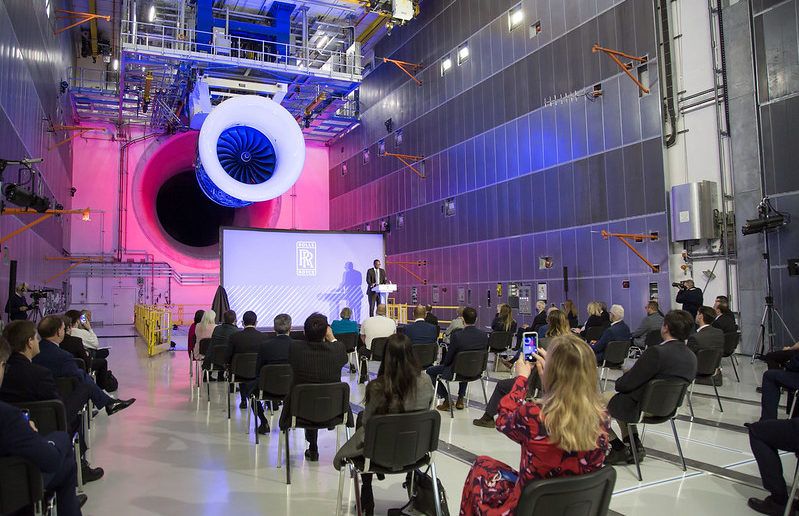 The facility is equipped with a 140,000-litre fuel tank to help test biofuels and is designed to have the capability to test hybrid and all-electric flight systems.
Other features include advanced data networking capabilities to deliver data directly to secure cloud storage which is linked for the first time to analytical models and engineering offices. Testbed 80's instrumentation system can collect data from more than 10,000 different parameters on an engine, using a web of sensors that detect vibrations at a rate of up to 200,000 samples per second.
Testbed 80 also features an x-ray machine that is able to capture 30 images per second and send them to engineers around the world for analysis. According to Rolls-Royce it is the only engine manufacturer in the world able to x-ray engines while they are running.
---
Related Stories
Ten facts about Rolls-Royce's massive new engine testbed
Largest engine test cell in the world takes shape
MDS Aero Support named as prime contractor behind new Rolls-Royce engine testing facility
Q&A: Gareth Hedicker, director of development and experimental engineering – civil aerospace, Rolls-Royce