The construction of the largest indoor aviation test facility of its type in the world, being built by Canadian firm MDS for Rolls-Royce in Derby, UK has achieved a significant milestone with the installation of its augmentor tube. 
Work on the massive engine test centre, called Testbed 80, started last summer and is expected to be completed next year. The £90 million (US$109 million) building, which is 130m (425.5ft) long with an internal space of 7,500 square meters (81,000 square feet) will have a main test bed cross section of 15m by 15m (49ft by 49ft) and is being built near Rolls-Royce's head office.
MDS is an Ottawa-based company that designs, supplies and manages the construction of aerospace test facilities around the world. It was named as the prime contractor for Testbed 80 in May 2018. According to MDS and Rolls-Royce the test facility will be the largest facility of its type when completed as expected next year.
The new Rolls-Royce engine test centre will house the largest engine-test cell in the world. Currently, the largest is owned and run by Delta Air Lines in Atlanta, USA and is 14.6m high (48ft) in size with inlet and exhaust sections which measure 66ft (20m) and 78ft (24m).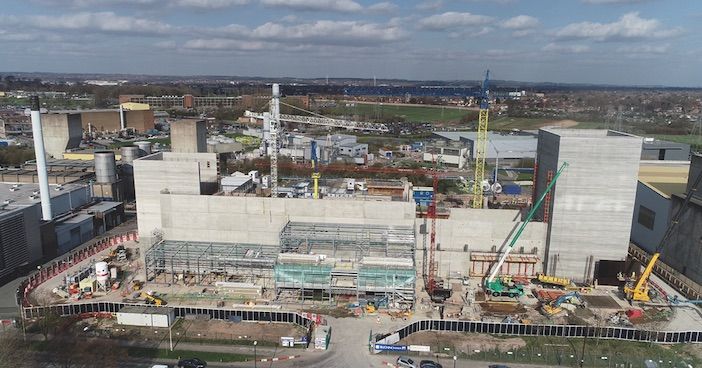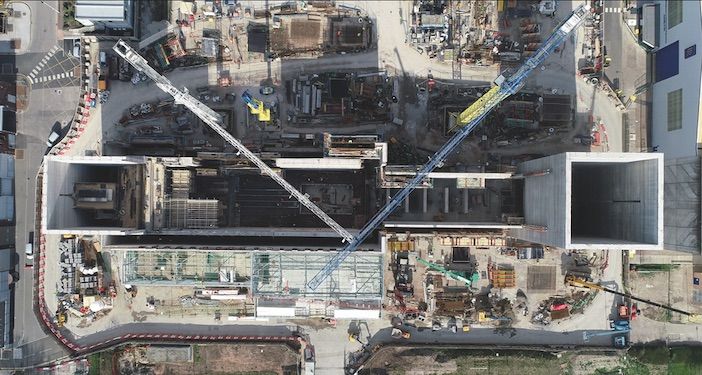 Testbed 80 follows the standard U-shape layout of indoor aviation test facilities, but the size, wall thickness and additional features, such as the equipment for the center's high-power x-ray, are bespoke. Testbed 80's x-ray equipment will be powerful enough to x-ray a person standing up to six miles away.
A major milestone in the build was recently reached after the twelve augmentor tube pieces were successfully installed. The augmentor tube will direct the exhaust gases from the engine and the test bed bypass air to the back of the facility, where it will be diffused and released through a 37m (121ft) tall exhaust stack.
Fully assembled, the augmentor tube is about as long as half the wingspan of a Boeing 747-B. Each piece of the tube weighs 8 tonnes and are so large they had to be escorted on large trucks through nearby streets when delivered to the site. 
Augmentor tubes are a critical part of any aviation test bed. Engine mass flow rates are continuously rising as manufacturers seek to increase thrust and efficiency. As the amount of exhaust gases and bypass air increases in engine test facilities, the design of the facilities is becoming more complex and critical to operational integrity.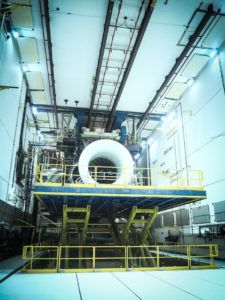 Managing the immense amount of air flowing through and around the engine during a test is an important aspect of the design of engine test cells, because the airflow is a direct contributor to infrasound, low frequency noise that can have a detrimental effect on the integrity of the building as well as the employees working in close proximity.
John Jastremski, president and CEO of MDS Aero said, "MDS has a long history of designing test facilities for Rolls-Royce and is at the forefront of research and technology in the narrow field of aeroacoustics, of which there are very few experts."
"Constructing the largest aviation test facility of its type in the world with an unprecedented amount of airflow poses a big challenge in this respect and our research and expertise in this area played a big factor in being named the prime contractor on this project."
The new facility will be capable of testing Rolls-Royce's current engines as well as serve as a base for testing the new UltraFan, which is planned for launch in 2025.
Gareth Hedicker, director of development and experimental engineering – civil aerospace, Rolls-Royce said, "Once commissioned, Testbed 80 will be the largest facility of its type in the world. Not only that – it will feature the most advanced testing technology we have ever used. 
"Testbed 80 will provide extra capacity as we ramp up production to deliver on our record order book and will be capable of carrying out a full range of indoor testing."
For more details about Rolls-Royce's approach to next generation engine testing, read our Q&A feature with  Gareth Hedicker here.