US company Hermeus has revealed a prototype for its first hypersonic aircraft, the Quarterhorse, which will be used to flight test its proprietary turbine-based combined cycle engine.
The unveiling at an event earlier this month included a firing of the aircraft's engine at maximum afterburner throttle for the dignitaries and investors attending.
The single-engine Quarterhorse will flight test and validate the company's turbine-based combined cycle (TBCC). If successful by the end of the flight test campaign it will be the world's fastest reusable aircraft, capable of achieving speeds of between Mach 3 and Mach 5.
The unmanned testbed is 40ft (12m) in length, larger than previous hypersonic demonstrators the X-43 and X-51. It will land and take-off on conventional runways.
The TBCC engine is an air-breathing rocket for hypersonic air transport and travel developed from a GE J85 jet engine core. The engine has been undergoing ground testing at Hermeus' Site 27  test site at DeKalb-Peachtree Airport, Atlanta.
Hermeus is developing three aircraft. As well as Quarterhorse it aims to develop a Mach 5-capable (more than 3,000mph) a 20-seat passenger aircraft by the end of this decade, which will use the TBCC engine. The company plans to fly a Mach 5 aircraft for that program for the first time in 2024.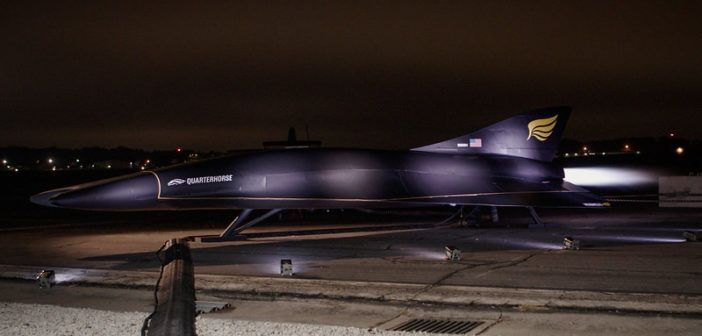 The Quarterhorse prototype revealed earlier this month will not fly and was an exercise in multidisciplinary design, manufacturing, and the integration of complete systems, said the company in a blog post.
"When an aerospace company typically unveils a new aircraft it's nothing more than Styrofoam and fiberglass," said Skyler Shuford, Hermeus COO. "But at Hermeus, we drive to integrated products. And we really, really like to make fire."
"We designed, manufactured, and integrated the aircraft, from nothing but an outer shape, in four months," Shuford added.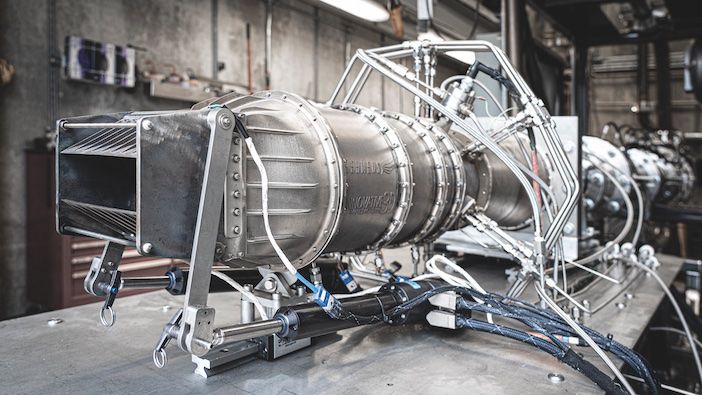 There are three other companies around the world developing air-breathing rocket engines for hypersonic air transport and travel.
Pratt & Whitney recently confirmed it is developing a hypersonic engine called the Metacomet based on the J58 engine that powered the SR-71 Blackbird spy plane to a record speed of around Mach 3.4 in the 1970s.
Meanwhile Reaction Engines is testing key parts of its SABRE (synergetic air-breathing rocket engine) ahead of a first fully-integrated engine test. The pre-cooler, heat exchanger and hydrogen have been validated so far.
Finally, Australia-based Hypersonix has conducted wind tunnel testing and plans to start hardware-in-the-loop testing of its Spartan scramjet propulsion system next year. The Mach 12-capable engine will be used in a spaceplane to deliver satellites to orbit.
Hypersonic propulsion systems use liquid or solid rockets as their propulsion system and carry both fuel and oxidiser.
Reusable hypersonic air-breathing rocket engines have been researched for around 50 years but an operational system is yet to be deployed in the military or commercially. An air-breathing rocket engine gets the oxygen it needs to combust fuel from the atmosphere instead of from an oxidiser. This opens up opportunities for more efficient operations and the use of hydrocarbon fuels.
---
Related Stories
How engineers test and develop hypersonic aircraft and weapons
Hermeus plans to fly Quarterhorse hypersonic aircraft in 2022