Hypersonic propulsion developer Reaction Engines has joined Project Fresson, a UK Government funded program which aims to fly a hydrogen-fuel cell powered aircraft next year.
Freeson, which is being headed up by Cranfield Aerospace (CAeS) is integrating hydrogen fuel cell technology into a nine seat Britten Norman Islander and plans to fly it by April 2023.
UK-based Reaction Engines is developing its synergetic air-breathing rocket engine (SABRE) for hypersonic flight and for reusable spacecraft. The company is to develop the cooling technology for the Freeson aircraft's fuel cell.
Reaction has already validated in ground testing for SABRE's development a pre-cooler which rapidly chills air coming into the engine so it can be used in its core, while the engine is used in the Earth's atmosphere at high speed.
Reaction Engines said it is to use the experience it has gained so far from SABRE to develop a "bespoke ultra-low drag heat rejection system" able to meet the Freeson aircraft's fuel cell cooling requirements.
Thomas Burvill, director of applied technologies at Reaction Engines said, "Project Fresson represents an opportunity to leverage our thermal management technology developed over a number of years across a range of industries. We are excited to be part of this important project and look forward to playing our part in moving the needle on zero-emissions flight"
Rob Marsh, Project Fresson's chief engineer from CAeS said, "Reaction Engines bring to Fresson their world-leading thermal management technology, which is critical to our hydrogen propulsion development; in return, Cranfield Aerospace Solutions and Project Fresson provide a credible and quick route to flight demonstration and certification of this exciting technology"
Project Fresson is a UK funded project via the Aerospace Technology Institute. When originally launched its aim was to convert an Islander with a hybrid-electric powertrain , but this was switched to a hydrogen fuel cell system in March.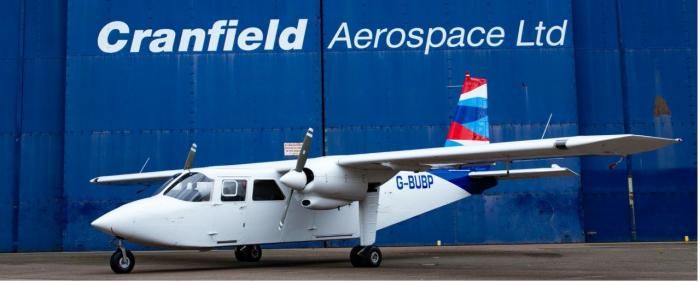 Other companies working on Freesson include engineering firm Ricardo, Britten-Norman and hydrogen storage company Innovatus Technologies.
Last year Reaction Engines launched a battery cooling system for electric vehicles. The company has also developed a waste heat recovery heat exchanger for Brunel University using supercritical carbon dioxide as the working fluid to reduce carbon emissions in industrial processes.
Mark Thomas, CEO of Reaction Engines, said, "We are committed to developing sustainable technologies that underpin UK and global net-zero targets. Through our work in batteries for electric vehicles, waste heat recovery and hydrogen fuel cell cooling, we are using our experience, technology and intellectual property to drive real change".
---
Related Stories
£9m research program switches to hydrogen for zero-emission passenger aircraft
How hydrogen-powered aircraft can help meet the climate challenge
Sabre air-breathing rocket engine successfully completes key testing milestones