Aerospace Testing International launches its series of free to attend 'Ask the Expert' webinars, with the first on the topic of non-destructive testing.
The 90-minute Q&A session presents the opportunity to quiz experts live during the webinar on the technical issues and challenges that matter most to you and discuss their answers.
Attendees are also asked to submit their questions before the event to be discussed live during the webinar.
Members of the panel have been drawn from the leading suppliers of non-destructive testing (NDT) products and services and are known as leading experts in the area for this first event
Our expert panel includes representatives from Element, VJ Technologies, Waygate Technologies, Yxlon and Zeiss, covering a wide spectrum of NDT solutions.
NDT is a growing and increasingly essential area for aerospace test engineers and technicians. The latest digitally enabled tools and software can provide data and insight into material and component properties which is then harnessed across test and development processes.
Furthermore, technology such as machine learning, automation and robotics that is becoming available now can improve testing processes in terms of cost and time, while increasing testing reliability and accuracy.
Presenters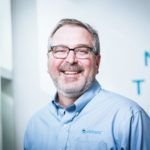 Rick Gerads
General Manager & NDT Level III at Element Materials Technology
Graduate of Hutchinson Tech. College with Associates in NDT.
ASNT Level III Certifications in MT, PT, RT, UT since 1997. Level 3 certified for Rolls Royce, Honeywell, Pratt and Whitney.
AWS CWI since 1995
30 years in NDT, industries served: Oil and Gas, Aerospace, Power Generation, Construction, Industrial.
General Manger of Element Rancho Dominguez (Southern California) since 2012

Rahul Alreja
Director of Global Sales & Marketing at VJ Technologies
Recently named to Stony Brook University's Forty Under 40, Rahul Alreja is the Director of Global Sales & Marketing at VJ Technologies, a leading provider of x-ray inspection solutions for quality control in a wide range of industries throughout the world. Author of several technical papers, Rahul has been invited around the world to speak on next-generation advances in the field of non-destructive testing as VJT constantly pushes the boundaries of what's considered possible and bring advanced technology, robotics, automation, and computer/machine learning to a variety of industries, specifically targeting quality control and product flow. Rahul is also a co-founder and Chief Strategy Officer for Psocratic, a behavioral AI company looking at stress mitigation via corrective actions on an individual level, while driving enhanced performance out of teams. Rahul holds MBAs from Columbia University and London Business School, is a member of Young Presidents' Organization (YPO), and serves on the Advisory Board for the Grainger Institute for Engineering at the University of Wisconsin, Madison.
Naveen Nair
Product Line Director, Digital Inspection Solutions at Waygate Technologies
Naveen Nair is the Digital Product Line Director at Waygate Technologies, a Baker Hughes business and world leader in nondestructive testing (NDT) solutions for industrial inspection. He is responsible for the strategy and execution of the digital transformation vision of the company – to take their customers from detecting defects to avoiding them. Prior to joining Waygate Technologies in 2016, Naveen worked for Ansys Inc. and he also was part of the research faculty at Michigan State University. Naveen holds a Ph.D. in Electrical Engineering from Michigan State University and Master and Bachelor degrees in Mechanical Engineering from the Indian Institute of Technology Madras, India. He currently works from Chicago, Illinois.

Miguel-Angel Ruiz Souza
Senior Key Account Manager Aerospace at YXLON International GmbH
Miguel-Angel Ruiz Souza is Senior Key Account Manager Aerospace at Yxlon and this year celebrated 25 years working the company. Miguel studied physics at the Universidad Autónomia de Madrid. He joined Philips Industrial X-Ray in Hamburg in 1996 to support worldwide sales as Sales Manager. With the foundation of YXLON International, he increasingly focused on the aerospace sector and, through several positions within the company. Miguel has been Senior Key Account Manager Aerospace since 2016.

Benedikt Krist
Product Sales Manager X-Ray, ZEISS
Benedikt Krist joined the CT Department within ZEISS in 2016 in a focus project on accuracy specifications of different CT scanning modes. Since then he is an X-Ray Evangelist, because of the unique insights this technology can bring to your R&D and quality assurance. Benedikt Krist was deepening his knowledge in X-Ray CT through his masters in mechanical engineering and additional 2,5 years in CT applications, focusing especially on Aero projects. Now he is the responsible Product Sales Manager for X-Ray solutions at ZEISS within the EMEA region.

Ben Sampson
Editor, Aerospace Testing International
Ben has worked as a journalist and editor, covering almost all aspects of technology, engineering and industry for the last 20 years. Initially writing about subjects from nuclear submarines to autonomous cars to future design and manufacturing technologies, he was editor of a leading UK-based engineering magazine before becoming editor of Aerospace Testing in 2017.