by Jenny Kavanagh, chief strategy officer, Cranfield Aerospace Solutions
Aviation is faced with huge, complex challenges when it comes to meeting its commitments to carbon reduction globally. More than any other sector, building back better in aviation is fundamental to its future status and ability to prosper and grow.
At the same time, the sector also has the potential to act as a model and spur to the creation of a new world of sustainable transport: an example of global co-operation across industries, governments and regulatory bodies.
Now is the time to be thinking in terms of the big picture and how air travel can be transformed to become the central element to a zero carbon transport network within the UK. Because for all the constant technological progress, transport continues to be a problem for modern, rapidly-urbanizing societies.
The freedoms associated with mass mobility also keep on meaning division and conflict: when it comes to the impacts of congestion, the expansion of airports, the building of more roads, the cost of public transport — and now, increasingly, the price of transport in terms of greenhouse gas emissions and climate change.
A zero carbon network
Much of the technology needed for a zero carbon network is available or under development. The issue, as ever, is finding the concerted will and funding to make the decisive break away from conventional solutions, the step change to a whole new infrastructure, supply chain, logistics, business models and sets of skills.
The financial shocks and disruption of the pandemic provide the chance to scrap rigid, piecemeal thinking around transport policy and to build back better. What's still needed, however, is powerful new impetus from workable, viable tech for transport. The kind of technology that has such potential that no regulator, government or related business can ignore its disruptive, world-changing possibilities. Something similar to the arrival of the Internet.
Work on the UK's Jet Zero strategy is adding new impetus and scrutiny to the domestic agenda: targeting net zero aviation emissions by 2050. Reasonably enough – the focus is on short-term practicalities, the greater use of SAFs (sustainable aviation fuels), the potential for carbon offsetting markets.
But SAFs can only ever be a temporary measure, a quick win by the industry to signal progress while the most important work is being done on R&D into technologies that can be the basis of a wholly new and zero-carbon aviation infrastructure. Early investment into R&D is essential to assess alternative technology options and to minimise potential delays to the introduction of lower carbon dioxide emitting systems.
Hydrogen's potential
Hydrogen flight could well be that breakthrough, with fleets of hydrogen-powered aircraft serving as  the platform for a very different kind of transport system – zero carbon and quiet. Hydrogen-powered aircraft would make it possible for there to be a proliferation of smaller, local airports, operating closer to communities, offering short hops.
Local airports would also act as transport hubs linked into other more sustainable systems, electric trains or other mass transit vehicles; electric cars where necessary, as well as offering a green and efficient link to large aerospace hubs. Digital communications and data-sharing means can provide populations with a real-time picture of transport options, how to minimize carbon footprint as well as time and costs, all through a single app.
Our experience at Cranfield Aerospace Solutions is of some severe limitations to the potential for battery-electric flight even when it comes to short hops. Hydrogen — whether combusted directly or used in a fuel cell to generate electricity — is showing a great deal more promise.
Like batteries, hydrogen generates zero carbon, the only emissions being water and heat, and aircraft can be refuelled in much the same turnaround time as with conventional fuel. Per unit of mass, hydrogen delivers three times more energy than a conventional jet fuel like kerosene, and a hundred times more than a lithium-ion battery.
New confidence in hydrogen is growing with Project Fresson, a partnership between the Aerospace Technology Institute (ATI), the UK's Department for Business, Energy & Industrial Strategy (BEIS) and Innovate UK, run by Cranfield Aerospace Solutions (CAeS). More than blue-sky thinking on hydrogen-powered flight, Project Fresson is about delivering commercially viable services in the short-term: the world's first truly green passenger carrying services.
A route to hydrogen-powered aircraft
Making use of its 25 years' experience of working with OEMs on both design and certification of new aircraft, CAeS is developing a hydrogen powertrain solution for a nine-passenger Britten-Norman Islander aircraft, as well as looking at business models and overcoming any capability and supply chain issues. Project Fresson expects the hydrogen aircraft to be in service for short hops by 2025.
Fast adoption of clean technologies is dependent on the regulatory environment and certification process. To meet timescales and support the UK's potential as a world-leading innovator in aviation, there will need to be attention paid to the resourcing and expertise available within bodies such as the CAA to deal with the pace of emerging technologies, because current standards don't apply to hydrogen-based aviation.
Complex modifications to aircraft and to how airports manage hydrogen as an aviation fuel are necessary.  Working with industry, we need to keep pushing the case for certification forwards with proof of technology, there's no time to wait if Jet Zero targets are ever going to be achievable.
Regular long-haul trips using hydrogen still look some way off but are within reach. Perhaps we won't be able to fly from London to Perth directly in a zero-emissions aircraft, but this raises questions about why we need large ultra-long-haul aircraft anyway. An environment-damaging extravagance –- and just because we can, doesn't mean we should.
Again we need to be thinking about the big picture of transport and what's viable and what works. We can quickly become used to a new convention: hopping our way around the world, using a sustainable system of hops made smooth and easy by digitised operations, being less obsessive and frantic about saving time. Wouldn't travel become a richer experience?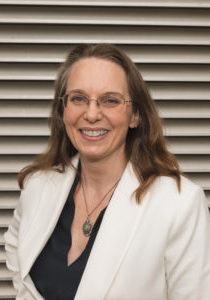 Jenny Kavanagh is chief strategy officer of Cranfield Aerospace Solutions. She initially joined CAeS in March 2017 as head of airborne systems, with operational responsibility for all activities performed by the company's MAA & EASA-approved 21J Design Organisation, 145 Maintenance and 21G Production organisations, as well as the for the Simulations business who provide high fidelity motion-cueing technologies for jet fighter training.
Previously to her tenure at CAeS, she was senior programme manager for 11 years at B/E Aerospace (now part of Collins Aerospace). Jenny is a Chartered Engineer, gaining the status at the age of 26; at the time one of the youngest women to do so.
Cranfield Aerospace Solutions rapidly prototypes new aerospace concepts and modifications to existing aerospace platforms, Founded over 30 years ago the company works closely with regulators to design, build, test and fly airborne systems and can provide a comprehensive range of services for both manned aircraft and unmanned airborne vehicles.