Rahul Alreja, Director of Global Sales and Marketing, VJ Technologies presents a deep dive into some of his company's leading digital radiography and computed tomography case studies.
Joined by editor of Aerospace Testing International Ben Sampson, in this online webinar Rahul details how DR and CT can help the aerospace industry, and considers the future implications of Industry 4.0 technology on these inspection technologies.
The exponential growth in computing power and robotics / automation have greatly increased the value that DR and CT offer to the aerospace industry. Combining intelligent part-handling and flow with sensors, artificial intelligence and machine learning algorithms, and higher resolution panels has enabled DR and CT to become far more powerful than ever before. deep dive into some DR and CT case studies, discuss how these inspection technologies are helping the aerospace industry, and consider  the future implications of Industry 4.0 technology on DR and CT.
Agenda
The ever-expanding aerospace sector and its significance
Automated Inspection for aerospace using Non-Destructive Testing (NDT)
Addressing the challenges faced by users of automated Computed Tomography (CT)
The impacts and benefits of Automated Defect Recognition (ADR) for aerospace via CT
How you can take advantage of Automated Inspection
---
Presenters
Rahul Alreja
Director of Global Sales and Marketing, VJ Technologies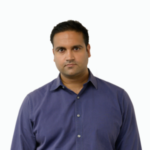 Rahul Alreja is the Director of Global Sales & Marketing at VJ Technologies, a leading provider of x-ray inspection solutions for quality control in a wide range of industries throughout the world. Author of several technical papers, Rahul has been invited around the world to speak on next-generation advances in the field of non-destructive testing as VJT constantly pushes the boundaries of what's considered possible and bring advanced technology, robotics, automation, and computer/machine learning to a variety of industries, specifically targeting quality control and product flow. Rahul holds MBAs from Columbia University and London Business School, is a member of Young Presidents' Organization (YPO), and serves on the Advisory Board for the Grainger Institute for Engineering at the University of Wisconsin, Madison.