Universal Hydrogen is set to make the first flight of its hydrogen fuel cell aircraft in the coming months after completing its first taxi tests and gaining its FAA experimental airworthiness certificate.
The first flight of the company's 40+ passenger Dash 8-300 flying testbed will take place at Grant County International Airport in Moses Lake, Washington.
Upon successful completion of that flight, the Dash 8-300  will become the largest hydrogen fuel cell-powered aircraft to ever fly. This is an accolade currently held by a Dornier 228 flown last month by ZeroAvia.
As well as the special airworthiness certificate, Universal Hydrogen has also run the first taxi tests of the aircraft (video above). These tests are designed to evaluate ground handling qualities and the performance of the fuel-cell electric powertrain at low power settings and airspeeds.
The Dash 8-300 flying testbed has a megawatt-class hydrogen fuel cell powertrain installed in one of its nacelles.
Universal Hydrogen said that the powertrain "closely resembles" the company's first product — a conversion kit for ATR 72-600 regional airliners, which is expected to be certified and in commercial passenger service starting in 2025.
The powertrain does not use a hybrid battery architecture, with all of the power transmitted directly from the fuel cells to the electric motor. This significantly decreasing weight and lifecycle cost, says Universal.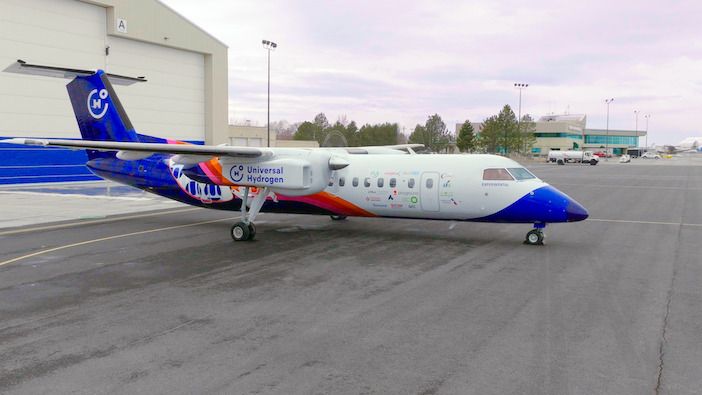 Universal Hydrogen revealed in December 2022 that it had conducted the first operational tests of its modular hydrogen delivery system at its engineering center in Toulouse, France.
Paul Eremenko, co-founder and CEO of Universal Hydrogen said, "We are simultaneously providing a pragmatic, near-term solution for hydrogen infrastructure and delivery, as well as for converting existing passenger aircraft to use this lightweight, safe, and true-zero-emissions fuel.
"Today's milestones are essential, important steps to putting the industry on a trajectory to meet Paris Agreement obligations. The only alternative is curtailing aviation traffic growth to curb emissions."