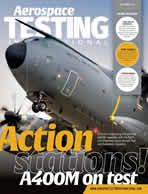 The September 2017 issue is now available online! Packed full of news, interviews and features, including:
A400M TESTING : Based alongside the RAF's Air Mobility Force at RAF Brize Norton, 206 (Reserve) Heavy Aircraft Test and Evaluation Squadron is expanding and proving A400M capability in a carefully managed, long-term campaign that's delivering significant new capability to the frontline
TEST PILOT SCHOOLS : Two leading test pilot schools continue to invest in aircraft, equipment and new approaches to better meet the changing needs of industry
WIND TUNNELS : What role will wind tunnels play in the testing of future aircraft? NASA's latest supersonic testing program provides some clues
ELECTRIC & HYBRID AEROSPACE SYMPOSIUM : More than 200 global engineering experts will gather in Cologne, Germany, this November, to discuss and share the latest electric and hybrid aircraft research and testing.