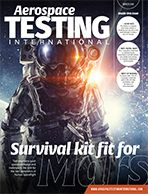 The March 2018 issue is now available online! Packed full of news, interviews and features, including:
SURVIVAL SPACE : Being stuck inside a spacesuit for six days is just one of the extremes NASA is addressing as it looks to a new age of space exploration.
A WINTER'S WORK : Airbus Helicopters' chief test pilot, Olivier Gensse, gives his take on the H160 test and certification and the demands of testing helicopters in tough environments.
FULL CIRCLE : The Boeing 787's troubled service entry and new engine technology have given the Airbus A303 anew lease of life.
SHIPSHAPE : The aircraft used by the Royal Navy are monitored and inspected by a dedicated team of NDT specialists.
BEST OF BOEING : Boeing's chief test pilot in the UK, Rich Pillans, talks about running the company's first test and evaluation center outside of the USA and why it pays to keep a clear head during flight tests.