Rolls-Royce has launched a virtual reality training program about the BR725 engine used by Gulfstream's G650 business jet for MROs.
The instructor-led distance learning course covers the construction, design and operation of the BR725 engine. After completion of the  two-day virtual reality (VR) training course, participants will be able to service the engine and undertake non-routine maintenance.
There are more than 800 BR725 engines in service. The engine, which was launched in 2012, recently achieved the milestone of one million flying hours.
Andy Robinson, senior vice president of customers and services – business aviation at Rolls-Royce said, "The live virtual training tool is nothing short of a game-changer – it makes us the leader in technical training and allows customers to participate in the new training, wherever they are in the world. They just need an internet connection, and the required VR equipment, which will be shipped directly to their door."
Lee Bradshaw, director of technical operations for conglomerate Cox Aviation said, "The VR maintenance course is a great example of the innovative thinking that is needed to meet the challenges of our ever-changing world. This program allows each student to immerse themselves in an augmented environment full of realistic images, interactive functions and auditory feedback to delve deeper into the engine like never before."
Rolls-Royce said that VR is not intended to completely replace practical training, but that the technology creates flexibility for customers and eliminates the need to ship a full size training engine for training.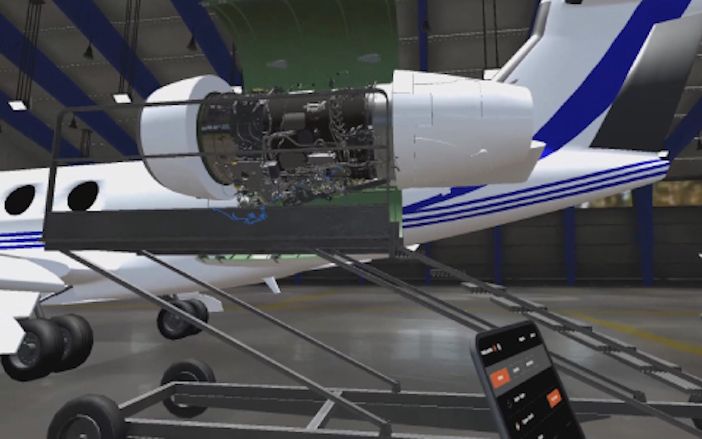 During the course, the user is part of two realistic scenarios – the engine is installed on the aircraft in a virtual hangar and the BR725 engine is examined alone, just like it would be in our in-person training courses. VR allows them to watch the process steps to familiarize themselves with the respective task to interact with the engine and the tools and complete tasks under the constant supervision of the instructor.
Enrolment forms can be found here