Tel Aviv, Israel-based eVTOL aircraft developer Air completed its first hover test with its full scale Air One prototype last month after receiving its airworthiness certificate.
The flight, which took place on June 21, took place in Megiddo in northern Israel. The 868kg (2,000 lbs) prototype completed multiple hovers throughout the day and the following two weeks, safely lifting off, hovering in place and returning to the ground, said Air.
Air One is a two-seat eVTOL aircraft targeted at individual consumers for daily use. The Air One can take off and land on any flat surface with a 250kg (550 lbs) payload and has a "practical range" from a single charge with top speeds of up to 250 km/h (155 mph), said Air.
The Air One has been designed to be stored in most garages and driveways and is suitable for trailer hauls.
According to Air during the recent flight tests the aircraft's systems provided full control and stability as designed. Furthermore, Air One's energy use during flight was exactly as predicted, demonstrating its ability to execute expected performance metrics.
The company plans to expand to full flight envelope testing during the remainder of this year and for the eVTOL aircraft to be in service by 2024.
Rani Plaut, CEO and co-founder of AIR said, "It was truly awe-inspiring to watch AIR ONE lift off the ground for the first time. We've been on this upward journey for nearly five years and cannot wait for the public to join us on this ride.
"This milestone secures AIR's spot as a market leader in the personal air mobility space, making the thrill of flight achievable on a daily basis. We look forward to continued growth as we launch into the next phase of development."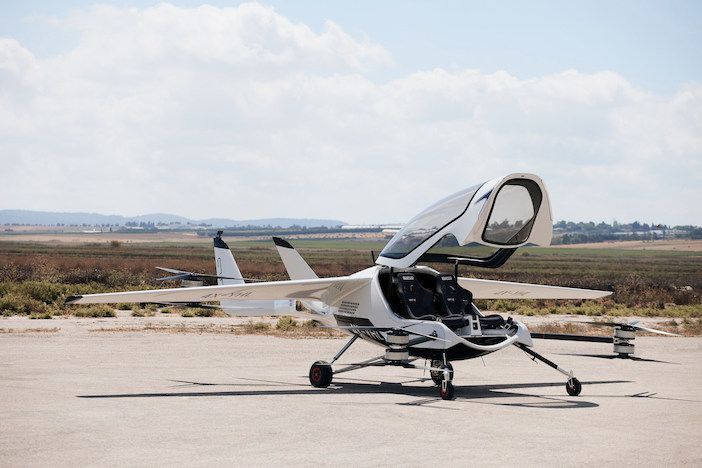 Air said it has completed successful drop testing, conducted multiple propulsion tests and has performed a series of electronic and stability tests before the prototype's first takeoff.
The company revealed the full-scale Air One prototype at this year's Kentucky Derby in the USA and has announced it has 150 pre-orders for the AIR One.