Hypersonic commercial flight is an incredibly ambitious, almost fantastical goal most likely decades away from reality. Yet around the world companies are developing the key technologies needed to propel passengers to Mach 5 (3,500mph) and beyond.
Hypersonic aviation companies have common aspects: long, sleek aircraft designs, lots of ideas, and very ambitious R&D programs. But they also have some key differences.
Testbeds
Companies such as Hermeus and Stratolaunch in the US and Australia-based Hypersonix are leading hypersonic aircraft development. All three companies plan to soon fly unmanned aircraft at speeds above or around Mach 5.
Hermeus' Quarterhorse is expected to fly next year and will be capable of Mach 4+. It is being developed primarily to test Hermeus' Chimera turbine-based combined cycle engine, which it intends to use in its future hypersonic aircraft.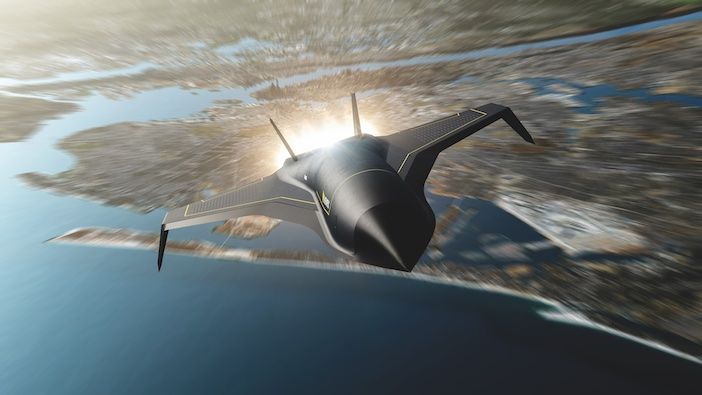 Stratolaunch's Mach 6+ Talon-A is expected to fly before the end of this year. Talon-A will primarily serve as a reusable testbed for developing hypersonic technologies. It will be the first fully hypersonic-capable vehicle with an integrated propulsion system, a liquid-fuelled rocket engine.
Whereas Quarterhorse will take off and land from a runway, Talon-A will be air-launched from the company's Roc carrier aircraft. Roc itself is an impressive feat of engineering – a twin-fuselage design that is the world's largest aircraft with a wingspan of 385ft (120m).
There are several sensible reasons for Stratolaunch's approach to hypersonic development. Dan Millman, chief technology officer says, "Talon-A is air-launched just like the X-15 was. We get out the conditions, come back and land and then turn around and do it again.
"You want to make these vehicles as sleek as possible. But if you want to land you have to put landing gear on it. You have to make compromises. We air launch because then we only have to size the gear for landing."
Crucially, Talon-A will be reusable. Current flight testing at hypersonic speeds is done with testbeds that crash land. This means only relatively small amounts of data are produced and recovered.
"Talon-A is a game changer because reusability translates into affordability. I won't have to rebuild my test vehicle every time I want to fly, I will just replace the payload and fly again," says Millman.
"It brings down the cost of testing so we can really advance the technologies that need to work on weapons systems or on commercial systems. We can even help out other companies by testing some of their systems before they put them on their own vehicle.
"We're agnostic about who we are testing for – we just want to advance the technology. That's where Stratolaunch sets itself apart. We're trying to advance the technology for everyone. And we can do it at a lower cost and higher cadence than anyone else can."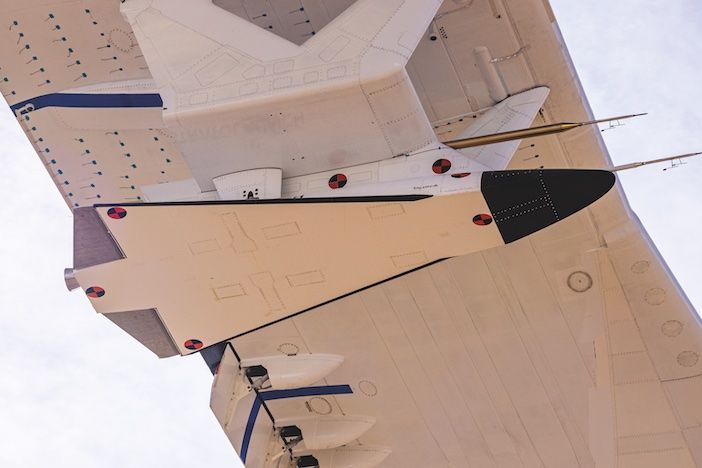 By the end of this year Stratolaunch plans to be flying Talon-A about once every 30 days. The test program's next milestone is the separation test. Then engineers will do the first expendable launch, before progressing into launching and landing vehicles.
Stratolaunch was originally founded to build and operate Roc as an aerial
space-launch platform, a task it was never used for. The company reorientated towards hypersonic testing several years ago. Millman says, "Roc affords us flexibility with the size of the pylon. We can give Talon the best possible aerodynamic conditions for release because we have a lot of real estate to work with.
"It's a great launch platform for testing and we are a testing services company."
Australian development
Hypersonix is taking steps to develop a space-launch platform and hypersonic aircraft using Australian Government funding. Dr Michael Smart, chief technology officer, director and head of R&D at Hypersonix lists the major technical challenges facing hypersonic flight as thermal management of the airframe and the development of a way to facilitate horizontal take-off.
"We do thermal management of our airframes by making full use of radiation and regenerative cooling with hydrogen fuel. We are supporting the development of Ceramic Matrix Composite [CMC] structures with internal R&D," says Smart. "Horizontal take-off requires the combination of a jet engine at speeds of up to Mach 5 and a scramjet engine above Mach 5."
CMC structures with a low density, but capable of operating at temperatures of around 1500˚C with low thermal expansion properties are needed.
Hypersonix plans to fly a testbed next year. Dart AE is 3m (9ft) long and made by 3D printing high-temperature alloys. It will flight test the company's hydrogen-fueled Spartan scramjet engine for the first time.
Spartan is a self-igniting re-usable engine that has matured through 30 years of R&D and "more than 6,000 ground firings and 11 sub-orbital flights," according to Hypersonix. US-based defense and aerospace company Rocket Lab is supplying a rocket booster for Dart which will propel it to Mach 5, after which Spartan will ignite to produce speeds of up to Mach 12.
Dart will be launched using a guided rocket, although Hypersonix has plans to develop a more complex, re-usable three stage launch system called Wirraway. This system will include the Delta Velos Orbiter, a hypersonic vehicle to launch small satellites, while the company continues to work on Mach 5+ drones and passenger aircraft.
Hypersonix is already working with Kratos and Smart sees the potential in partnerships with other companies and countries. "International partnerships could significantly increase the rate of development of hypersonic aircraft by combining different capabilities from a number of countries," he says.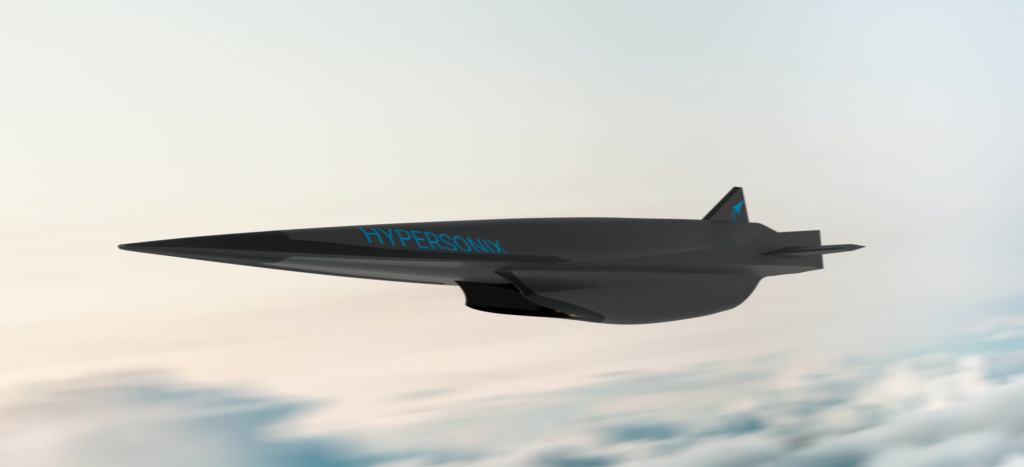 Partnership approach
Reaction Engines is also no stranger to partnerships. Founded in 1989 to develop a spaceplane, the company employs around 200 people and is based in Culham, UK, and Denver, Colorado. Reaction has evolved significantly during its 34-year history. Today its hypersonic R&D is focused on the development of thermal management technology and breakthrough propulsion systems for use in space and high-speed flight.
President of Reaction Engines, Adam Dissel heads up the business in the USA. He is pragmatic about the challenge of developing a hypersonic aircraft.
"These are hard things to do that will get harder as the market becomes real. You need to know about the nuts and bolts of building an aircraft, then as you get closer to flying people, your aircraft has to go through the certification process," says Dissel. "As exciting as hypersonic flight is, it isn't going to happen quickly."
Once one accepts that a high-Mach capable commercial aircraft will take many years to develop, funding becomes a massive issue for a commercial hypersonic aviation company. "One route for funding is defense," says Dissel. "You need to develop high-Mach jet fighters before you can have high-Mach airliners."
Reaction works with BAE Systems, Rolls-Royce, the UK's MOD and the US Air Force (USAF). The partnerships have requirements that must be fulfilled and pragmatic near-term targets.
In January, Reaction successfully completed a ground testing campaign in Colorado with the USAF to demonstrate the suitability of its precooler technology to boost the performance of current generation fighter jet engines. The program built on previously conducted tests funded by DARPA called HTX which were completed in 2019. Both testing programs validated the precooler's capability to take the high temperature airflow that would be experienced during hypersonic flight, around 1,000°C (1,800°F) and reduce its temperature to ambient for use in an engine.
"The idea is that our technology is like the bouncer at the door, fighting the thermal conditions at the inlet, and the engine behind the precooler, which should be a molten pile of metal, is none the wiser," says Dissel. "It allows current jets to fly at a much higher speed without a brand new engine."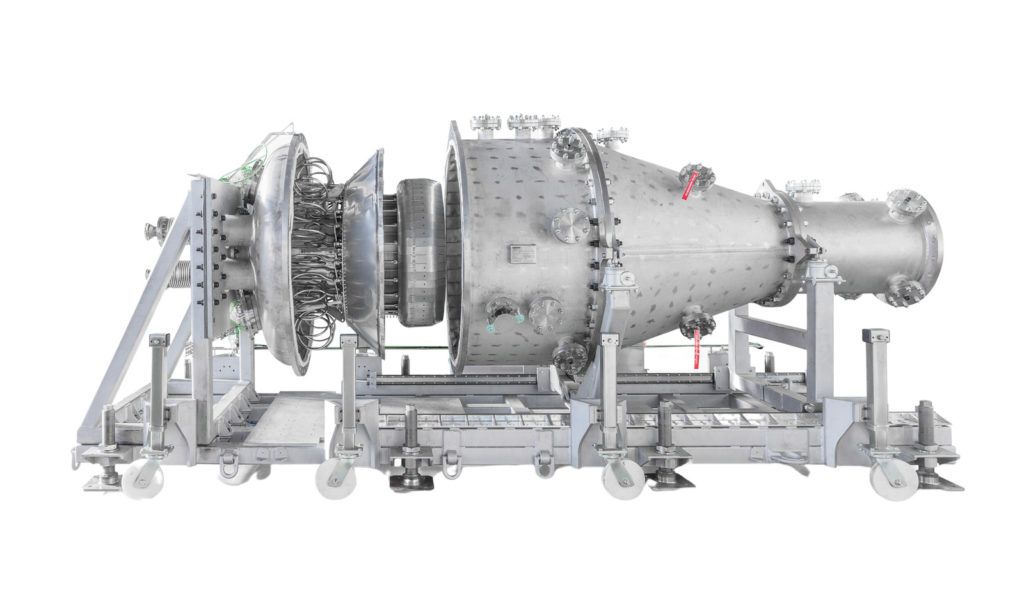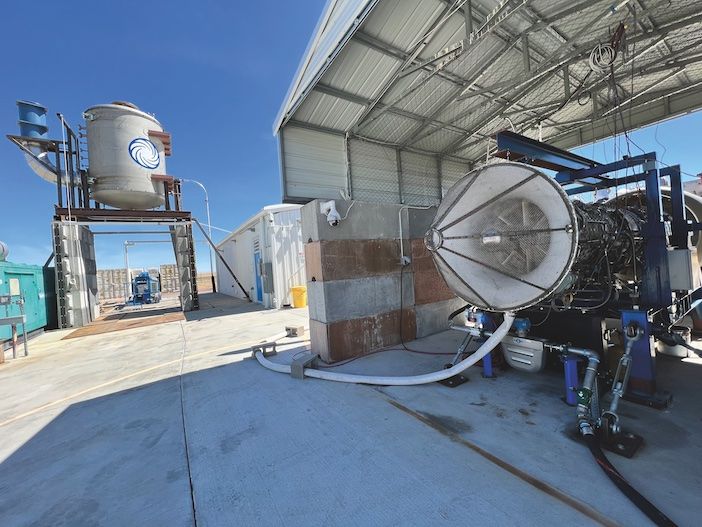 Dissel believes that hypersonic aircraft propulsion systems based on rocket engine technology will be complex, difficult to maintain, and have low lifetimes: "We have flown at these speeds before, but we are yet to really master that domain. If we want to master it, we can't expect engines to suffer the hellfire environment all the time.
"But if I take the best propulsion technology and combine it with our thermal management technology, we can make a Mach 2.5 engine or a Mach 4 engine. So our testing is focused on exposing our technology to those conditions and validating it," he says.
At the same time as the work with the USAF, Reaction is working in the UK on the HVX program. Announced at last year's Farnborough Air Show, the UK Government funded R&D program aims to develop hypersonic technologies including air-breathing propulsion engines, thermal management systems and advanced vehicle concepts. As part of the program, Reaction's precooler technology is being combined with a subscale jet engine for ground testing. This will then be scaled up to engine sizes large enough for use in aircraft.
"Versus three years ago we have proven the thermal precooler works with the technologies required to fly high-speed systems," says Dissel. "It's one thing to get an engine to work on a testbed. It then has to work for thousands of hours with minimal maintenance. We are already working at the right performance levels, and are on the integration and reliability journey for scaling up.
"We are really excited about the high-speed market. We believe that there are commercial and defense angles and we see it as being very much a partnership approach with other companies and different governments and countries to make it real."
Startup plan
In contrast to Reaction Engine's 30-year lifetime, European company Destinus was founded in 2021. The company has grown to 80 people since then and has offices in Switzerland, Toulouse and Paris in France. In Munich there is a workshop, and the company plans to open a hydrogen test facility in Madrid, Spain this year.
Destinus aims to build two hypersonic aircraft. The first will be transoceanic and capable of carrying between 20 to 100 passengers up to 7,500km (4,700 miles). It aims to have this ready by the end of the decade. After that, the target is a transglobal hyperplane, capable of moving 400 passengers up to 20,000km (12,500 miles) in a few hours. Both aircraft will be hydrogen-fueled and fly at altitudes of 30 to 40km (18 to 25 miles).
Despite being in the design and R&D phase, the company is conducting flight testing using subsonic prototypes and ramping up quickly toward flying a supersonic prototype next year.
Martina Lofqvist, senior business development director says, "We are focused on developing hypersonic flight capabilities and we are undergoing design tradeoffs for the specifications. Our timeline is dependent on when technology – like our active cooling system – is ready."
Destinus' thermal management system is a patented concept that uses pipes carrying hydrogen to reduce temperature at the hot surfaces of the aircraft. The same hydrogen is used to fuel the aircraft.
"We also have teams developing hydrogen afterburners and an autopilot system, other key technologies," says Lofqvist. "We are doing a lot of research on the vehicle design – the inlets are always complex for supersonic and hypersonic aircraft and are a particular focus.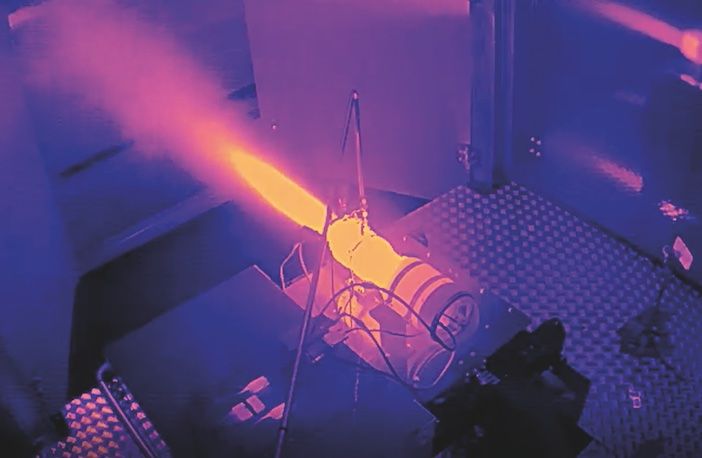 Destinus' first two prototypes, Jungfrau and Eiger, were built to test flight behaviors. Jungfrau recently flight tested a hydrogen-fueled afterburner – the first time such a system has been flight tested. Destinus' third prototype will be fueled by hydrogen and capable of supersonic speeds. That aircraft should make its maiden flight before the end of this year, with the first supersonic test flight scheduled for next year either in France or Spain.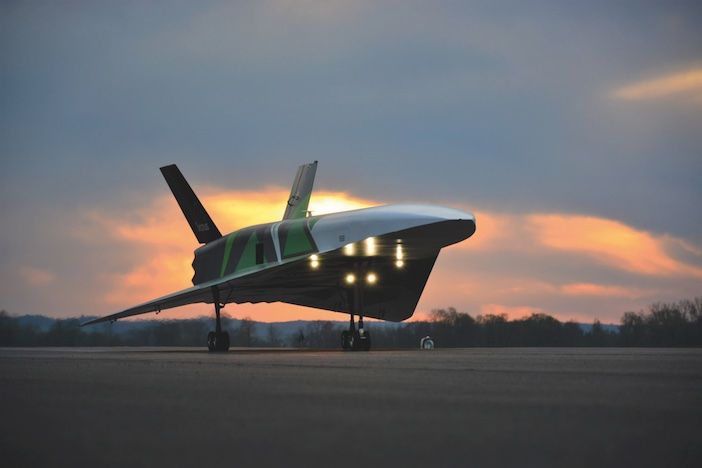 There is plenty of work, but similar to others in the field top of Destinus' technology to-do-list for a hypersonic aircraft is thermal management and a propulsion system that can enable horizontal take-offs and landings. "We need to develop a hydrogen ramjet that is highly efficient and can accelerate fast and reliably," says Lofqvist. "Propulsion is increasingly becoming our main R&D focus."
The decision to use hydrogen fuel was made early on, partly for environmental reasons, but also because it makes sense in terms of the design requirements. "At speeds above Mach 3 and ranges of more than 3,000km hydrogen is a much more efficient fuel to use compared to Jet A fuel. Hydrogen is lightweight, which is also an advantage," says Lofqvist.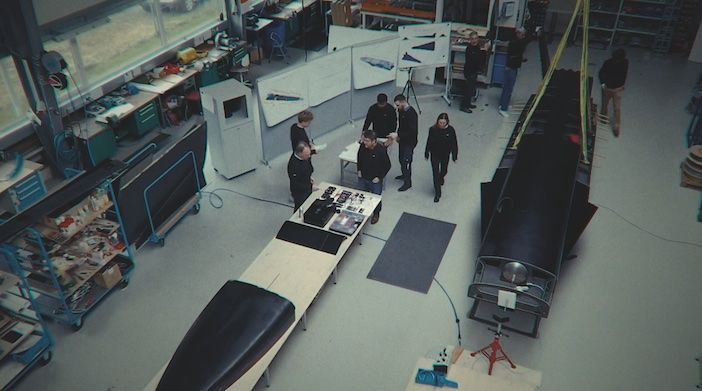 There is little doubt that such an ambitious testing program will burn through money as fast as it combusts hydrogen. The company's existing private investors have provided seed financing and Series A funding will take place this year. The company is also seeking funding support from governments in the form of joint R&D programs.
"We understand that partnerships with industry and academia are going to be very important as we move forward," Lofqvist says.
Destinus plans to sell access to its test facilities to other companies as and when they become available. The company is also looking at the possibility of developing hypersonic-capable unmanned vehicles that could be used for R&D and defense applications as a revenue source. A strategy to develop defense applications first is similar to others developing hypersonic aircraft.
Lofqvist believes there is strong support for Destinus in Europe: "We know it is a complex challenge, but we believe Europe needs these types of hypersonic technologies. Similar programs in the USA and China are advancing quickly," she says.
Aside from the technical challenges, Lofqvist is convinced that market demand will exist for hypersonic passenger flights in the future and that shorter journey times will create large new commercial passenger routes to serve. "The regulatory side in terms of noise emissions is a challenge," she says. "Our approach is to solve this by creating new routes over unpopulated areas."
However, non-technical challenges are not driving design or development at the present moment. Across the sector, most hypersonic companies are addressing innovating within thermal management and propulsion first.
These companies range from startups of a dozen people to those that have existed for decades and employ hundreds. They are funded by private investors, governments, and defense firms. But no matter their size and age, the most important currency for them all is credibility. In parallel, there is a growing awareness that surmounting the barriers to hypersonic flight will require the pooling of resources and knowledge between companies and countries.
---
Solving the Hypersonic propulsion problem
One of the fundamental challenges for hypersonic flight is to develop a reusable, reliable engine capable of propelling aircraft to hypersonic speeds.
Perhaps the most successful hypersonic manned aircraft, the USA's X-15 was air-launched and used rocket engines in the 1950s and 1960s. It achieved a speed of Mach 3.7. The fastest air-breathing manned aircraft is the SR71 Blackbird spy plane, which was powered by two Pratt & Whitney J58 axial flow turbojet engines and was capable of Mach 3.2.
The SR71's J58 engine is often called a turbo ramjet. Above Mach 2 it used compressed bleed air in its afterburner. Ramjets use the forward motion of the engine during flight to compress incoming air instead of a rotary compressor. They can only be used at speeds above Mach 2.
A scramjet (supersonic combustion ramjet) is designed for speeds above Mach 6. The airflow through a scramjet engine remains supersonic. Engineers believe the technology is capable of up to Mach 15. But, no flight tests have surpassed Mach 9.6, achieved by the X-43A in 2010.
Companies are pursuing several propulsion technologies. But crucial to hypersonic flights is the development of a capability to power an aircraft through the lower atmosphere using conventional jet engine technology before switching to a ramjet system for hypersonic speeds.
---
Hypersonic Hopefuls
There are several startups in the USA that have launched well-funded bids to build hypersonic aircraft. They include:
Venus Aerospace is developing hypersonic drones and passenger aircraft. The company was founded in 2020 and recently test fired its Rotating Detonation Rocket Engine with a storable liquid fuel for the first time on the ground.
Velontra was founded in 2021 in Ohio, USA. The company is building an unmanned spaceplane that uses a jet engine and airbreathing propulsion. Velontra plans for its spaceplane to be used as a platform for launching satellites.
Radian Aerospace is based in Renton, Washington, and was founded in 2016. The company's delta-winged spaceplane Radian One will be launched from a rocket-powered sled and then uses rockets to propel it to orbit for manned missions of up to five days before returning to Earth.