Engineers from BAE Systems developing energy management and engine controls technology for the next generation of hybrid-electric and electric propulsion systems will have prototypes operating later this year.
The R&D work, which is being conducted at BAE Systems Electronics in Endicott, New York, is progressing rapidly, with an expansion planned that includes a new laboratory and manufacturing facilities to develop the latest engine energy management and controls systems.
Engine control systems
Mounted to the side of a jet engine is a set of electronics roughly the size of a personal computer. These smart, digital controls optimize engine performance in aircraft of all sizes, even in the harshest conditions.
They monitor and manage engine performance – reducing cost, driving efficiency, and improving safety of flight by using sensors which keep an eye on the current flight conditions and how the engine is running.
The control system uses that information to adjust fuel flow, air bypass, and other engine parameters to enhance the engine's performance. Such technology has served as the brains of aircraft engines for decades and improves with every new generation of engines.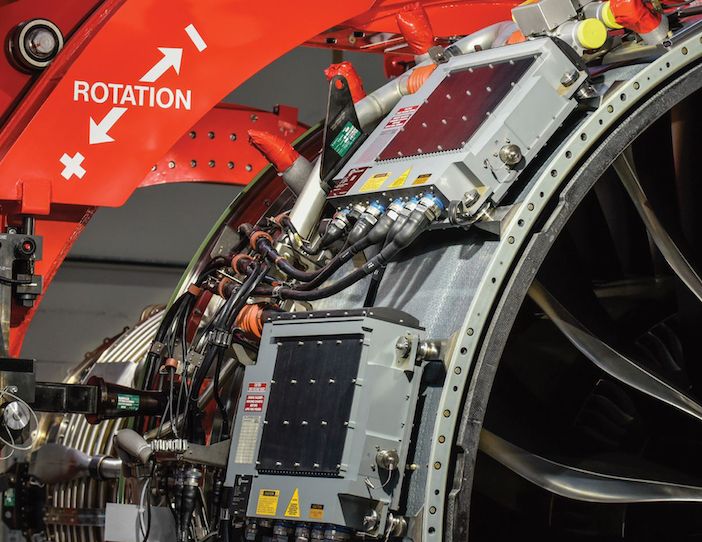 Improving the system
The rise in greenhouse gases has airlines considering how they can reduce aircraft emissions and save on fuel – with the eventual goal of going all-electric. While the first commercial electric-hybrid or all-electric flight may be years away, we are clearly trending in that direction.
To prepare for this, BAE Systems has been investing in core technologies to reduce the size and weight of engine control systems. Most controls are now 40% smaller and lighter than their original size and weight, but with 10 times the processing power.
In addition to size and power improvements, engineers are making the technology safer and more reliable. This includes protection against threats such as like cyber-attacks and the refining of prognostic systems to predict when a failure may occur to enable airlines to plan maintenance.
Combining experience
The first-generation of engine controls took flight in the early 1990s and have logged 1.5 billion flight hours. Today, BAE Systems has engine controls installed on more than 30,000 aircraft around the world.
The company is also preparing for electric flight by combining its experience in engine controls with more its knowledge of energy management systems. BAE Systems' electric power and propulsion technology powers more than 12,000 buses, trucks and marine vessels around the world. Those systems not only save fuel but eliminate 250,000 tons of carbon dioxide from the air each year.
Yeshwanth Premkumar, BAE Systems' business development and strategy lead for aircraft electrification said, "We're combining our power management experience from ground-based hybrid buses with our flight and engine controls experience to enter the market for energy management for hybrid and all-electric aircraft.
"Right now we're busy developing new energy management systems and combining them with controls for hybrid engines on regional jets and turboprops. We plan to have operational prototypes of these new systems later this year.
"We're also expanding operations in Endicott, New York, with a new lab to support development, testing, and advanced manufacturing for these systems."
"This new development enables us to advance our proven energy management and controls technology and work on hybrid electric demos in the future. We're still focused on the urban air mobility segment, but see great potential with business and regional jets.
"It's a natural progression for our business, as our engine controls support an install base of more than 30,000 aircraft. We view the technology for both market segments to be agnostic.
"We can apply engine controls and energy management systems individually or as a combined offering to any platform regardless of its size. Our focus remains on driving new innovation for the future of flight and that means maturing the technology and defining how it will be used to support our customers."