This webinar provides an overview of the incremental steps needed to set up a digital twin in your manufacturing process. Where to start, how to setup the right team and project, how to orchestrate your workflow, where to implement feedback loop, how to provide value and visibility from your digital twin model.
How to use the power of digitization to ease the manufacturing process in aerospace.
Hexagon Manufacturing Intelligence division helps airframers, OEMs and aerospace suppliers reduce production cycle times and design the new generations of aircraft passengers are hoping for. With the world's largest simulation and metrology portfolio closing the gap between the virtual and the real, we bring speed and accuracy to the shop floor to detect manufacturing issues early and drive aerospace productivity.
Hexagon's positioning enables the company to fuse real and digital worlds, leading to a set of actionable data, that empowers our customers to orchestrate their factories.
Watch this webinar to  learn:
How to create and operate a true digital twin using reverse engineering techniques
How to simulate Multiphysics design and manufacturing processes, then apply that knowledge to your physical operations

Presenters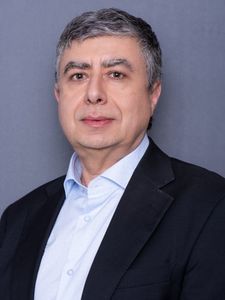 Olivier Tabaste
Director Innovation Aerospace and Defence – Hexagon
Olivier Tabaste is in charge of innovation projects for Global Aerospace & Defense at Hexagon Manufacturing Intelligence. Thanks to various assignments across the three regional operations of Hexagon Design & Engineering Business unit, he brings to our customers 30 years of Expertise in Digital Transformation.
He holds a Mechanical Engineering Degree from Ecole Centrale Nantes (France) and a Master in variational simulation methods applied to dynamics and aeroelasticity of structures
Ben Sampson
Editor, Aerospace Testing International
Ben has worked as a journalist and editor, covering almost all aspects of technology, engineering and industry for the last 20 years. Initially writing about subjects from nuclear submarines to autonomous cars to future design and manufacturing technologies, he was editor of a leading UK-based engineering magazine before becoming editor of Aerospace Testing in 2017.