This webinar with VJ Technologies was presented by Rahul Alreja, the Director of Global Sales & Marketing for VJ Technologies, and hosted by Ben Sampson, Editor of Aerospace Testing International. Live on Thursday July 22, 16:00 BST, 17:00 CET, 11:00 EDT, 08:00 PDT.
Aerospace manufacturers have ever-increasing demands being placed on them – lighter-weight parts that are at least as strong; less expensive parts with more complex geometries; stricter quality standards; faster production times, etc. Therefore, the manufacturers are demanding better testing from their QA and NDT teams. As NDT solution providers, we at VJ Technologies (VJT) are especially cognizant of these increasing requirements that are being pushed down as the aerospace industry continues to grow in leaps and bounds. It is on us to be innovative, flexible, precise, and efficient with our offerings.
Recent challenges VJ have had to solve have included inspecting a 4-foot rocket-motor with 100-micron resolution in 4 minutes to keep up with factory output; and inspecting a 3-ton rocket motor in the field before and after test without moving the motor.
In this webinar, VJT  demonstrated some of the latest developments of digital radiography (DR) and computed tomography (CT) to tackle these increasing demands. Topics like in-field CT, multi-part CT, automated inspection, high-energy inspection will be discussed, and various case studies were shown.
Presenters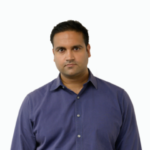 Rahul Alreja, Director of Global Sales & Marketing,
VJ Technologies
Rahul Alreja is the Director of Global Sales & Marketing at VJ Technologies, a leading provider of x-ray inspection solutions for quality control in a wide range of industries throughout the world. Author of several technical papers, Rahul has been invited around the world to speak on next-generation advances in the field of non-destructive testing as VJT constantly pushes the boundaries of what's considered possible and bring advanced technology, robotics, automation, and computer/machine learning to a variety of industries, specifically targeting quality control and product flow.
Ben Sampson

Ben Sampson, Editor,
Aerospace Testing International