Join us for our webinar in partnership with Curtiss-Wright.
As the "Total System Provider" for Flight Test Instrumentation (FTI), Curtiss-Wright is leading the flight test communities' transition from a PCM/CAIS-based FTI system to a network-based Distributed FTI (DFTI) system.
The DFTI system includes the entire airborne network and bi-directional RF links that make the ground station part of the DFTI network. We provide networked products and services that cover the entire gamut of FTI, from data acquisition, recorders, switches, gateways, RF transmitters, and transponders, ground support equipment, and data analysis software tools (IADS) for all commercial and DoD test platforms.
This presentation will focus on our collaborative developments with the FTI customers and the new capabilities that will be available to the FTI community.
Delegates will learn:
Distributed Flight Test Instrumentation (DFTI) Network, based on IRIG standards
Network sub-systems and components, including new types of avionics buses
Bi-directional wireless links, and making the ground station a part of DFTI
Ground data processing, both real-time and post-test for single and multi-ship configurations
Edge computing, AI/ML software containers, and Knowledge Management (KM)
When
Thursday 30th March 2023 15:00 BST
16:00 CEST; 10:00 EDT; 7:00 PDT

Meet our Presenter: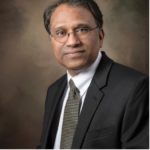 Sridhar Kanamaluru
Chief Architect
Sridhar Kanamaluru is a Chief Architect within the Aerospace Instrumentation group of Curtiss-Wright. He received his Ph.D. in Electrical Engineering from Texas A&M University and has over 30 years of experience in research, product development, and engineering management for microwave, radar, and FTI products. Sridhar joined Curtiss-Wright in 2013 as Director of Radar and Antenna Systems and in 2022 was named a Technical Fellow.