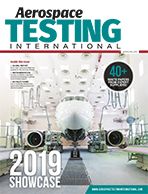 The Aerospace Testing International Showcase 2019 issue is now available online! Packed full of news, interviews and features, including:
FLIGHT TEST ROUNDUP : Aerospace Testing International's annual flight test report reveals there are more new commercial airliners in testing now than there have been for many years.
INTERMITTENT FAULTS : The US Department of Defense has pioneered the use of test equipment to tackle the 'No Fault Found' problem and identify degradation in connectors, cables, circuit breakers and LRUs.
AIRCRAFT DESIGN : Acoustic simulation tools are being developed to help reduce the noise generated by the next generation of commercial aircraft and urban air taxis.
SHARED GOALS : A standardized programming language for FTI being developed in the USA could improve flight test agility across the entire industry.