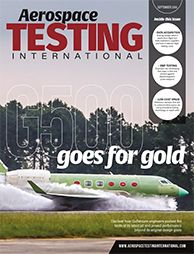 The September 2018 issue is now available online! Packed full of news, interviews and features, including:
G500 IS GO : Having found additional range in its G500, Gulfstream extended the type's flight test program into 2018. With FAA certification awarded, the airframer is working toward certifying the closely related G600 this year.
SMALL WONDERS : The dozens of startups entering the market for small satellites and low-cost launchers have to use agile and innovative testing equipment and processes while developing new technology.
EMBEDDED INTELLIGENCE : Despite teething problems, researchers still believe embedding sensors inside composite materials will improve the way stress and strain are measured in aerospace
SOFTWARE EVERYWHERE : With delays and cost increases of aircraft test programs increasingly blamed on software problems, what technology and tactics are available to keep software testing under control?
MEET ANJA FRANK : Boldly going where no woman has gone before… Aerospace Testing International talks to Anja Frank, head of test facilities at DLR Lampoldschausen.