The US Air Force has taken a major step forward in its hypersonic weapon development program after successfully launching its AGM-183A missile from under the wing of a B-52 Stratofortress aircraft.
The final captive-carry test of the Air-launched Rapid Response Weapon (AARW) was carried out earlier this month at Edwards Air Force Base in California. This is the third captive carry test and the first time an ARRW missile had been fully assembled.
The flight resulted in the successful transmission of telemetry and GPS data from the AGM-183A IMV-2 (Instrumented Measurement Vehicle) to Point Mugu Sea Range ground stations. The test verified system integration with the B-52 launch platform and telemetry while practicing concepts of operations that will be used during the prototype missile's first booster test flight later this year.
The test flight was conducted with tactical hardware and was also instrumented to collect thermal, mechanical and digital data from the flight vehicle. Additional ground and flight testing is planned to follow over the next two years.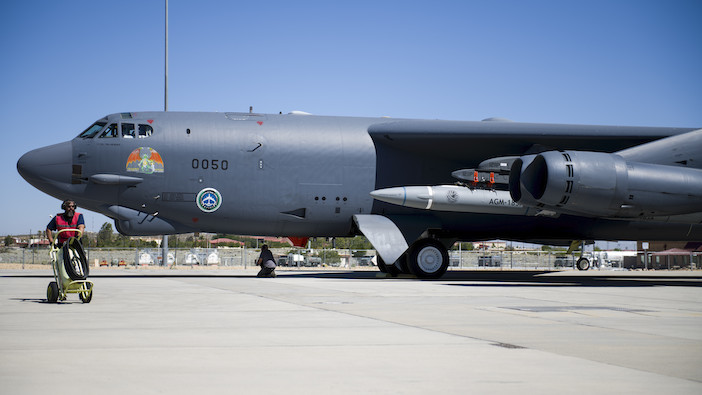 Development of the AARW began with the Defense Advanced Research Projects Agency's Tactical Boost Glide demonstration system in 2015. The Boost Glide system will be integrated into the ARRW payload.
"This is a major milestone for the program, the team and our Air Force," said Brig. Gen. Heath Collins, the US Air Force's program executive officer for weapons. "ARRW is the first step in bringing game-changing hypersonic capabilities to our warfighters."
The ARRW program is a rapid prototyping project aimed at delivering a conventional hypersonic weapons capability to the US Air Force in the early 2020s.
"The event this week demonstrated the ability to communicate with the prototype weapon. The entire team is excited to take the next step and begin energetic flight test of our first air-launched hypersonic weapons," said Lt. Col. Michael Jungquist, 419th Flight Test Squadron commander and global power bomber combined test force director. "These weapons will enable application of conventional firepower anywhere in the world at eye-watering speed."
Dave Berganini, ARRW program director at Lockheed Martin Missiles and Fire Control, which is part of the project to develop the hypersonic missile said, "The team overcame significant challenges driven by the Covid-19 pandemic to achieve this significant milestone for the program.
"This captive carry mission is the pre-cursor for our first booster test flight planned for early 2020s."