The European Union Aviation Safety Agency has awarded the first certificate for VR flight simulator to be used as a training device to VRM Switzerland.
The VR (virtual reality) device has been certified as Flight and Navigation Procedures Trainer (FNPT) level II for a Robinson R22 Beta II helicopter, the most used helicopter worldwide for the initial training of helicopter pilots, said EASA. A version for the Airbus H125 will follow shortly.
"This is a significant milestone in the evolution of flight simulation training devices," said Jesper Rasmussen, EASA Flight Standards Director. "The Agency is pursuing the modernisation of its regulation for training devices to reflect their actual capability and technology advancement.
"This evolution will make a wider range of cost-effective training devices available to complement full flight simulators and is being driven in part by training needs for new Vertical Take Off and Landing [VTOL] aircraft."
The VTM Switzerland device is for rotorcraft pilots, allowing them to practise risky manoeuvres in a virtual environment. This addresses a key risk area in rotorcraft operations – according to EASA around 20% of accidents occur during training flights.
EASA has run an evaluation program involving pilots from industry and aviation authorities, including helicopter flight instructors and test pilots to evaluate the suitability of the device for training. The evaluation showed that the VR solution was particularly useful for training in situations such as autorotation, hovering and slope landing where exact height perception and wide field of view are required.
Fabi Riesen, CEO of VRM Switzerland said, "Pilots should receive realistic training on simulators. This allows helicopter operators and flight schools to fly more efficiently and safely. Thanks to the qualification from EASA, we can offer training with the possibility of crediting flight hours. To make this possible, a lot of preparatory work was necessary."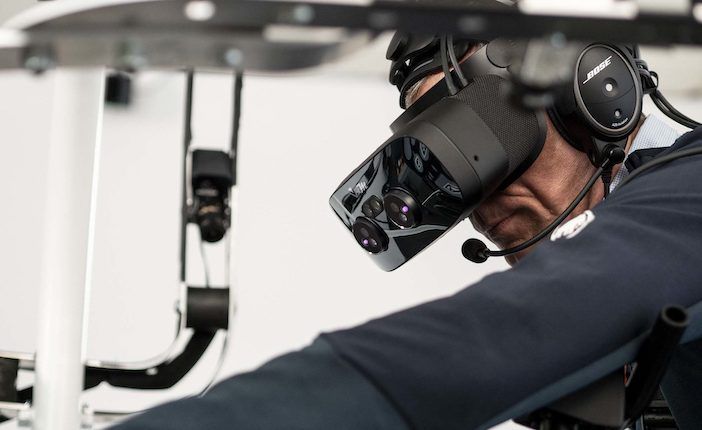 As this is the first VR based flight simulation training device (FSTD) qualification, the process applied by EASA had to be adapted to ensure an equivalent safety level compliant with the FSTD certification specifications. EASA applied special conditions from the existing regulations that take account of the new technology adapted to cockpit, display and motion systems.