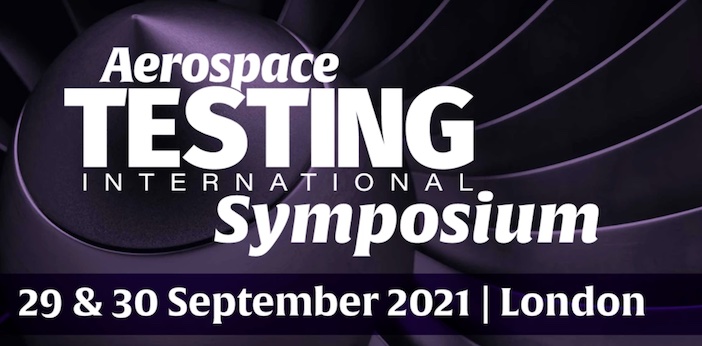 The first Aerospace Testing International Symposium is to take place in London, UK on 29-30 September 2021, bringing together aerospace component, aircraft manufacturers and air-defense system makers to discuss the technologies, techniques and services that will reduce product-development cycles and costs while improving performance and reliability.
As well as a packed agenda, the two-day conference will feature a range of companies exhibiting the latest testing systems and services that will help tackle the two great challenges the aerospace sector has faced in recent years – increased scrutiny on development procedures and the need to reduce testing costs without reducing performance, durability or quality.
Bringing the pages of Aerospace Testing International to life, the Symposium's agenda will cover all types of commercial and defense aircraft including UAVs, eVTOLs, airborne defense systems and passenger airplanes. Presentations will focus on key testing techniques and technologies used in aircraft development and manufacturing including NDT, vibration, emissions testing, quality and durability, telemetry, modeling and simulation, product validation and data acquisition and management.
Delegates can expect to hear from some of the best known, most qualified experts involved in aerospace testing about how engineers can validate designs and meet certification and quality standards using the latest software tools, testing machines, instrumentation and sensors. Topics will cover testing virtually, on the ground and during flight at component, systems and whole-aircraft levels.
With key figures from research associations, testing houses, and aircraft manufacturers presenting papers on testing case studies and innovative testing procedures and technologies, attending the Aerospace Testing International Symposium will help engineers make better informed decisions on what technologies and systems to invest in as well as how to improve product performance and durability.
Delegates to the Symposium will also be able to participate in another exciting new co-located event – London to Sydney in five hours: the future of aviation, a conference dedicated to the development of supersonic and hypersonic commercial flight technologies.
To learn more about the Aerospace Testing International Symposium and London to Sydney in five hours conferences and to buy a delegate pass go here.