Bell's Nexus electric Vertical Take Off and Landing aircraft is making good progress through testing, a senior engineer on the program has said, while re-confirming its first flight for 2023.
The Nexus features a central wing, integrated landing skids, a V-tail and a short horizontal stabilizer. The prototype seats five including the pilot and has an anticipated range of 150 miles with a cruise speed of around 178mph.
Bell has said it plans for the electric Vertical Take Off and Landing (eVTOL) aircraft to be certified by the "mid to late 2020s". Development of the aircraft started four years ago.
The company revealed a second version of the Nexus at the CES event in Las Vegas this week which uses four ducted fans instead of the six used in the original design and model. The evolved design was displayed alongside a model of a "smart city" as part of an automated and integrated urban transport solution at the show.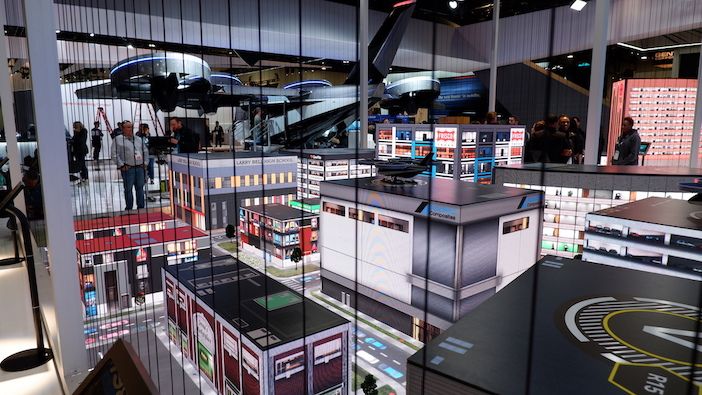 Vertical to horizontal power
Bell is leveraging its experience in military tilt rotors, such as the V-22 Osprey to develop the Nexus. Glenn Isbell, vice president, rapid prototyping and manufacturing innovation at Bell Flight said he believes its expertise in fly-by-wire flight control systems and transitioning from vertical to horizontal flight gives it an advantage over other companies developing eVTOLs.
"We've been doing fly-by-wire on conversion for thirty years, since the V22. We've learnt lots of lessons along the way. The V-280 Valor is flying and is a totally fly-by-wire conversion. It's the least risky part for us.
"Other people may struggle with it. The conversion between rotors pointing down and rotors pointing rear is not always easy. Especially when you start looking at all the different operating environments.
"We are big believers in getting on wing as fast as you can. You have to have significant control authority when you are in vertical mode. Things can happen like wind gusts in vertical mode which mean you need power. An underpowered, under-rotored aircraft trying to land vertically will experience scenarios that cause issues."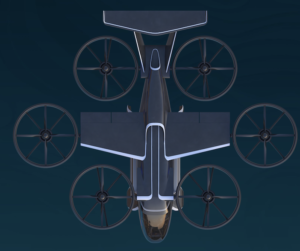 Each of the Nexus's ducted fans is powered by a different electric motor to provide redundancy. It also has a series-hybrid power system or can be configured as fully electric. Isbell said, "We are one of the few eVTOLs that has ducts as opposed to open rotor. We believe that for public acceptance, safety, noise and performance that it is the right path.
"The electric motors simplify a lot of things – it builds redundancy in. A hybrid approach gives us legs in vertical mode. You use a lot of power in vertical – when you are testing and doing certification you have to hover for long periods of time. You need a solution to that or you have to land every 10 minutes," said Isbell.
"A lot of people are doing demonstration testing at the moment. But to do cert testing in a reasonable time frame, you have to solve these kinds of problems."
Volume manufacturing, design and testing
According to Isbell there were almost 50 concepts on the drawing board when development of the Nexus. Bell is also developing the V-280 Valor tilt-rotor for the US Navy as part of the Joint Multi Role Technology Demonstrator program, which is currently being flight tested.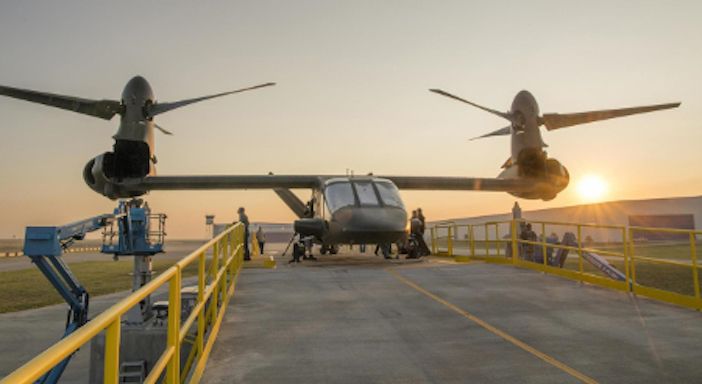 The manufacturing aspects of both aircraft are being considered in detail as part of development and design because of the higher volumes that are expected to be produced.
"With the Valor they [the US Navy] could be wanting 120 a year, which is high volume for an aircraft that size, so flow and the way you set the factories up begin to really matter, the approaches to the gears and the blades and the cases are what slow you down.
"With eVTOLs you could be producing hundreds of thousands a year. So the question becomes how to you reduce the price points? You don't have automotive volumes, but you're not building tens or hundreds a year, which is the traditional rotorcraft volumes that everyone does.
"That means we have to rethink some things – we want to use composites, but we don't want to have to deal with 16 autoclaves. There needs to be a mixture of approaches."
UAM Integration
Isbell also believes that integration into urban air mobilty (UAM) airspaces will prove difficult, with aspects such as controlling different speeds of vehicle and traffic yet to be fully considered.
"Aircraft like Airbus's Vahana will move at 70-80 knots whereas we will be 130knots + – will there be a slow lane and a fast lane? Its going to be incredibly hard with all the mix of different platforms," said Isbell.
"It will be intriguing when in the years ahead to see how UAM platforms evolve. Customers are paying for speed and convenience, if you can't provide that then you don't have a solution."
Despite the focus on urban environments, Isbell also believes there are other journey's and functions that eVTOLs will perform that should also be considered outside of an urban environment. This includes "thin-haul" routes, low demand, short journeys currently served by small business aviation aircraft.
"When you get into thin haul it does impact business aviation and it will be interesting to see what happens between certain city pairs. But our products are designed to operate in a variety of environments, because one set of customers may be using them to lift trees, while another may be using it to transport passengers."
Winning the eVTOL race
Bell's approach to developing the Nexus separates the development and testing of individual components and systems from the integration of the entire vehicle. Certification of the aircraft will also be pursued in a similar way to other aircraft. "The integration of the vehicle is one challenge. We are trying to ensure we have all the individual components validated because we know we can put things together relatively quickly," said Isbell.
"The FAA aren't about to change the way they do things just because there is electricity running through aircraft. A lot of companies will end up spending a lot longer than they anticipate on safety and certification."
Isbell said the company is taking a "four-pillar" approach to eVTOL development, "We have the technology, we know the operational environment, we have the manufacturing capability to make these at cost at a high right and we understand certification.
"We are trying to mature all of these in parallel. If you invest everything in the technology and the vehicle and you're too far ahead the operational and certification pillars, your technology just sits there getting older while you wait for it to catch up.
"Our strategy is to keep those maturing at the same time so that we are able to innovate while the business and operational side – which is hard to do with these long programs, also develops."
Isbell confirmed that the Nexus development program is targeting 2023 for first flight, "It's still in play," he said. "It's a fabulous time, the innovative spirit in this space is great. The Vertical Flight Society has categorized 200 different eVTOL concepts that people are trying to build.
"It's a race, it's just very uncertain where and when the finish line is. Everyone is guessing where the end point is at the moment and running in that direction.
"Some people may get there early and some may get there late, from a business standpoint timing things right is the biggest challenge.