Australian electric flying car company Alauda is ready to conduct manned tests of the "Speeder" eVTOL aircraft it is developing for a new, sci-fi inspired racing series called Airspeeder, which it plans to launch next year.
The MK4 Speeder is in the final stages of development with the first manned test flights planned to take place later this year in the desert surrounding Alauda's new technical development site in South Australia.
Alauda said it is ready to conduct the MK4's test flights under both ground control and piloted in the vechicle, but that the exact timings will depend on when restrictions related to the current global health crisis are lifted.
The first head-to-head dual races, under the AIrspeeder branding and using the MK4 are planned to take place before the end of this year.
Alauda is promising its racing octocopters will provide noisy and exciting close proximity racing for the Airspeeder racing series and that the competition will help spur the development of eVTOL (electric vertical take-off and landing) aircraft. For the series, racing teams and manufacturers will be provided hardware by Alauda as a turn-key solution, but afforded freedom to set strategy and draft pilots, in an approach similar to the early seasons of Formula E.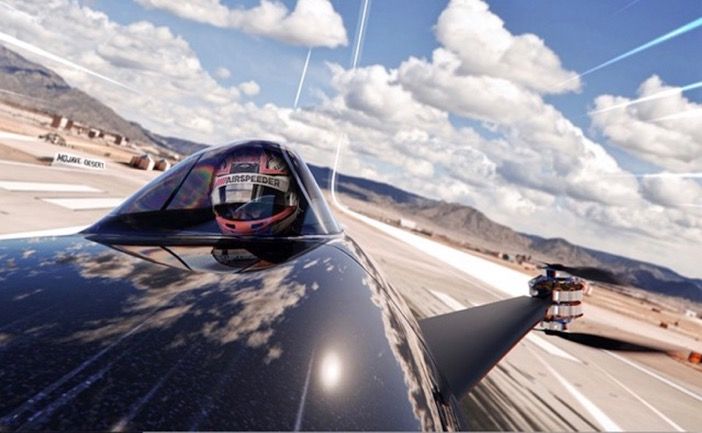 The races will be setup in a scenario imagined by video games such as Wipeout 2097, with piloted "flying cars" racing at speeds of up to 200km/h (125mph) at an altitude of between 4 and 40m. The 250kg multi-rotor MK4 will be powered by a swappable-500kW battery pack, use four 32bhp electric-motor dual-rotors positioned at the end of its four arms for propulsion and be capable of carrying up to (1000kg) 2,200 lbs.
Testing and development
The Mk1 Speeder was developed in Australia by Alauda in 2017. The Mk2, a three quarter scale quadcopter prototype, successfully completed trials last year and was flown in a demonstration flight at the Goodwood Festival of Speed in July the same year.
A team of test pilots recruited from the US Air Force and Martin Aviation are to test the MK3 advanced development prototype in the Mojave desert. The MK4, first shown as a concept last year is being developed in the UK and South Australia and will be tested later this year.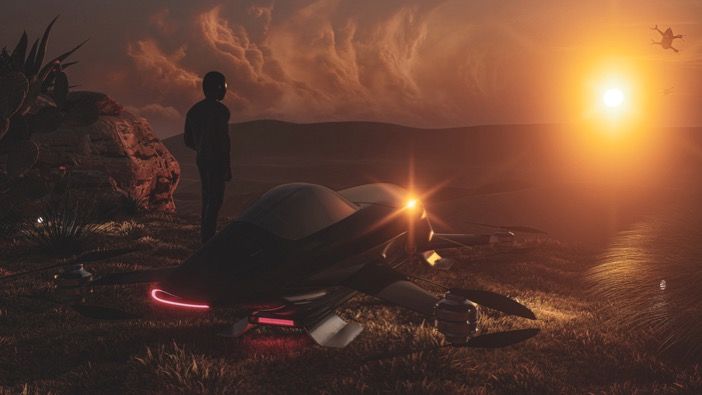 Alauda has also recently completed a seed-investment funding round. The money raised enabled the firm to open its technical base in Adelaide, South Australia, a region with large uninhabited deserts that is promoting the development of aerospace testing and will host the MK4 flight testing.
The Adelaide facility will house engineers and technicians Alauda said are drawn from "leading names" in aerospace, motorsport and engineering such as Rolls-Royce and Babcock Aviation.
"Airspeeder's founder, Matt Pearson has an inspired vision of the future of clean air mobility. We are impressed with the success of his route to early commercialization through the creation of a flying car racing league," said Andrea Gardiner, co-founder of Jelix Ventures, one of the venture capital firms investing in Airspeeder.
"There is a clear global market for Airspeeder and Alauda and the founder has an outstanding track record as a successful entrepreneur. We are proud to support the realisation of his bold vision of the future of mobility."
Matt Pearson, founder of Alauda and Airspeeder said, "Electric flying cars are a coming reality that will liberate our cities and answer the long-term mobility challenges we face. Nothing drives technology as fast as competition.
"The F1 racers of the early 20th century possessed a pioneering spirit we are harnessing today to rapidly accelerate progress. This seed investment represents a significant leap forward in the next great mobility revolution."
Partnerships and safety
Airspeeder has also opened a commercial office in London, England, to help tap into technical expertise in motor sport, aviation and electric powertrain development.
The company has said it will soon announce technical partnerships in powertrain development, sensory technology and composites with some of the leading names in motor sport, aviation and technological engineering. A further round of fundraising is also planned.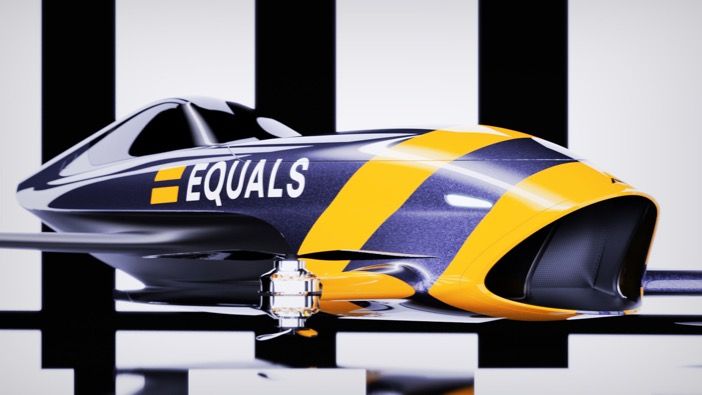 The speeders will use LiDAR and machine vision technology to ensure close but safe racing, with defined and digitally governed no-fly areas surrounding spectators and officials, said the company.
Pearson said, "We believe in open innovation. Looking back to the development of both the car and aeroplane over a century ago, it was sporting competition that drove progress. We are delighted to work in close collaboration with global regulators and the wider eVTOL industry to bring closer a revolution in airborne mobility."