German aeronautical research organization DLR has test flown 10 noise-reducing technologies that could be retrofitted to commercial aircraft to reduce the noise they produce.
The test flights were conducted using DLR's research aircraft A320 ATRA (Advanced Technology and Research Aircraft), on September 19 to 21, 2018, at Cochstedt Airport, Germany.
Engineers installed two acoustic measuring systems on the ground at the airport, which were flown over multiple times by the modified A320 ATRA during the test flights, with 10 noise reduction measures tested on the aircraft's engines, landing gear and wings. The noise data from these most recent tests is now being compared to measurements recorded in May 2016 of an unmodified A320 ATRA.
Michael Pott-Pollenske, project leader at the DLR Institute of Aerodynamics and Flow Technology, said, "We expect improvements particularly from the fairings on the chassis and the new thrusters on the engines. Improvements are also expected from the filling of a gap between the wing and the rear flaps and the modification of the flaps."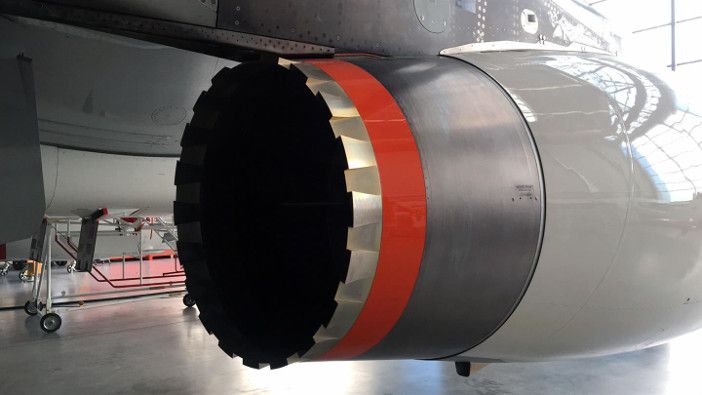 In addition, researchers modified the position of the front high-lift aids, the so-called slats.
DLR test pilot Jens Heider said, "It's really something special to fly our well-known ATRA almost as a prototype with so many new components."
Rolf Henke, DLR aviation director, said, "Aircraft noise is one of the most urgent issues in the aviation industry, which is why we have focused on the development of anti-aircraft solutions in DLR's aeronautics research program. Our 'Low Noise ATRA' project exemplifies how we can further reduce aircraft noise with today's passenger aircraft and research tools."
Several of the modifications to the A320 ATRA were developed as part of the EU-funded project AFLoNext (Active Flow, Loads and Noise Control on next generation wing). The brake covers and the modified lower main landing gear were developed together with the partner Safran Landing Systems
Further noise abatement measures on the bow and main landing gear were developed by DLR. The porous flap side edge was developed in partnership with Airbus. A very similar measure was installed on all slat side edges.
Meanwhile DLR researchers fitted a spoiler-splitter plate to reduce the noise made by the air brakes on the wings. The plate is designed to reduce the propagation of sound waves from the air brakes to the ground.
A new exhaust nozzle, designed to reduce noise during the start up of the engine, was also fitted behind the engines.