Words by Tom Wadlow
From capturing breathtaking aerial images to flying vital medical supplies into remote places, the breadth and depth of drone usage is multiplying at breakneck speed. 
More companies are finding commercially advantageous roles for drones – from Amazon delivering packages to food and beverage brands shuttling coffees and pizzas to offices and homes. 
According to market analysis expert Grand View Research, the commercial drone market is anticipated to grow at a rate of 57.5% a year between now and 2028, when it will be worth more than US$500 billion. 
The automation and productivity benefits drones deliver to operational processes is an increasingly enticing prospect, with a growing application base across a wide range of sectors, including real estate and construction, media and entertainment and agriculture. 
Nature's barrier to entry

 
Drone applications require a high proportion of uptime or "flyability" – the amount of time that they can fly safely – to maximize their productivity potential. Downtime, as with any asset, can be costly.
But there is a major problem which remains relatively unexplored regarding drone uptime – the weather. Most drones are not designed and built to fly in inclement weather. Heavy precipitation can damage electronics, while strong winds can drain battery reserves and cause loss of control. Cold temperatures can greatly reduce performance efficiency. 
Bad weather can also adversely affect airframe integrity, line-of-sight visibility, airspace monitoring, sensors for navigation and collision avoidance. "It can also become a regulatory problem if the drone is pushed away from its course by wind," adds Guillaume Catry, founder and CEO of Switzerland-based drone testing company WindShape. 
"Wind can make positioning uncontrollable and unpredictable, which we can tolerate only when drones are operated far from people or far from
each other."
Indeed, such is the unpredictability and variety of weather conditions in many parts of the world, bad weather has the potential to stifle the growth of the commercial drone sector. The problem was the subject of a recent report published by researchers at the University of Calgary in Canada titled "Weather constraints on global drone flyability". 
The study, which examined the impact of precipitation, wind speed and temperature on drone flyability around the world highlights how weather resistant drones have a higher flyability. Crucially, in analysis for major population centres, the study shows that the largest flyability gains can be achieved by increasing resistance to rain and wind. 
"Weather, winds, thermals and turbulence pose an ever-present challenge to small unmanned aerial systems," says Andy Thurling, chief technology officer of Northeast UAS Airspace Integration Research (NUAIR) Alliance, a New York-based non-profit consultancy that supports the development of the region's drone sector.
"These challenges become magnified in rough terrain and especially within urban city canyons. As we move to beyond visual line of sight operations, weather challenges will increase," says Thurling. "As the human decision-maker is removed both from the in-situ environment and from one-to-one responsibility for the safety of the air vehicles under his or her control, better weather detection and prediction at increasingly small scales become vital to preserving safety."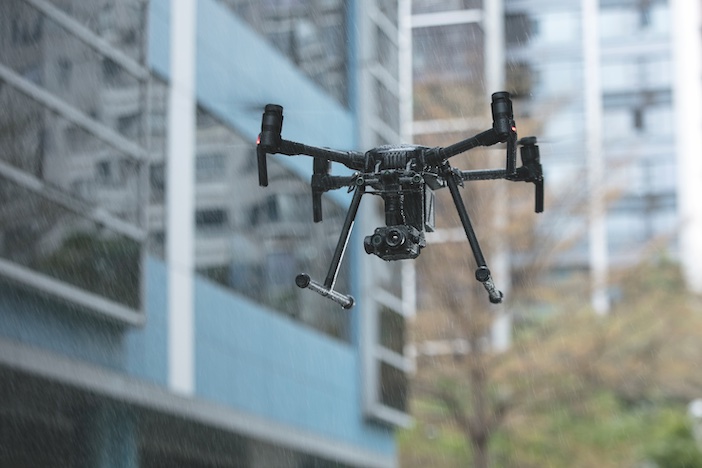 Weather performance testing
Another critical observation made in the University of Calgary's report, and one backed up by Thurling is the need for stronger governance, which needs to be underpinned by a standardized set of weather performance tests. 
"We found a critical lack of weather-related standards for drone components and performance testing," the report's authors state. "This has allowed the drone industry to advance on-demand applications without the rigorous checks and balances found in the piloted aerospace industry".
Drone manufacturers do rigorously test models. They also specify safe operating limits and warn about weather parameters in their manuals. In some regions, regulations stipulate that drone operations cannot proceed unless weather conditions are in accordance with manufacturers' guidance. 
However, experts believe that the most widely used testing methodologies have some serious flaws. "As of today, outdoors flight testing is the number one choice for drone manufacturers," says Catry. "The major problem they are having is that these tests are not repeatable. It is impossible to recreate the same test condition without controlling the weather. 
"Another problem is that when a drone is tested outdoors, it flies far from the test operators, which makes it complicated to gather test data… it is barely possible to always measure the micro-weather near the drone during an outdoor flight."
Indoor testing driven by digital technologies could hold the answer. In 2015 as part of drone R&D project at university, Catry and a team of researchers devised the idea of building test equipment to provide their drone with a competitive advantage. 
This sparked the creation of the Windshaper – a modular multi-fan wind generator that can be set to recreate a vast variety of flight conditions for a drone. 
The team quickly realized that the tool could solve some of the testing challenges facing the drone industry. The last five years have been spent commercializing Windshaper. Next year, the company will start to offer test services for the US industry at its test facility in Syracuse, New York State.
"The principal element will be the Windshaper, which makes it possible to recreate natural wind at the drone, or the relative wind due to the motion of the drone," Catry says. 
"On top of that we can implement rain generators, climate chambers, snow-sieving machines, or even water injectors to create icing conditions."
WindShape's engineers uses motion tracking cameras to measure the movements and performance of drones during tests. Catry says the tests are viewed as more efficient, repeatable and reliable than outdoor testing among growing numbers of influential stakeholders – from academics and researchers to drone manufacturers and end-users. But WindShaper's development has not been a straightforward undertaking. Indeed, many of the challenges relating to the outside testing of drones still apply to testing inside. 
For example, Catry cites the main challenge to effectively testing drones in adverse weather as defining exactly what adverse weather is. Small-scale meteorological data is not commonly available, meaning it is a complex process to define what harsh environmental conditions really are for drones. 
Moreover, when the weather conditions can be defined, it is also challenging to recreate them, even using the Windshaper. Such are the complexities involved, it has prompted research with AI to develop a way to calculate the required fan input that achieves a given test situation.
Realizing potential
Despite these hurdles, the intricate level of understanding that can be generated from precise testing methods bodes well for drone manufacturers seeking to overcome the difficulties posed by adverse weather conditions. 
For Thurling, this holds the key to any substantial scaling up of the commercial drone market. "The use of unmanned aerial systems in increasingly urban operations will require these small-scale effects to be understood in the very complex environments of urban cityscapes," he says. 
There are techniques under development to improve the characterization of wind and turbulent flow effects in urban terrain. Dr John Melton at the NASA Ames research centre is using machine learning to develop a process for refining weather predictions for urban flight conditions. The process leverages historical data sets and LIDAR imaged cityscape structures.
Catry agrees, "I believe drone technology is almost mature, but it requires more standards, testing, validation and certification to allow the industry to grow from demonstrations to operations.
"In my opinion, if we don't have a benchmark method or rating to assess the performance and operational safety of drones in weather, it will not be possible for the authorities to allow scalable drone applications. 
"As an example, it is unlikely that a large-scale urban drone delivery operation is approved if we cannot make sure drones will be safely operated near the ground and near people, in any weather."
---
Where are the most 'flyable' places in the world?

 
As well as outlining the impacts of adverse weather and issues relating to a lack of standardized testing and regulations, a recent report from the University of Calgary, Canada details the most and least favorable terrains and parts of the world in terms of flyability. Key observations include: 
Generally, drones have higher flyability over land than over large bodies of water due to characteristically higher wind speeds and the larger spatial footprint of precipitation

Regions with the highest drone flyability are found in hyper-arid to sub-humid environments – areas with year-round warm temperatures, low to moderate winds and limited rainfall

Regions such as northern and southern Africa, southwestern North America and Australia are among those with the highest flyability; Alexandria in Egypt, for example, scored a flyability rating of 94.8% for what the report defines as "common" drones
---
Keeping drones dry

 
One of the most serious challenges presented to drone manufacturers by adverse weather is keeping vital components dry. 
Moisture poses a serious threat to a drone's electrical components, the failure of which can lead to performance and safety issues. Without adequate waterproofing, drones are likely to take on moisture and eventually have problems such as circuit board rust and short circuiting. 
It is therefore critical to protect components, including:  
FPV cameras

Power distribution boards

 

Receivers and transmitters

 

Flight controllers

 

Electronic speed controllers
The preferred solution is a conformal coating. This is a thin film of protective material covering the drone's printed circuit board to guard its critical components from moisture. It is important that such films are made from high performance materials that can handle various environmental and operational conditions.
---
This article was originally published in Aerospace Testing International December 2021. View the article in its original format here. Subscribe to the magazine here.