Words by David Hughes
A network of drone R&D sites in the USA being led from Alaska is developing the technologies to enable the next generation of drone operations.
If you want to prove your drone can inspect a bridge in the middle of nowhere, fly hundreds of pounds of supplies into a remote airport, search for wildlife, inspect a pipeline, look for a missing boy or survey a wildfire, where do you go?
The University of Alaska Fairbanks (UAF) had already been testing drones for civil aviation use for 12 years when the FAA selected it as one of its UAS test sites in 2013. Recently, Alaska became the site for the first FAA-approved flight of a civil drone beyond visual line of sight (BVLOS) without human observers on the ground. During the flight test on July 31 this year, operators flew a Skyfront Perimeter Unmanned Air Vehicle (UAV) quadcopter about six kilometers for 30 minutes along the Alyeska trans-Alaska pipeline. During the flight operators used onboard and ground-based detection systems to avoid other aircraft.
BVLOS operation is the holy grail for the development of small drones. Once it can be achieved safely, drones can carry out inspections or deliver packages to homes remotely and autonomously – even at night or while flying over people. This requires detect and avoid technology (D&A). The drone industry and the FAA are working to come up with a technical means for a drone to detect and avoid other drones and
 aircraft without being piloted by a human.
Data vision sources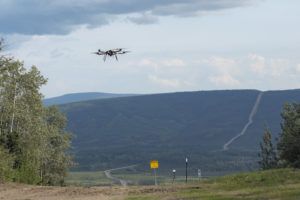 The Perimeter UAV used for the first FAA-approved BVLOS flight was equipped with an Iris Automation Casia electro-optical sensor that can see and identify a Cessna at two kilometers. It uses an off-the-shelf camera and computer vision software. Alexander Harmsen, the CEO of Casia, the Silicon Valley start-up that invented the sensor, says it has already showed its superiority over human vision during a different exercise in Alaska. In that test, it detected a Cessna converging on a drone at low altitude from different angles 95% of the time before human observers on the aircraft spotted the Cessna. 
For the BVLOS test, UAF researchers mounted Echodyne phased array radars on the ground as backup sensors. Echodyne makes a compact, solid-state, beam-steering radar sensor using Metamaterial Electronically Scanning Array (MESA) technology. 
Metamaterials are composites made using printed circuit board manufacturing processes with materials like plastic and metal to produce geometric properties that can manipulate electromagnetic waves. Echodyne is a four-year old startup based in the Seattle area backed by Bill Gates and other investors.
The radar can detect a Cessna at three kilometers and a small drone at nearly a kilometer. And then while tracking a target, or as many as 15, it can scan for other targets using multiple beams. The 1.25kg unit measures 20.3 x 16.3 x 4cm and provides coverage of 120° in azimuth and 80° in elevation. Echodyne is marketing the ground version for infrastructure security applications. It has also developed a smaller airborne version that can see weather as well as aircraft. 
Drones can also be equipped with small ADS-B In receivers to detect any manned aircraft broadcasting on ADS-B Out. Or they can be equipped with ADS-B Out so the flight test team on the ground can easily track the whereabouts of the drones. These ADS-B components are becoming smaller. Montana, USA-based startup uAvionix makes ADS-B equipment the size of a US postage stamp, 63cm thick. The miniaturization of drone avionics and sensors is being driven in part by the military, which wants to put increasingly advanced capabilities on drones, including electronic warfare tasks. The founder of uAvionix has lots of electronics miniaturization experience from his time as a chief technology at a Silicon Valley
chip manufacturer. 
Drone sensing
Each drone expert interviewed for this article agreed that an effective detect and avoid system in a UAV requires more than one sensor and that there will be no single solution.
"We know the FAA likes redundancy," says Cathy Cahill from UAF, who directed the research team that conducted the recent BVLOS pipeline flight test. The test team deployed eight Echodyne radars on the ground, four of them owned by the university. Everybody knows that safety is paramount and flight test organizations cannot afford to have drones interfere with or collide with manned aircraft if the BVLOS tests are to continue.
The drone in the pipeline test had to stay just 400ft above the pipeline and flew up and down hills maintaining the correct altitude. When it took off at the start, the drone immediately disappeared over the lip of a ridge to follow the pipeline descending a hillside. One additional challenge of testing in Alaska is that pilots often fly below 400ft and think pipelines are something to follow. In addition, pilots, such as hunters may also choose to not turn ADS-B Out on when they are scouting. According to Cahill, scud running at low level below clouds is a problem and is why a lot of accidents occur in Alaska. "Up here, IFR stands for 'I Follow Rivers' not for 'Instrument Flight Rules'," she says. 
The university is also part of the FAA's UAS Center for Excellence program. The university's Alaska Center for Unmanned Aircraft Systems Integration (ACUASI), which is run by Cahill, was also picked for a new FAA-led project called the Integration Pilot Program (IPP). The IPP was formed in 2017 to help the FAA devise new rules, policy and guidance for low-altitude UAV operations. ACUASI also leads the Pan-Pacific UAS Test Range Complex (PPUTRC), a partnership of test ranges and experts in the USA, including sites in Oregon and Hawaii also known as the Pan-Pacific Partnership.
Alaskan applications
Alaska has one of the greatest needs for drone operations to take over hazardous duty from manned aircraft in the USA. As is the case elsewhere in the USA. there is a pilot shortage in Alaska as older, experienced pilots in the state retire. And Cahill notes, every now and then Alaska loses a pilot and a wildlife biologist on a wildlife counting mission that could just as easily be done by a drone – if only the BVLOS problem is solved. The FAA has not established rules and regulations yet for BVLOS even though it allows a few programs with waivers. Every test of D&A technology and techniques in Alaska and at the other FAA sites and tests contribute data to understanding what suite of sensors can do the job to help drones avoid collisions.
The ultimate goal in Alaska that may take a decade or more to solve is for drones to serve remote villages with deliveries rather than manned aircraft. More than 80% of Alaska's communities can't be reached by road and 169 of them depend entirely on aircraft for the delivery of goods and services. Many of these communities are poor, but the cost of air shipment on manned aircraft means a gallon of milk costs US$12. Jimmy Parrish, business director for ACUASI says, "One of our big goals up here is large scale cargo delivery. We see small package delivery as a novelty." 
Most of these remote communities depend on air taxi and commuter aircraft operating under FAA Part 135 rules. A string of accidents during the summer prompted the NTSB Chairman Robert L. Sumwalt to hold a safety roundtable with 100 aircraft operators, safety experts, industry associations and tribal leaders at the University of Alaska Anchorage in September. By that point Alaska had experienced one of its worst air safety years ever with 63 accidents and 32 deaths. 
 "The number of Part 135 fatal accidents in Alaska is troubling," he said at the event, noting the difficult terrain, bad weather and limited infrastructure. "It's easy to say Alaska is different, but that doesn't excuse it," Sumwalt added. "We need to do better." Between January 2008 and June 2019, 80 people died in 207 accidents involving Part 135 operations in the state. 
The effect of the accidents is to create more urgency in Alaska to progress the use of unmanned aircraft, especially for hazardous missions such as flying over frigid oceans that border the state to count endangered whales. If an aircraft goes down in the ocean, the chances of the pilot surviving are not good. "The whole UAV movement is being held up by some of the BVLOS limitations," says Cahill, who hopes that progress is made soon by the FAA in defining how this can and should be done in routine operations. "We need to break through on BVLOS to enable longer range and duration missions," she adds. 
Alternate test ranges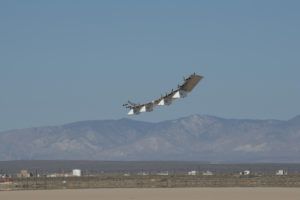 Alaska already has plenty of wide-open spaces, rugged terrain, mountains and extreme weather conditions where the flight tests can be conducted. But developers and operators may need more than the few hours of sunlight a day that Alaska offers during winter to test their drones.
As the leader of the Pan-Pacific Partnership, Cahill can refer drone operators and related manufacturers to her colleagues in Hawaii. For example, HAPSMobile, a joint venture of AeroVironment and Japan's Softbank, plans to fly its HAWK30 solar powered unmanned aircraft into the stratosphere. What better place to launch the HAWK30 with its impressive 79.2m wingspan than from a grass field on the Hawaiian Island of Lanai. The site used to be a pineapple field. The electric HAWK30 is powered by solar panels on top of its wings.
Hawaii UAS Test Ranger director Ted Ralston said the purpose of the planned HAWK30 flight tests starting next year will be to check airworthiness, solar performance, system reliability, communications payload functionality and certification parameters. The mission of HAWK30 is to serve as a high altitude pseudo-satellite to provide 5G connectivity by flying in the stratosphere at around 65,000ft for missions lasting several months. 
Ralston says the Alaska test team's experience with air traffic compliance, operations management and aviation's Safety Management System discipline is helping his Hawaiian team with drone testing. He adds that the entire drone community needs to embrace this type of aerospace discipline and the use of metrics to get everything to work correctly. 
At another FAA test site at New Mexico State University in Las Cruces, engineering manager Henry Cathey says he often works with the Alaska test site on cooperative efforts such as testing detect and avoid capabilities. The university affiliated New Mexico UAS Flight Test Center has a 15,000ft2 hangar at Las Cruces International Airport supporting UAV testing with drones flying over 15,000 square miles of southwestern New Mexico at altitudes of up to 19,999ft. The Alaska and New Mexico test sites complement one another by allowing drone operators to conduct flights in the middle of the summer in New Mexico and the middle of winter in Alaska.
So if drone developers want to experience "fire and ice" the Pan-Pacific partnership is the place to be. This is how Alaska and its team members are making important contributions to the testing of drones as the FAA tries to enable the future with the many benefits of widespread commercial operations.