by Abigail Williams
Since the dawn of the space exploration era, most sites dedicated to launching and testing rockets have been government-owned. However in recent years a growing number of commercial spaceports have been established, and many aerospace companies are now opting to test rockets and other devices at such facilities. Commercial spaceports offer more choice for aerospace companies reaching for the stars, both in terms of location and services available.
Globally speaking, the main centre of spaceport development is the USA, where there are 12 FAA-licensed commercial launch sites that support a mix of vertical, horizontal, and non-traditional launch systems. According to Brian Gulliver, aerospace practice leader at planning and design engineering consultants Kimley-Horn, these sites are a mix of multi-user facilities and exclusive use sites – such as the SpaceX sites in McGregor and Boca Chica, Texas that support launch and/or re-entry operations and various types of testing.  Although flight testing occurs under FAA-experimental permits, a fair amount of ground-based testing takes place independently of FAA oversight at both sites.
In addition to the 12 existing licensed facilities, there are also a handful of proposed commercial launch sites in the USA, including: Spaceport Camden in Georgia; the Shiloh Launch Complex at Cape Canaveral Spaceport, Florida; Michigan Spaceport (horizontal site at Oscoda-Wurtsmith Airport, vertical site in Marquette County); Stennis International Airport, Mississippi; the Hawaii Air and Space Port, and the Maine Spaceport Complex.
Several other countries around the world, including Sweden, New Zealand, UK, Australia, Japan, Singapore, Guam, Spain, Italy, Norway, Mexico, Brazil and Costa Rica, have also begun developing commercial spaceports.  However, while some are operational, Gulliver observes that "most are still in the feasibility stage."
Location Requirements
When it comes to testing, Gulliver points out that different launch systems have different needs. For example for vertical orbital launch platforms, he says it is still desirable in the USA to operate from a coastal location.
"Low-altitude testing of vertical launch systems can and often does occur at inland test facilities, such as Spaceport America, White Sands Missile Range, and SpaceX's McGregor Test Site," says Gulliver.
Meanwhile, Elyse Mize, project manager and senior aerospace planner at Kimley-Horn, points out that the primary characteristic that makes a site attractive and suitable for horizontal launch platforms is a long runway, at least 12,000ft, that is in good condition. Several existing spaceports are co-located at general aviation airports for this reason.
According to Gulliver all launch systems, whether for testing or for operations, have a number of basic location needs. These include safe operating areas for ground-based operations, a sufficient safety buffer for explosive hazards and a sufficient noise buffer for launch noise – as well as a safe downrange flight corridor and basic fixed or mobile utilities such as power, data, water and sewerage. They also require a fixed or mobile propellant storage area and a launch / mission control area, as well as access control measures to provide physical site security and accommodations to protect from lightning strikes.
"The best way for a spaceport to be set up to host rocket testing and launch operations is to plan for it during the preliminary development phase. Sufficient space should be allocated to allow for different size platforms to test concurrently. This may require large safety buffers between proposed test sites. It is easier to program this during early site development then try to fit it in at a later time," he says.
In terms of safety, Mize points out that fundamental safety measures generally relate to the siting of the commercial launch facility. Sites are also typically located "away from the uninvolved public to allow for experimental testing and safe launch operations." As well as compliance with federal regulations and local permitting requirements, procedures designed to deal with explosive safety distances is the most common safety measures deployed at rocket test facilities.
Gulliver says, "Explosive site plans are developed to keep the uninvolved public outside of hazard areas. Facilities within the safety area must be designed to accommodate overpressure events.
"Data acquisition is an important part of any aerospace testing facility and engineers use traditional data acquisition methods for collecting and saving the data. It's common to have a nearby control room when running tests," he adds.
Spaceport America
The first purpose-built commercial spaceport in the world and one of the most well-known is Spaceport America, which is located on an 18,000-acre site adjacent to the White Sands Missile Range in Southern New Mexico. The facility, which contains both horizontal and vertical launch areas and is capable of supporting technology development testing has launched a wide range of different vehicles, from rockets and balloons to drones and UAVs. Virgin Galactic also plans to transport people to space from the site.
The spaceport currently has four on-site tenants:  HAPS Mobile and minority owner and aircraft development partner of that project AeroVironment, SpinLaunch, UP Aerospace and Virgin Galactic. Boeing has also used the site to launch high-altitude balloons and test helicopters, and Exos Aerospace and Sugarhouse Aerospace launched rockets from the facility during the last year. Although the New Mexico site does not yet have dedicated rocket motor testing facilities, Alice Carruth from Spaceport America confirms that such facilities are part of its development plans.
"We have wide open spaces and areas that have been used for liquid and solid motor development and testing, and we can work with customers to add new bespoke infrastructure. Our onsite 24-hour-a-day fire department studies and trains for how to handle all chemicals and possible accidents, so we have the knowledge and experience to support a particular company's test protocol and procedures," says Carruth.
On-site tenant HAPS Mobile recently carried out a successful test flight of its Sunglider solar-powered high-altitude platform system (HAPS). This was the company's first test flight at Spaceport America, following three earlier flights at NASA's Armstrong Flight Research Center (AFRC) in restricted airspace. According to Matthew Nicholson from HAPS Mobile, the company decided to add Spaceport America as another test base for a number of key reasons. "We received support from Spaceport America to build the runway and test environment and there were no restrictions on the use of facilities we built ourselves," he says. "We're able to increase the number of tests and we judged the weather conditions, including the jet stream, to be optimal for stratospheric test flights," he says.
"Since tests are done in restricted airspace, there is no interference with civilian aircraft. We can also set our own flight patterns to obtain data."
An ideal environment
For Carruth, the fact that Spaceport America sits adjacent to the White Sands missile range means it is well-positioned to benefit from shared access to the 6,000 square miles of restricted airspace it controls. As well as access to this consistent and affordable airspace, the site is 4,000ft above sea level in an area of low population density and has good atmospheric clarity. New Mexico has dry and stable climatic conditions, with more than 340 days of sunshine and clear skies each year, an advantage for flight scheduling. New Mexico is also home to several NASA facilities, advanced technology universities and military installations.
"Companies are attracted to the facility due to our ability to cater to our customer needs. Our latest tenants built their own large dedicated test area in just four months," says Carruth. "Our engineers can assist with managing launches of different scales and capabilities. The State of New Mexico is also a business-friendly environment and offers tax incentives and training to companies wanting to operate at the Spaceport and surrounding area," she adds.
Gulliver believes that the primary benefit of using a licensed commercial spaceport for launch is that the site has already navigated the FAA licensing process to meet the regulatory requirements for offering the site to future launch operators. This provides future launch operators with a level of certainty that, if their operations fit within the bounds of the license, they can most likely also obtain a launch operator license to use the facility.
"This also means that an environmental review of the site has been conducted and an explosive site plan has been developed," says Gulliver.
"This lowers the barrier to entering the market by allowing for the use of existing infrastructure. While the operation of a commercial launch site typically results in negligible environmental impacts, the environmental review process can be very time consuming and resource intensive," adds Mize.
Space Hub Sutherland
The UK's first commercial spaceport is planned to be Space Hub Sutherland in Scotland. The project to build the spaceport, which will provide low cost access to space for light loads to a Low Earth Orbit received planning permission from local government last month.
The north of Scotland is a suitable location for satellite launch, with low population density, proximity to the coast, and good access to orbit. Development agency, Highlands and Islands Enterprise (HIE) believes the Space Hub will generate positive economic impacts for the region and underpin growth in the UK space sector. The Agency estimates around 250 jobs will be created in the region by the Space Hub.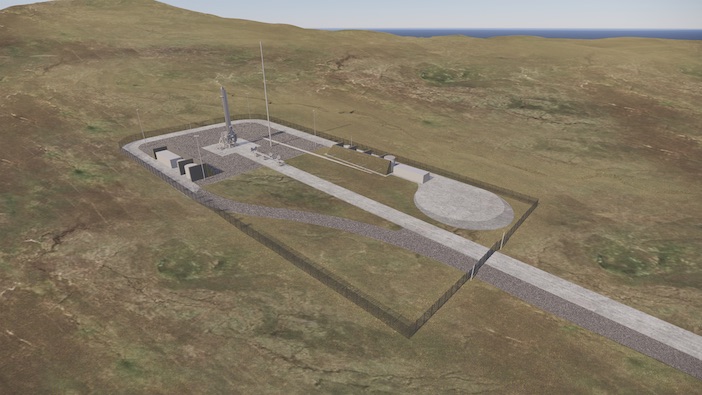 According to Roy Kirk, project director – Space Hub Sutherland at HIE, although no engine testing facilities are planned at the site, it is likely that test launches will take place before any commercial flight activity. For Kirk, a key factor making Sutherland a suitable place for a spaceport is its access to orbits – typically polar and sun synchronous, trajectories that do not overfly populated areas and appropriate weather for orbital launches.
"Like any other business, our launch companies also want to be assured that they can benefit from good communications and transport links, an efficient supply chain and access to a high-quality workforce," he says.
Future Prospects
The global space economy is expected to grow over 800% in the next 20 years and, according to Carruth, the fact that at least 12 FAA-licensed spaceports are already in the USA with more in the application process, means that the future of space is becoming ever-more accessible.
"Where in the past access to space was dominated by government, it is now cost effective for commercial industry and that is driving competition. SpaceX, Blue Origin and Virgin Galactic are good examples of commercial space companies developing technology to succeed in this rapidly growing market, says Carruth.
"We expect to see the launch of space tourism from Spaceport America in the next year," she adds.
Meanwhile, Kirk points out that HIE is aware of a significant number of launch vehicles that are being developed by commercial companies. As these projects develop further, he predicts that there is likely to be an increasing need for further testing facilities – a movement he believes is being "driven by the opportunities to service the growing need of planned constellations of small satellites and the opportunity to refresh technology in orbit faster than ever before."
"The growing need of communications and Earth observation, and the applications that benefit from these, will also drive further satellite requirements," he says.
Kirk also expects the development of more environmentally responsible ways to insert satellites into space with developments in launcher and fuel technologies – and confirms that HIE is also watching the development of sub-orbital launching to fulfil areas of interest such as low-gravity production and experimentation in the future.
"We believe that the adoption of technology and innovation in range solutions could also help drive down costs and increase confidence in a responsive launch sector over the next decade," he says.
In recognition of the fact that the number of commercial space companies and technologies continues to grow, Gulliver predicts that the aerospace testing sector should also grow proportionally. "Before a launch system can become operational, testing of the subsystems must be completed. I expect this sector to continue to grow over the next decades as more launch systems enter development and mature," he says.
---
Ascend to space from these US Spaceports:
The FAA licenses commercial launch and re-entry sites in the United States. The following are FAA currently licensed launch sites:
Cape Canaveral Air Force Station, Florida

Cape Canaveral Spaceport/Shuttle Landing Facility, Florida

Cecil Field, Florida

Colorado Air & Space Port

Ellington Airport, Texas

Midland International Airport, Texas

Mojave Air and Space Port, California

Oklahoma Air and Space Ports

Pacific Spaceport Complex Alaska

Space Coast Regional Spaceport in Titusville, Florida

Spaceport America, New Mexico

Mid-Atlantic Regional Spaceport, Vancouver
---
How Much Does it Cost to Test a Rocket?
Brian Gulliver, aerospace practice leader at engineering consultants Kimley-Horn, says that the cost of rocket testing greatly depends on the size of the test facility, the size of the launch vehicle, and what aerospace companies are trying to accomplish.
"I've seen everything from small concrete test pads that cost between US$10,000 to US$100,000 to larger dedicated rocket test facilities that exceed US$100 million. Generally speaking, the low millions is more typical as most startup aerospace companies are tight on funding," he says.
Meanwhile, Alice Carruth from Spaceport America reveals that the costs for launching from its site depend on a variety of factors including type of vehicle, support requirements, time required for development and launch. Companies must also work with the FAA for safety approval of their rocket and its flight trajectory.