A³ is Airbus' Silicon Valley outpost for disruptive innovation, a place that is focused on defining the future of flight. The subsidiary, which was founded in 2015, is perhaps best known for Vahana, its project to develop an all-electric, self-piloted VTOL passenger aircraft which flew for the first time earlier this year. Another A³ project, Altiscope, is developing a simulator to help integrate drones into air traffic management systems.
The company is tasked with finding and developing the next breakthrough technology in aerospace. Aerospace Testing International talked to A³'s acting COO, Naresh Shah, and Zach Lovering, project executive for Vahana, about the future of aviation and the company's approach to the development of aircraft.
What is your approach to the development and testing of aircraft?
ZL: At A³ we ground our process in a framework that blends technological, economic, and human factors. This framework forces us to focus not just on developing novel technical architectures, but also to do so in a way that is economically and socially viable.
In other words, we are not just building a toy for a select few to enjoy, but are looking to significantly open up our urban airways on a very short time frame.
To do so, we also need to think about development and flight testing differently. In the first phase of the project, we turn our attention to de-risking the core enabling technologies including electric propulsion, compact vertical takeoff configurations, and automatic sense-and-avoid. This means that the first vehicles built, although sized to accommodate a passenger, are not human rated. Once these technologies are proven, we then integrate the lessons learned along the way into a certified product.
What established testing and development 'norms' are you seeking to do different?
ZL: One of our differentiating factors is our speed of innovation. Traditional testing and development cycles take several years and in some cases over a decade, to complete, not to mention the initial steps of designing a concept and putting together a team.
At Vahana, we focus less on trying to get everything perfect in one massive development step and instead focus on de-risking critical technologies on a demonstrator – a representative learning platform. While this adds an additional step in the process, it allows us to get to the product faster and more economically by ensuring that once we commit to a methodology, we do so knowing all the tradeoffs.
How important is A3 to Airbus?
ZL: For Airbus, innovation centers like A3 and ACIC (Airbus China Innovation Center) in Shenzhen, were originally created to help the company hedge against future disruption. Our projects also aim to be of strategic benefit to Airbus, prevent strategic surprises from competitors or new entrants, and secure IP, talent, and expertise in new domains.
A³ has the access to the talent, ideas and new partnership opportunities in Silicon Valley that are needed to deliver fast-paced, product-focused projects and convincing demonstrations.
Like Airbus, we are working towards defining and building the future of flight. We operate with independence, but together we solve big problems by employing world-class experts and by developing fertile partnerships.
There are lots of air taxi projects in development – what makes Vahana different and how will it be successful?
ZL: The level of self-piloting used by Vahana sets us apart from the field. Self-piloting is the key to the operational scaling of Urban Air Mobility.
For example, there are approximately 25,000 commercially-rated VTOL pilots in the USA. Scaling a human-piloted urban air mobility solution requires hundreds of thousands of pilots. The only way to offer a safe transportation service to commuters globally is through self-piloting technologies.
While our technology sets us apart, our approach is different too. We are looking at how to solve technological, economic, and regulatory challenges by engaging and partnering with a wide range of stakeholders, while also leveraging Airbus's decades-long history in aircraft certification and safety, which uniquely positions us to realize large-scale automated flight within urban environments.
What do you see as the biggest engineering challenges still for air taxi projects and more widely for drones?
ZL: We feel we've discovered many of the key constraints to enabling these types of vehicles. Our main focus now, besides product development, is working with regulators to ensure a path to certified self-piloted operation. Regulators and standards organizations are working diligently to ensure that they don't slow down progress. We collectively recognize the importance and great potential of Urban Air Mobility to transform all our lives for the better.
How do you think the development of aircraft is changing in the 21st century? How do you think it should change in the 21st century?
NS: Our CEO, Rodin Lyasoff, recently gave a TED talk on how 100 years ago working in aerospace meant building solutions that would ultimately connect our planet. In this century, he argued that development in aerospace will be firmly rooted in reconnecting our cities, which have become separated by seas of traffic. I share this opinion too.
Technologically, the barriers to entry for our industry are rapidly diminishing, and we are seeing a lot of ambitious entrants. There are dozens of companies around the world working on the challenge of personal flight, and together, I think we'll impact humanity through advances in the 21st century.
[For more info on the TED talk, see LinkedIn and the TED Talk Blog.]
Can you share your vision of how aircraft will be developed in the future?
NS: Rodin and I share the vision that in the future we will speak less of "an aerospace industry" and more of a "transportation industry." End-customers have come to expect convenient, frictionless, integrated solutions.
On-demand mobility, autonomy, and rich data analytics will only make this integration easier. I think this will blur the distinctions between ground, air, water, underground, etc. We'll just think of it as transportation, and there will be a greater focus on the end-customer.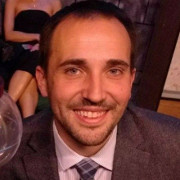 Zach Lovering is the project executive for Vahana, A³'s self-piloted electric aircraft project. Zach has a MS in Aerospace Engineering with a focus on Controls and Fluids. He has worked at Helicopter Technology Company, where he focused on deploying high performance rotor blades for the MD500 and UH1H helicopters and at electric aircraft developer Zee Aero.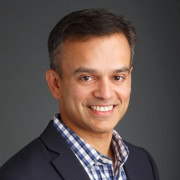 Naresh Shah is the acting chief operating officer of A³ By Airbus.Naresh studied aerospace engineering, math, and management in the Air Force Academy, at MIT, and at George Washington University, before becoming a KC-135 pilot in the US Air Force, where he spent the first 11 years of his career. He went on to work at DARPA, helping to manage several space and advanced manufacturing programs, before co-founding and managing operations for a digital manufacturing innovation institute.