Florent Mathieu founded digital imaging software company EikoSim four years ago as a result of research work at the University of Paris-Saclay's LMT laboratory.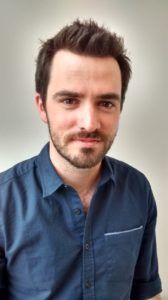 The startup's main product EikoTwin is image-processing software that enables information to be more accurately transfered between test and design engineers by creating a digital twin that connects directly with simulation pre/post processing tools.
According to Mathieu, EikoTwin closely integrates physically testing into the digital design chain, improving simulation quality, reducing development time and costs and preventing the need for additional testing. It offers engineers better and faster validation and a way of improving their modelling.
In four years the company has grown to employ 14 engineers and scientists, already works with companies such as Ariane Group, Safran and Airbus and is looking to expand internationally.
In this Q&A Mathieu describes the software in detail, explaining its origins and future potential.
Q: What led to the founding of Eikosim?
A: At the time, Digital Image Correlation (DIC) had developed to some extent in the industry. We were doing research work with Airbus at the University of Paris-Saclay's LMT laboratory, and saw that when using DIC, engineers kept stumbling into a recurring problem, something they called "two screen syndrome".
The screen with the DIC results had a nice cloud of points with color maps and a different screen with the FEA (Finite Element Analysis) model on it. DIC was good for communicating about test results, but not so good at comparing quantitively with an FEA model. It has to be done visually at points on a mesh, a qualitive process.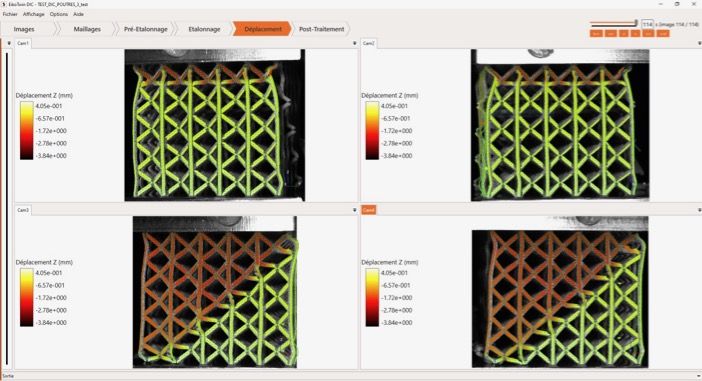 So engineers have a huge amount of data from simulation, a large amount of data from DIC – images plus data points – and to measure the differences they export a few chosen data points to Excel and plot it out there. They end up with just a few kilobytes of data from this massive data set for comparison.
Even then there are a lot of possible explanations for these differences – often assumptions are made about the position of sensors for example. You don't see this when you see the curves.
Q: How does EikoSim solve this problem with DIC?
A: DIC processes the images as a cloud of data points to represent displacement strain data in time and space. It offers the opportunity to see the same shapes, but comparing the data in a quantitive way is still a struggle.
Our technology doesn't place random data points on the DIC image. This is what disconnects the DIC from the FE mesh. We take the mesh and project it onto the images, so we can measure the displacement and strain on the nodes of the mesh. This makes the end result naturally comparable to the FEA model, because it uses the same reference system.

Other people may use a MatLab routine or a python scripts to compare FEA and DIC data, but we are enabling a closer integration of test data and physical data. We are linking the two worlds.
Q: How do you work with clients?
A: Our end goal is to make our clients autonomous with our software, so training is a big part of how we work. But we adapt to our customer's needs. Our software will normally cover at least part of what they want to do, then we help them adapt the software and have a R&D team developing functionality for the software that doesn't exist yet.
Q: What are the main benefits from using your software?
A: The most immediate thing is cost and time savings, thanks to the capability of getting results from tests faster and being able to quickly modify simulations.
But it also offers insight into how the test done which ultimately builds trust that your modelling and simulation and testing fits together, which works towards the goal of doing more simulation than testing. The key thing is that it offers is better validation.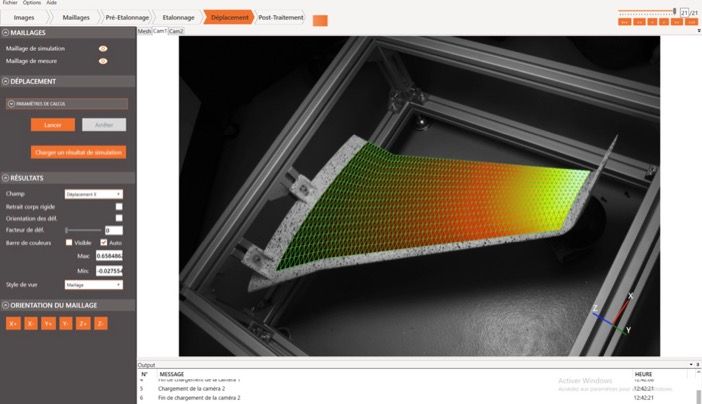 Q: Are there limitations to the parts DIC and Eikosim can analyze?
A: There is no limit to the size of parts that DIC can measure. Calibrating stereo or multi camera systems for large parts can be tricky. High speed cameras are involved for dynamic applications, and you may have to adjust frame rates and resolutions, but mostly it is black and white cameras
We have been an R&D project funded by the DGA, working around these topics about mixing real world and simulation data. At Ariane they are keen to get better at testing larger parts and at improving the simulation quickly after testing.
Q: Do you expect EikoSim's business to continue to grow?
A: The number of clients and the number of teams for the software are growing. We're finding that everyone has the same kind of problems. We are expanding internationally. We have just arranged a distributor in China and we want partners in Europe – the UK and Germany, and North America.
Some people's problems are more complex – dynamic cases for example are more challenging – but if we find the right person in the engineering team, they normally want to see what we are doing.
Q: Have you noticed any trends in DIC?
A: We have noticed that DIC is being used mainly for R&D. In most development projects, people think that they don't have the time to do it. This is because when people do it, the first thing they notice is that something is off – it creates problems.
But the process can be eye-opening. People know they have to get better, but they don't know by how much. DIC is one of the technologies that allows them to see that knowledge gap and improve.
Q: What do you think the future holds for DIC?
A: The larger the company the more advanced they are with testing and simulation. But testing has been pushed to its limits, its well instrumented and there are a lot of different measurement techniques. Meanwhile simulation has a lot of computational power and is very capable. But we are at a point where ff you want to keep improving at simulation you have to nourish the simulation with test data from the real world and blend them together somehow. If you use just simulation you are not going to know what the real boundary conditions are, and if you don't mix the data together you are going to have an issue.