You can also listen to this Q&A as a downloadable podcast here.
Can you describe your personal journey to the Cassio?
I have a long-held belief that aviation can be more environmentally friendly with the use of an alternative source of propulsion. The work I performed when I was chief technical officer at Airbus included everything from understanding and benchmarking varied technology to the integration of electric propulsion on aircraft. That enabled me to fully appreciate the promise of electric aviation. But when I left Airbus in 2016, the hardest part was that it interrupted my focus on electric aviation. I decided to continue that with VoltAero and the Cassio.
I'm proud of what we achieved at Airbus. We made the historical electric flight crossing of the English Channel with E-Fan. But I didn't think I'd taken the electric journey as far as I could and when Airbus stopped E-Fan, together with my co-founders we realized we had to pursue this journey because for us, it's the future.
Can you describe the early days of VoltAero and Cassio?
The founders of Cassio have an unmatched amount of hands-on electric aircraft experience and the decision to develop our demonstrator and flight test vehicle from the Cessna Skymaster was because it was the only one that was certifiable. We have completely changed the aircraft and just kept the airframe. All the design is proprietary to VoltAero, there's nothing carried over from the E-Fan apart from the knowledge gained from the years of working on E-Fan. Everything inside Cassio is brand new to VoltAero.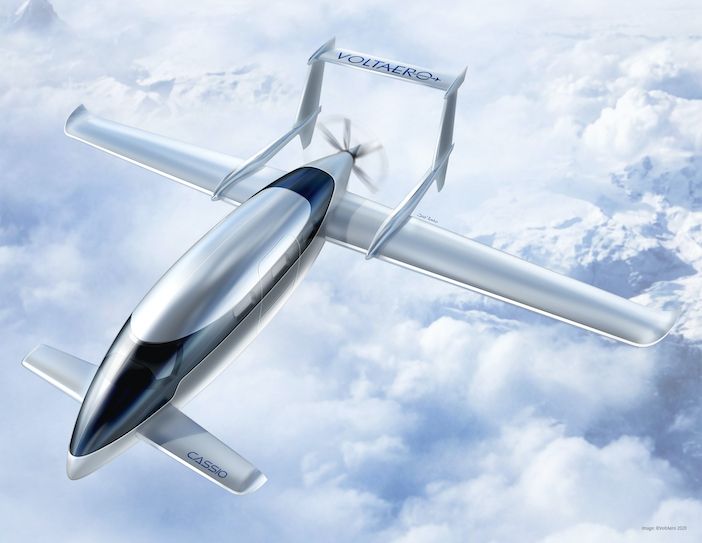 How much of

 

VoltAero's time is dedicated to testing and certification?
Approximately 35% of our time is spent on testing and certification and it will increase going into the production of Cassio. So far we have been testing the powertrain of the 4-seat and 6-seat version, and next is the most difficult one. The 10-seat variant has a completely new hybrid propulsion module in the back, the Safran motors in the front and we have added three power packs in the nose of the aircraft.
We removed the original engines from the aircraft and replaced it with a Solution F engine in the back. It's a completely new aircraft. It requires testing and validation with the French DGAC to get a permit to fly at every step. We have been approved for four and six seats and have just received authorization for the 10-seat variant.
What stage are you at with testing?
For the 10-seat aircraft's powertrain we have done all the bench testing, all the functional testing, all of the simulations, and now we just have to fly. We're integrating it with the electronics and debugging the electrical systems. We plan to fly the 10 seat-variant in the next few weeks. The testing program is going to continue for at least one year and this will provide the base for developing the production-version, which uses a totally new airframe. But the guts of the aircraft will be very similar to what we have been developing for the last four years.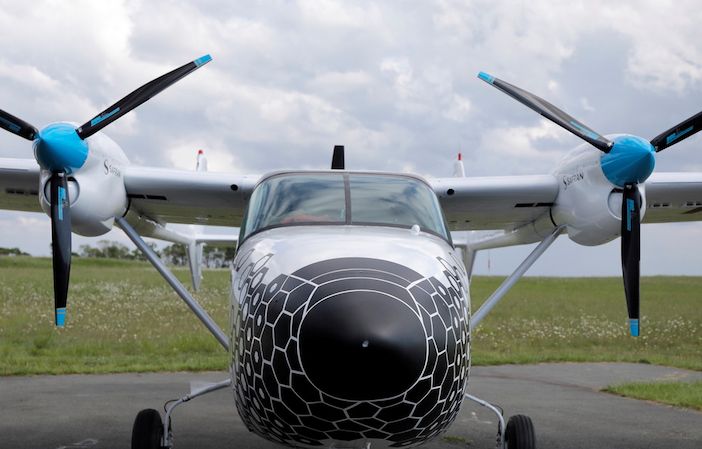 What is the most challenging aspect of the Cassio's testing program?
Everything is challenging on Cassio! But I would say the most difficult thing is validation of the electronics system for the 10-seat powertrain. You've got five electric motors, one thermal engine, and they all have to flawlessly integrate with each other while optimizing the fuel economy. In this little aircraft, you have kilometers of cables, lots of controllers and sensors. In addition, you've got a glass cockpit that looks like the cockpit for a civil aeroplane, because it's got multiple functions to control. So at this stage, you need two pilots to be able to fly our demonstrator. One pilot is focusing on the powertrain, the other on the aerodynamics and behavior of the aircraft. It will all be simplified for the production aircraft.
Recently we entered into a partnership with KinectAir, a company that does mapping. KinectAir proposes to do the same for aircraft as Uber did for cars. By working with them and integrating its data into the cockpit, we will be able to optimize routes and find the best flight paths to maximize fuel economy, as the aircraft transitions from pure electric to hybrid. The fuel economy depends on the speeds and the distance. There is no one size fits all, we have to integrate it with intelligence. We are calling this our cognitive cockpit.
Do you foresee any large problems that remain during Cassio's development?
At this point, I don't see any showstoppers. We just need to keep flying, acquire the necessary data and apply all the experience that we get from the demonstrator to the production plane. We struggled a lot for three years because making a hybrid aircraft that's got five electric motors plus one thermal one was not easy. Fully integrating everything is very difficult.
What other projects do you think are close to Cassio in terms of progress?
Eviation's Alice has similar levels of integration as Cassio, but it's a fully electric plane and to be honest with you, I've been there before. I think hybrid is the way to go because you can do electric and thermal. You have the choice to decide depending on your route and you have two sources of energy. With pure electric you're dependent on the safety of the electrical system. With a hybrid if we have a problem with the electrical system, we can turn back to thermal. There is enough power there to get you back home. You have a redundancy that allows you to improve the level of safety to the same levels used in civil aviation today.
Another important point for us is that when we take-off and land – we're an electric aircraft, reducing noise and air pollution. And if you consider the energy density of future sustainable aviation fuels such as biofuels and hydrogen, they are orders of magnitude higher than what the pure battery system is. This is the best transition for aviation to have. Then one day when battery technology has improved we will be able to switch.
Do you believe that biofuels will have an important role to play in aviation?
There is a lot of good work going on. Biofuels are a natural first step – revolution by evolution. For hydrogen and fuel cells, I don't see anything significant on the horizon before the next 15 years. Beyond that things will move fast – these are exponential technologies. But general aviation will be a stepping stone. Within the next 15 years these technologies, including hybrid electric powertrains, will be developed and certified for general aviation and then progress into civil aviation later.
is there a race to develop electric aircraft?
There is no doubt that electric aircraft will be a key element of the future of aviation. But my concern as a responsible executive and a member of the aviation industry is the concepts that are presented by companies as reality that will have real challenges getting to production. These kind of projects create unrealistic expectations, which can be damaging for the more serious programs. It disturbs me when I see 'air show magic' – a company that presents an untested wooden mockup of a design and announces double-digit orders for an aircraft that doesn't exist yet, for which no performance figures have been demonstrated, no commitment to production has been made and no firm delivery dates exist.
Airbus or Boeing would never make such promises. And I cannot see why an unproven company should do so. The only reason can be to attract money, but investors are smart. They want to see proof. This is what we have always strived to do at VoltAero, by meeting every milestone that we have set ourselves and without exaggerating, by making sure we are taking care of what's happening around us.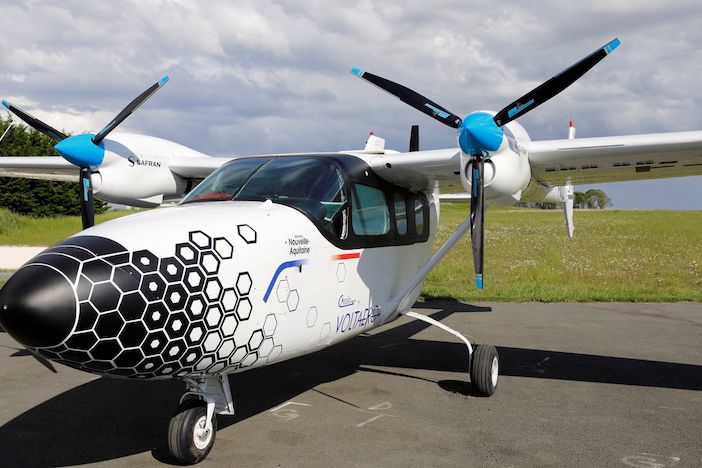 Why did you choose to become an aerospace engineer?
I always had two dreams in my life. One was to be an engineer and the other to be a pilot. And I had a chance to become both. Men have always dreamt to fly, and I think that we should all be proud of constructing flying machines. I see a lot of aviation bashing right now. We need to keep developing aircraft to be quieter, safer, and emission free. That's my goal for the rest of my professional life and I'm proud of the VoltAero work and proud of the people that are part of VoltAero.
When will people first use an electric hybrid aircraft?
VoltAero looks forward to welcoming you on board a Cassio aeroplane after deliveries begin in late 2022. It's not that far away!
Our Cassio will fly in ranges of 800 miles (1400km), 200 knots full speed. All the versions, four, six and 10 have very low take-off distances, less than 1800ft (550m), so we can use this plane in a lot of regional airports.
It won't be for civil aviation. Electric-hybrid aircraft will be used first in regional and general aviation, but it's a necessary step towards civil. When we consider Covid-19, I'm not sure that people will want to keep going to large airports, which could pose a risk. I believe a new model will develop, one that uses smaller, under used airports. Many smaller airports in the UK, Germany and France are under used. This will be for short journeys from 200 to 600km (125 to 370 miles). You can cover a lot of ground and go to a lot of places within that range.
Today, our technologies are suitable for the short and medium term. We can touch the megawatt-scale but beyond that it's a big challenge. There is a lot of complexity scaling up an aircraft like Cassio in terms of electromagnetic compatibility, cooling systems and connectors. Just think about passing many thousands of watts through an aircraft safely. It's a huge challenge, especially when you want the aircraft to remain light. It cannot have huge cables and connectors. We're not making a submarine we're making an aircraft. Beyond 19 seats there is a lot more work to be done.