During November 2021, over Boscombe Down in Wiltshire, UK a heavily modified sports kit plane equipped with the latest in battery technology and an all-electric powertrain reached a top speed of 387.4mph (623km/h), smashing a world speed record for an electric aircraft that had lasted for just four years.
The WMG Energy Innovation Center helped Electroflight test and develop the batteries for Spirit of Innovation (Image:WMG)The aircraft, called Spirit of Innovation, took three years to develop as part of Accel – a £6 million (US$8 million) R&D program joint funded by the UK Government and Rolls-Royce. Accel involved several companies and organizations, including aviation battery systems company Electroflight and electric motor company YASA.
Breaking a world speed record can be a vainglorious and sometimes futile endeavor, but Accel's purpose was also to develop and showcase the aircraft electrification technology that will be offered by Rolls-Royce in the future. Primarily, the 400kW (500+hp) electric powertrain and the most power-dense propulsion battery pack ever assembled in aerospace that propelled the airplane.
Rob Watson, director of Rolls-Royce Electrical says, "Electrification of flight is an important part of our sustainability strategy as we aim for net zero carbon by 2050. The capabilities developed by Accel will help position Rolls-Royce as a technology leader offering power systems to the Urban Air Mobility market."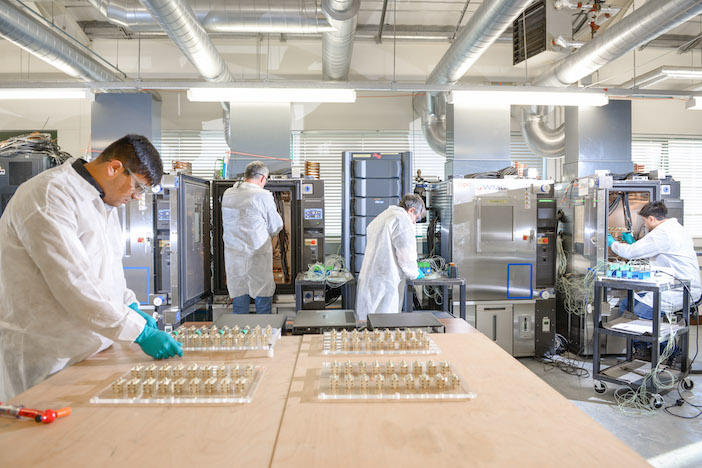 Cell evaluation
The Warwick Manufacturing Group's (WMG) Energy Innovation Centre (EIC) was a major contributor to the project. Researchers at the EIC tested and validated the battery pack used on the Spirit of Innovation aircraft, conducting electrical, thermal, safety, vibration and shock testing.
The EIC's engineers started working with Electroflight at a very early stage of the project. When the project started in 2018, the level of power required by the Spirit of Innovation meant that the cells used had to be taken from motorsport.
Mark Amor-Segan, chief engineer for the Energy Innovation Centre says, "This was a completely new challenge and a novel application of lithium-ion cells. We went through the entire development process with Electroflight.
"We started with a cell evaluation to determine which automotive technologies were most appropriate for the project. We narrowed down the cell types according to thermal behavior, electrical behavior, safety and mechanical characteristics."
As well as the battery cells, individual components such as the battery casing materials, cell clusters and sub-modules were examined in WMG's battery testing laboratories including at its Battery Abuse Testing Centre.
Aerospace DO-160G shock and vibration testing was performed in WMG's battery vibration facility – the first time an aircraft propulsion battery has successfully completed DO-160G testing in the UK.
Amor-Segan says, "Electroflight had a view on the power requirements and duration for the world record. We were able to recreate the mission profile of the flight at battery cell level in our test chambers, to determine if a battery could achieve what was needed and what thermal management is needed."
This data was then used by Electroflight to help design other aspects of the powertrain such as the cooling system. Then safety work with thermal runway testing was done, to determine temperatures and gas flow rates so a containment strategy could be proven.
"Then at the end we helped with the integration of the motors, the battery, the inverters and power electronics as a complete powertrain," says Amor-Segan.
EIC's facilities include dynamometer chambers, where they hooked up the motor and the battery pack and ran it through the flight profile of the record attempt on a test rig.
According to Amor-Segan the same facilities and equipment that is used for testing automotive batteries is suitable for use testing aerospace batteries. "Our equipment and infrastructure could achieve what was needed. The only difference with aerospace is the standards, DO-160 and DO3-11A," he says.
Altitude and aging
Amor-Segan does identify two key aspects not covered by automotive testing – the effects of pressure and long-term aging on cell behavior, which have never been characterized. "A lot of aerospace projects are using cells from the automotive sector that were never intended to go more than 10ft off the ground," he says.
Fortunately, the lifetime of Spirit of Innovation and the altitude it flies at made these problems redundant.
Li-ion batteries do go through UN38.3 testing, one of which is an altitude test, but the requirements only test a battery for several hours to cover transportation. "They are not tested in terms of electrically using the cell while it is in a nacelle under a wing or embedded in the fuselage, while it is going through a pressure differential and extremes of temperature change," says Amor-Segan.
As a result of Accel, the EIC is acquiring an altitude test chamber and a thermal shock chamber so that more research can be done. "We are starting to evaluate the effects of pressure cycling and altitude on the long-term behavior of batteries. These batteries haven't been used in this way before and mechanically they have never had to consider pressure."
Performance and safety
There are other challenges involved with transferring automotive batteries into electric aircraft. Amor-Segan believes the biggest challenge is still performance. "We are nowhere near the power and energy levels required for the large aircraft. That's why eVTOL and smaller aircraft are happening first in terms of electrification.
"There is a Moore's Law type trend happening with the advancement of battery technology, just not quite as steep. I'm optimistic we will eventually get where we need to be," he adds.
The other key challenge is safety. Test standards for battery safety have been designed for the automotive sector. The safety requirements in aerospace are much higher. For example, an automotive battery pack might contain ten thousand cells, but just ten or twenty temperature sensors. In aerospace more detailed data on the cells will be required so the battery management system (BMS) can more fully monitor the condition of the battery cells.
"It makes the safety case much harder and aerospace might bring us different technical strategies and protocols for that," says Amor-Segan. "We need a different approach and new standards for batteries in aerospace. We are involved with EUROCAE to contribute to this process. We are also bringing in a lot more capacity to support the battery safety cases for aerospace projects."
Powertrain
The BMS and the inverter were key elements of Spirit of Innovation's powertrain. McLaren Applied supplied elements of the battery management system. Its equipment was adopted for temperature monitoring, and balancing and control in the Battery Management System, to help achieve full temperature coverage and prevent thermal runaway."
Stephen Lambert, head of electrification at McLaren Applied Technologies says, "We are currently producing an aerospace controller that is DAL-B rated. We are not just a motorsport company. One of our core competencies is producing controllers and products that have high levels of safety and criticality."
The parts of McLaren's BMS used by Electroflight in Spirit of Innovation were originally developed for use in motorsport. Lambert says, "There is a different approach to safety for automotive BMS, which will automatically shut the battery down if something goes wrong.
"In an electric aircraft you want a different safe-state approach – you don't want to lose all power. Instead, you want more availability of the part during failure, so you can return the aircraft to the ground.
"This is similar to motorsport, where teams want to maximize full performance and the car on the track for as long as possible, but not different from automotive BMS."
Efficiency
The 800V silicon carbide inverter has been developed by McLaren to meet the future market needs of automotive electric vehicles (EVs). Inverters convert DC power from a battery pack to the AC power that is used by motors. Most EVs on the road are 400V but industry insiders predict a move to higher rated, 800V inverters. This technology can also be applied in electric aircraft.
The use of silicon carbide in the McLaren inverter increases its switching frequency while keeping it small and light. The higher switching frequency enables the use of a higher speed motor, which is smaller, lighter and more efficient. The amount of waste heat produced by the power train is also reduced as efficiency increases, so less heat exchangers and coolant fluid are needed, meaning the battery pack can become smaller and lighter.
Lambert highlights that efficiency becomes a more important factor in the design of electric aircraft compared to fossil-fuel aircraft, because of the limited capabilities of batteries: "We see a synergy – from motorsport to automotive to aerospace – to develop and use the most efficient components possible, resulting in benefits when you then optimize at system-level."
Crucially, the drivetrains of electric aircraft can be designed so that they are independent of the power source, creating the possibility of using alternative technologies such as hydrogen fuel cells as well as hybrid arrangements in new types of aircraft.
More efficient drivetrain technology is "on the cusp" of being available for aerospace developers, believes Lambert: "We will see a lot of technology transfer from automotive to aerospace in the coming years. The levels of investment and volumes are so much higher in automotive and aerospace can piggyback off of that.
"The challenge will be ensuring automotive technology is suitable for use in aerospace. An example is operating temperatures, which in automotive go as low as -40˚C and in aerospace -50˚C.
"We are working closely with the supply chain in areas such as silicon carbide inverters, to ensure they are suitable for use in the aerospace sector as well as automotive."
Undoubtedly Spirit of Innovation is an achievement, but if its promised legacy is realized in years to come, it will have pushed the boundaries of electrification in aerospace permanently – with a little help from the automotive sector.
---
Electric versus piston power
Spirit of Innovation broke the world record for fastest electric aircraft over 3km (1.8 miles) by 213km/h (132mph) during November last year, as well as the records for 9km (5.6 miles) and 15km (9.3 miles).
The previous record of 337km/h (213mph) was set in 2017 by an Extra 330LE aircraft powered by an engine developed by a subsidiary of Siemens, which Rolls-Royce has subsequently purchased. Never before in the history of the World Air Sports Federation (FAI) record attempts has there been such a significant increase in speed over such a short timeframe. This serves to highlight the rapid pace at which the electrification of aerospace is advancing.
Electroflight Pilot Steve Jones flew the Spirit of Innovation aircraft for the 15km record run. He says, "Breaking the world-record for all-electric flight is a momentous occasion. This is the highlight of my career and is an incredible achievement for whole team."
But there is some way to go before an electric aircraft can boast of being faster than its piston-engine equivalent.
The piston-engined version of the Sharp Nemesis NXT (Neoteric eXperimental Technology), a version of the same airframe used by Rolls-Royce for Spirit of Innovation, holds an air record speed for 3km of 667.8km/h (415mph).