The Ministry of Defence site Boscombe Down is steeped in UK military aerospace history. It is where the first flights of the English Electric P1, the forerunner of the English Electric Lightning, took place. The Folland Gnat and Midge, the prototype for the Hunter P.1067 and the Westland Wyvern, were also tested there.
Today, MOD Boscombe Down remains one of the UK's leading hubs of expertise, equipment and facilities that serves both commercial and military airborne test requirements. It provides test and evaluation (T&E), mission rehearsal and training services for the UK's experimental and developmental aerospace programs.
Owned by the MOD, the site is managed by QinetiQ, which also runs 14 other MOD sites and ranges as part of its T3E (Test, Trials, Training and Evaluation) service offering under the Long Term Partnering Agreement.
Starting life as the UK's Defence Evaluation and Research Agency, QinetiQ was formed twenty years ago and both the company and its activities at Boscombe Down have evolved significantly in the last two decades.
Today it is a key hub for military air T3E, delivered through a partnership between QinetiQ and the Royal Air Force Air and Space Warfare Centre, known as the Air Test and Evaluation Centre.
The commercial focus of the business can clearly be seen at MOD Boscombe Down, where there is a continual modernisation program. On a strategic level, QinetiQ is working to fully digitize its engineering and testing activities. MOD Boscombe Down is opening its doors to civil aerospace companies and through its T3E facilities, a range of both defence and adjacent audiences in partnership with MOD.
Restructuring
There has been an airfield at Boscombe Down since 1917. It continues to be updated and modernized today. The site also hosts the internationally renowned Empire Test Pilots School (ETPS) which this year celebrates its 80th anniversary. In 2019, ETPS' military aircraft were replaced with a civilian registered fleet and the school now runs under the regulation of the UK's Civil Aviation Authority (CAA).
The reorganization also consolidated the site's aerospace design, production and testing capabilities into a single entity, the Aviation Engineering Centre (AEC), which provides the capabilities to take an aerospace testing program from the drawing board to the skies. Simon Tate, director of operations for UK Defence at QinetiQ says, "We can design, manufacture, install, test, operate and – if you want us to – train you to operate aircraft and modifications all under one roof.
"MOD Boscombe Down is well-suited to aerospace testing. We have a huge range of capabilities, including the longest and widest military runway in the UK. Our air traffic areas are regularly used for flight testing.
We also have ground testing facilities that are not available anywhere else in Europe."
The Environmental Testing Facility (ETF) on site is the largest in Europe and the second largest in the world. With a temperature spectrum ranging from -70˚C to +70˚C, in addition to different levels of humidity and solar loading, fighter jets such as the Typhoon have been tested inside the chamber. Another significant facility on site is the anechoic chamber, which at approximately 17m (56ft) long, can accommodate a Chinook helicopter.
Furthermore, the site boasts the Night Vision Systems Test House, which can simulate moon and starlight, and a hyperbaric chamber for pressure testing, which is predominantly used for human factors testing to assess conditions such as hypoxia. Able to accommodate large systems such as civil airliners, the Radio Environment Generator is an additional T&E service at MOD Boscombe Down, capable of high power radiated susceptibility testing over a wide frequency range.
Adam Barlow, interim director of operations air, UK defence at QinetiQ says, "You can put an A330 on the pan, and subject it to a whole aircraft test. There is only one other I know of that size, which is in the USA.
"Refurbishment programs are always taking place to ensure equipment is maintained, with active investment programs currently being undertaken on a number of facilities at site. In terms of flying assets, the most recent aircraft additions have been the new helicopters, an A139 and two A109s, which will be used as flying test beds for air experimentation, and for training by ETPS."
There is also an ongoing digitalization programme happening throughout QinetiQ, which is changing the ways of working at MOD Boscombe Down. Barlow continues, "We are digitizing more of our facilities and upgrading our offer to increase our synthetic training capabilities in support of the RAF and their ambitions in that arena. The digital thread will be a key focus as further investments and development work are defined and executed for future defence and civil aviation needs."
While facilities at the site are funded primarily for defence purposes by the UK Government – there are favorable rates for projects with an MOD end-use – this does not preclude commercial access. "MOD Boscombe Down is a strategic UK capability that is available to support UK Government funded projects and wider UK and global industry", says Tate. "The more commercial businesses we bring on to the site, ultimately the more it benefits the MOD and other customers."
Net Zero
Sustainability and environmental impact are key priorities for many businesses. QinetiQ and the MOD have a commitment to reducing their carbon footprint and innovating to assist with clean energy production. The team at MOD Boscombe Down has been working with Rolls-Royce to deliver a number of world firsts, including the electric flight record and the first liquid hydrogen engine test. In addition, the site will be hosting the first trial of Sustainable Aviation Fuel (SAF) on a DA-42 next month, for which QinetiQ are developing the infrastructure. This will enable MOD Boscombe Down to operate as a dual fuel site.
For their own flight operations, whilst awaiting the viability of operating on cleaner fuels, QinetiQ has implemented a suite of operational and technical measures, taking steps along the path towards net zero aviation. These include the instigation of a Performance Based Navigation (PBN) approach at MOD Boscombe Down, operational changes to approach and landings, monitoring of Continuation Training efficiencies, reducing fuel load and removing as much mass from the aircraft as is feasible.
Aviation Engineering Centre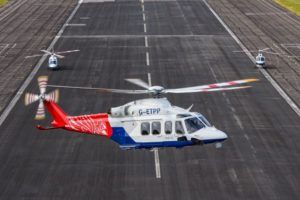 The AEC was created in 2019. The move consolidated flight-testing operations and legacy facilities, equipment and staff to create an organisation able to design and manufacture systems and articles. This includes one-off prototypes or modifications, enabling individual pieces of equipment, systems and wider integrations to be tested and evaluated.
The AEC can perform the entire aerospace engineering development chain, from design and prototyping to running test flights, crucially in high hazard and highly regulated environments. The building's shop floor is a surprising clash of traditional and modern engineering – milling machines and lathes that date back decades sit next to 21st century 5-axes CNC machines and 3D printers. "We're just about to buy a laser sheet metal cutter to help us become more agile," says Rob Moon, head of the QinetiQ Aviation Engineering Centre at MOD Boscombe Down. "We have to embrace digital technology for both rapid prototyping and manufacturing. But we are also balancing the use of digital tools with traditional engineering techniques.
"That flows down to the environment we have created here, where our project managers and engineers progress projects using regulated processes, but in a way that doesn't stifle innovation."
Like any modern aerospace company, the AEC has offices with banks of engineers working on CAD and simulation – the organisation has adopted hybrid working since the Covid-19 pandemic. The regulated innovation approach is encapsulated by an "innovation room", located in the middle of the AEC, which contains both VR headsets for prototyping and wooden mockups and models of test articles.
Proudly displayed on the walls of the innovation room are poster boards of several successful projects run in the last three years. These serve to emphasize not just the breadth of work, but that the priority for the AEC and its 80 staff is rapid turnaround.
The completed projects featured include a proof-of-concept Crewed/Uncrewed Teaming (CUC-T) program, which in just two months was developed and installed with the necessary equipment, enabling its pilot to interact with an uncrewed aerial vehicle during flight.
Barlow says, "The AEC is a dynamic and progressive resource that is very closely aligned with the latest technologies and complex aviation challenges. It continues to open new doors within the aerospace domain, helping to deliver better outcomes through smarter ways of working.
Flight testing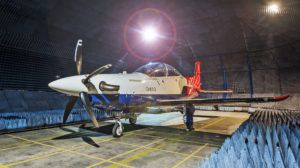 Away from engineering development, the AEC is closely integrated with ETPS at Boscombe Down. The AEC has access to QinetiQ fleet aircraft for flight testing and uses the same hangar and resources to develop, maintain and operate a flying classroom, an Avro RJ70 regional aircraft. The fleet also includes the Airborne Technology Demonstrator, an Avro RJ100 which supports flight trials and ETPS. The aircraft has been modified with flight test instrumentation to monitor approximately 330 different parameters, new flight management software and six flight test engineer stations.
The RJ100 has recently been upgraded and features modifications such as a redesigned cabin floor system, modular work stations and a distribution hub. Tablets and mobile phones are used to display flight test data. "Previously these displays would have been made bespoke for the aircraft. Now that it's the software that is bespoke, it's much faster and less costly to develop," says Moon. This enables customers' R&D projects to be readily integrated onto the aircraft, providing an increased level of agility in T&E.
Allowing for up two terabytes of data to be recorded, all data is recorded and kept on the aircraft, making it suitable for secure and classified flight testing.
The RJ100, which has been developed with specific interest and support from BAE Systems, has been flown numerous times under Permit to Fly for calibration purposes and at airshows. It is expected to receive its Supplemental Type Certificate in the coming months and is intended to be used for training flight test engineers and test pilots. It will also be used for flight testing components and systems.
Barlow concludes, "We are trying to create a site for aviation innovation at Boscombe, which also possesses a number of benefits for companies conducting R&D. Located next to the Salisbury Plain testing area, we are re-instating two beyond-visual-line-of-sight approved flight corridors between the sites."
The Future
It is clear that MOD Boscombe Down in 2023 is still playing as vital role today as it has in past decades: providing crucial military test, trials, training and evaluation, helping deliver the best possible military aviation capabilities to the war fighter. Recent events in Europe, and the constant challenge of delivering future military capability within available defense budgets, would indicate that this capability is likely to be needed more than ever over the coming years.