Words by Paul Eden
The UK's Rotary Wing Test and Evaluation Squadron gets no formal mention on Ministry of Defence websites. Based at MOD Boscombe Down, Wiltshire, it is a small unit that works closely with aerospace and defense contractor QinetiQ's civilian experts while epitomizing the joint structure for which the UK military strives.
Rotary Wing Test and Evaluation Squadron (RWTES), pronounced rotes, draws personnel from the Army Air Corps (AAC), the flying branch of the British Army; the Royal Navy's Fleet Air Arm (FAA) and the Royal Air Force (RAF). There is also a permanent US exchange position among the unit's test pilots. Command alternates between AAC and FAA officers. Long-held tradition has it that Army units are led by an officer commanding, while Royal Naval units have a commanding officer. The display board in the squadron building listing current RWTES's commanders therefore has switchable 'CO' and 'OC' titles.
Right now, RWTES has a CO, since commander Chris 'Grassy' Knowles is in charge. From September it will have an OC. "The squadron is part of the Air and Space Warfare Centre, a 1 Group, RAF unit, which means we fall under RAF control," Knowles explains. "But RWTES's alternating command structure is appropriate because although we have RAF personnel on the squadron, they come from frontline Chinook and Puma squadrons, which are part of Joint Helicopter Command, under Army control." Number 1 Group, RAF is ironically not a frontline helicopter operator, yet through RWTES operates all the UK's helicopters for trials.
The chain of command is complex for a unit that numbers no more than 25 people, including several qualified flight test personnel and key civilian support staff. Small it may be, but RWTES's output is great. Knowles says, "I calculated that last year we delivered a new capability to the front line every 18 days on average. Some of that was very small, like removing a limitation, while other things were pretty big, like clearing the Martlet missile on Wildcat."
However, there is a fundamental requirement behind every RWTES task. Its personnel must concern themselves with every aspect of an aircraft's behavior, ensuring it is safe and fit for purpose before defining a set of operating parameters. These provide the front line with the means to focus on the mission without worrying about what the aircraft is doing.
Knowles says, "When we're writing our advice and limitations for the front line to follow, we are careful to read our work and check that if we've said "you are not to use a system in the following circumstances", it makes sense and we understand its impact on a frontline crew. We will only implement a limitation if there's an element of risk. It's a case of achieving maximum capability while managing risk."
Frontline connection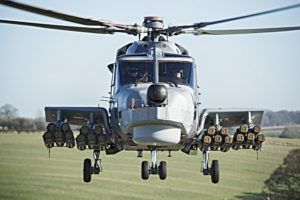 Knowles is typical of RWTES personnel in having served on the front line before training as a test pilot, but the rarefied atmosphere of Boscombe Down and the flight test environment inevitably keeps RWTES's personnel away from daily frontline work. Is there a danger of them losing sight of what crews at the sharp end need?
"Our test pilots are careful to keep connections with their frontline colleagues. We go and fly with them and we are constantly communicating with them. While acknowledging that they are often more current on the aircraft, we do have a rather trite mantra – 'Is this easy enough for an average first tour pilot to manage?' –we call it role relatability.
"The classic example is a switch that pilots needed to use to turn off the radar when they came back alongside the ship, to avoid irradiating personnel on deck. The last thing a pilot wants to do is reach up to find the switch when they're alongside, preparing to land at night, in bad weather. In this case, we saw it and had it moved.
"We try to get into the program as soon as possible, much further upstream than in the past and ideally during the design phase. The earlier we're involved, the cheaper and easier it is to make modifications. There can still be challenges. For example with aircraft acquired through the Foreign Military Sales program, where to an extent the capability has been bought off the shelf and the UK isn't involved in building it. The challenge can be as simple as solving how to integrate slightly different UK flying equipment into a US cockpit when you aren't able to get the aircraft design changed."
The squadron's permanent slot for a US exchange officer helps enormously with integrating Foreign Military Sales (FMS) equipment. Speaking late in April, Knowles explained there was about to be a change of personnel, although both the incoming and outgoing incumbents are AH-64E Apache pilots with extensive contacts within the US Army Apache community. The AAC introduced the AH-64E Version 6 into service from January 2022. In terms of flight test, the Apache is an interesting proposition. British military helicopters generally operate with a mix of pilots and rear crew, the latter taking on a variety of responsibilities in the cabin. But the Apache requires a crew of pilot and co-pilot/gunner, a mix that Knowles says for RWTES purposes is satisfied by Apache pilots equally at home in either seat.
Testing team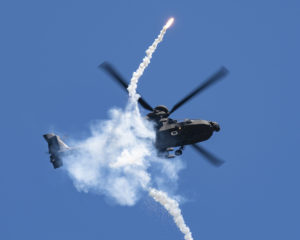 Otherwise, the unit's average composition includes around 12 Class A test pilots, including the CO/OC, a training pilot and two rear crew, generally one FAA and one RAF qualified as evaluator aircrew. The latter performs the test and evaluation role for cabin operations and work as part of an overall test crew. They are also critical to assessing the suitability of rear crew simulators, considering their fidelity and training effectiveness.
It is also worth noting the different rear crew requirements for FAA and RAF operations. The former includes observers, mission specialists competent in sensor and weapons system operations. There are none in RWTES's cadre, but suitably trained aerosystems experts are sourced from 744 Naval Air Squadron (NAS), a trials-dedicated unit also based at Boscombe Down under the Air and Space Warfare Centre (ASWC).
There is also a close relationship between RWTES and 22 Squadron, nominally an RAF outfit but operated as a Joint Helicopter Command operational evaluation unit based at RAF Benson, Oxfordshire. At the highest level, it is RWTES's responsibility to ensure new equipment delivers on manufacturers' promises and that it is safe to operate and suitable for task, before 22 Squadron develops operational capability and tactics. Both units also work with new weapons systems and other kit and cooperate to address issues or requirements arising on the front line.
The UK's requirement for a new medium helicopter to replace the Puma, Bell 212 and 412, and Dauphin is a major piece of work for both squadrons. "Whenever possible we'll form a combined test team so we can all get on the aircraft at the same time. That way, 22 Squadron can be gathering thoughts on its tactical use while we gather our data. We tend to look at specification compliance, safety in role and, most importantly, fitness for purpose – can it do what we want and do it well," Knowles says.
"A major RWTES's focus at all times is to avoid compromising fitness for purpose to achieve a better safety outcome. A weapons system becomes very safe if you never fire it, but if it's not going to be effective when you do, then it's useless. At the point where you are firing missiles the situation has become very serious and you need the missile to hit and we need to ensure the safety perspective will not cause it to miss.
"It is also our job to ensure we don't trade performance to meet time and budget constraints. They are easier to focus on because they have defined limits and we need to ensure performance isn't compromised so the wrong thing enters service."
Trials programs
Late in April, RWTES's primary trials revolved around AH-64E, Crowsnest, Wildcat, the UK's forthcoming batch of so-called H-47(ER) Chinooks, and the new medium helicopter requirement. The Wildcat focus is around the Future Anti-Surface Guided Weapon (Heavy) (FASGW(H)) integration rather than the helicopter itself, as Knowles explains: "We've done lots of work to clear the Martlet [FASGW(Light)] missile system into service and now we're working to bring the weapon's heavy version, Sea Venom, up to speed. We're also doing a lot on the new medium helicopter, currently all theoretical, defining requirements and how we'll test them.
"The ambition is to make the program an exemplar of the efficiency made possible through starting the test and evaluation program early. We want to know if, through analysis and an early look at the platform, we can deliver the platform to the front line with initial clearances to begin training on day one. Then, before they have finished training for day operations, say, can we have the helicopter cleared for night flying.
"And there is always some Chinook business. Chinook Mk 5 is ensuring everything possible on the Mk 6 is available on the Mk 5, and then we have the Chinook Enhanced Range, which is akin to the US Army's MH-47G.
"We had people in the USA in late April and early May working on that program. The geographic disposition of RWTES personnel is often to the four winds… one day in April we had Crowsnest trials at Boscombe Down, people at RAF Shawbury doing Juno simulator assessment, a team at RNAS Culdrose doing another simulator assessment, more people with Leonardo at Yeovil, flying FASGW(H) Wildcat trials and the folk in the US."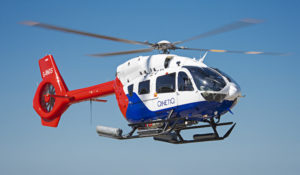 The scope of RWTES's work is extraordinary in its geographical spread and extent, since it covers 20 marks of operational helicopter. In the process, it works closely with QinetiQ, dipping into the deep expertise of the company's civilian subject matter experts under the Air Test and Evaluation Centre (ATEC) construct between QinetiQ and the MoD. The arrangement also sees civilian flight test engineers embedded in RWTES, in test teams alongside their military colleagues.
Flight test engineers play a vital part in the data collection process during trials but are not, in all cases, able to fly with the helicopter. "It depends on the aircraft and what's required from the test," Knowles continues.
"On AH-64E, for example, much of our work is around the UK-specific defensive aids suite. We use test cards and the aircraft cockpit voice and the aircraft's organic flight data recorders, so we can normally get video of the cockpit screens and voice recordings for interpretation without fitting flight test instrumentation. But we will fit sensors to gather additional data if we need to.
"Generally, they'll talk to a laptop and, if we're testing an aircraft with a cabin, we'll have a flight test engineer helping monitor and manage the trial in real time. In some cases, we'll share the data live with the ground or a ship as well."
Considering the squadron's output compared to its small size, Knowles says: "We are the fulcrum of rotary wing capability in the UK, but sometimes people just don't see us. We're the guardians of seven Cat A programs, that's programs worth more than £0.5 billion – we directly contribute to them achieving their milestones."
Consider Carrier Strike Group 21, for example. It delivered Operation Fortis, HMS Queen Elizabeth's debut operational deployment with F-35, into the Mediterranean, Indian Ocean and on into the Pacific.
"Without RWTES," Knowles concludes, "Merlin Mk 2 wouldn't have been on board delivering anti-submarine warfare capability. Merlin Mk 4 would not have been embarked for troop and cargo movement.
"Wildcat would not have been available for surface protection and search and it would not have been armed with Martlet, and the Crowsnest Merlin radar capability would not have been present so it can operate alongside the F-35. There is no UK expeditionary capability without RWTES."