Norway is a coastal country with a geography that includes 1,200 Fjords, 50,000 lakes, 13,000 mountains, a lot of gorges and trees. The country's winters are dark, long and freezing.
The further you move away from Norway's cities the harder traveling gets. Main national roads snake through mountains, around water and through forests, often reducing to single-lane traffic. Building and maintaining railway lines is a major undertaking.
Norwegians therefore like air travel. The country has 98 airports and 90% of its domestic flights are of under one hour. Eric Lithun, CEO of electric seaplane developer ElFly says, "We are a country of around 5.5 million people that uses aviation like a country of 55 million because it is often much quicker than traveling by road."
For example, a journey between Lithun's native Bergen to the city of Oda by road is an arduous 135km (84 mile) trip that takes around three hours because of the terrain. The same trip by seaplane proposes Lithun, could be done in just 20 minutes.
The problem is there aren't many seaplanes in Norway. There was once – even the postal service used them – as Lithun fondly recollects. But today there are just five, which are used to provide tourists with novelty aerial tours of fjords.
The disappearance of seaplanes in Norway can be blamed on their high operating cost once rail and road links were built. Seaplanes are expensive to maintain because most of them are land planes, like the Cessna Caravan, converted to work on the sea. "For instance, the engine sucks in saltwater so it has to be rinsed and oiled regularly to avoid corrosion," says Lithun.
Seaplanes also haven't been developed in the same way land-based aircraft have. The most recently developed seaplane is the Dornier Seastar, which was first flown in 1984.
Electrical advantages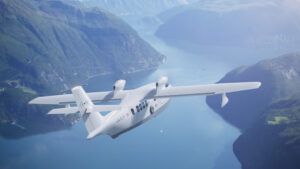 Norway's predilection for aviation is at odds with climate change. Despite being one of the world's largest exporters of oil and gas, Norway treats climate change seriously. For example, capital city Oslo calculates its emissions annually and plans to be emission-free by 2030. The country also recently signed a "Green Alliance" with Europe, which focuses on moving away from fossil fuels to renewables. Norway also recently retired all of its fossil fueled ferries for 74 electric one.
"The Government likes electric ferries because they cut emissions, are quieter and they have a strong business case," says Lithun.
Lithun sees a similar business case for electric seaplanes. He is a former IT entrepreneur and a pilot who monitors the development of electric aviation keenly. He ordered 18 electric aircraft from Bye Aerospace several years ago to start his own airline, but got tired of waiting for delivery of the aircraft. He then looked to invest in Heart Aerospace but was unconvinced by the technical case and decided against it.
In 2018 Lithun met Tomas Brødreskift and founded Elfly. Brødreskift had spent most of his career working on the P2 Xcursion – a modern seaplane. The P2 had a reasonably successful development and flight-testing program, but unfortunately the finished product could not take off and land from the water.
Lithun and Brødreskift decided that electric powertrains make seaplanes in Norway a practical and profitable proposition once again.
"We decided to develop an electric seaplane in Norway instead of waiting around for a foreign company to build aircraft that we would adapt and use here," says Lithun. "Electric aviation can reduce the cost of flying by a factor of 10 and from the sea that can be doubled."
Operator ambitions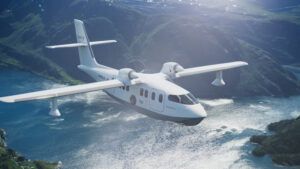 ElFly now has 20 employees and is based in Bergen. Earlier this year it revealed the design for the Noemi. The clean sheet design, 19-seat aircraft is intended to be used for commuting, tourism and cargo.
The battery-powered all-electric aircraft will have a range of 170km (105 miles) with 45 minutes reserve using today's COTS battery technology. Lithun predicts this could increase to 315km (195 miles) by 2040 at the rate battery power capacity is growing. Noemi will have a top speed of 250km/h (155mph) and is designed to take off and land at "floating airports" on Norway's sea, lakes and fjords as well on conventional runways. Lithun predicts many seaplane airports could be based along Norway's coastline.
ElFly has €19 million (US$20 million) of funding, a combination of Lithun's investment and Norwegian Government grants. Its engineers are currently building the first full sized prototype and plan to fly it for the first time by the end of 2025. The timeline is then to have built one or two more aircraft for certification in 2027 using CS23 Level 4.
ElFly plans for Noemi go into commercial service in 2029, focusing first on tourist experiences. Lithun then wants to launch his own regional airline in 2030, after it has gained an air operators certificate (AOC) serving commuters in Norway with an initial 15 aircraft.
"We will have our own AOC because we want to innovate through the whole aviation value chain so we can make money. We want to rethink aviation and not just make things for the existing industry,"
says Lithun.
"One of the aims is to develop a propeller with low enough noise levels so Noemi can operate from lakes and fjords near people. We want the aircraft to serve city center to city center with the lowest possible hassle for the passenger. For example, because it is less than 19pax you won't need to go through security."
If all goes according to his plan, Lithun predicts once manufacturing has scaled up the company will have sold almost 800 aircraft by 2040.
Noemi development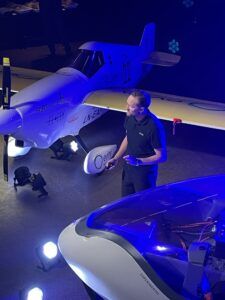 Up until now, ElFly has flown a 20% scale model featuring push propellers at the rear of the tail in 2021. The model reached a top speed of 250km/h (155mph) and had an endurance of one hour.
Tomas Brødreskift, ElFly's chief technical officer says, "We have done a lot of scaled model testing. It is a great way to prove out early concepts and ideas."
The company has been working closely with the Norwegian research institute SINTEF, making use of its facilities. These include a water tank, which engineers have used to simulate take-offs and landings in different wave states and analyze the power required. This is crucial, because the two-engine aircraft needs to be able to take off with one engine for safety reasons.
The Noemi will carry 1.5 tonnes of batteries and its two motors will have a combined max power output of 950kW that can be downgraded. "That is the calculated power need to get to step," says Brødreskift.
The step in a seaplane's hull facilitates take-off by reducing the amount of the aircraft that is in the water. This reduces the drag and allows the pilot to vary the pitch attitude. When a seaplane accelerates to step it can take-off.
Most of Noemi will be made of carbon fibre-reinforced plastic. The hull material has yet to be determined by the team. From a technical perspective, Titanium is the best option for a seaplane because it doesn't rust, but it is expensive.
ElFly is partnering with a metals company on the material on R&D for the hull and work
is ongoing.
The aircraft will be non-pressurized, saving about 5% weight and allowing the windows to be larger. The batteries are located beneath the floor and will be swappable for when the battery degrades. "Thermal management will be a key factor in prolonging battery life," says Brødreskift. He predicts the batteries will provide between 1000-1500 cycles depending on usage before they go below 70% capacity and do not have sufficient power to operate normally.
"It is a 5.7 tonnes boat so we displace a lot of water and it has to be big. That means we get a lot of cabin size, even though we have eight or nine battery packs. We can have things that give comfort and a good experience," says Lithun.
The company plans to keep the cabin flexible so the aircraft can be used for different applications and missions such as for cargo, business, VIP, tourism and commuter. Easy cabin interfaces and side door functionality will accommodate the needs of all these markets, while the ranges will stay the same.
Other projects
ElFly has also worked with the Nordic Racing Team over the last several years to develop and test a pure-electric race plane, a modified Cassutt plane. The aircraft was to be used in the E-race series – which was unfortunately canceled before its launch.
As with the P2, the ElFly team is taking learnings from the Cassutt and using them on the Noemi development program. "We learned a lot about heat and cooling from the Cassutt. We have some testing to do with a new cooling system, then we are going to attempt the world record. We have the world's fastest-flying electric race plane," says Brødreskift.
Brødreskift is candid that inspiration for Noemi's design has come from previous seaplanes. "The bottom half is inspired by the Mallard and the top is like the Twin Otter," he says. "We did too many new things with the P2. This time we are not being so radical. If we can get to step at 30 knots then there is no need to reinvent things."
Being pragmatic about the design and features also reduces commercial risk, a real concern for the team.
"The aircraft has a mature business and safety case. We aim to struggle more at the front end of the project and meet certification standards as early as possible – the aircraft you see today will be the aircraft you see in 2030," says Brødreskift. "I am confident we can do this, it's a move up from general aviation for me, but we have a great team that we are building steadily towards certification."
The thinking behind Noemi is a mix of environmental concerns and a desire to produce a practical plane suited to Norway's challenging terrain. There is also a romantic nostalgia for the seaplanes of the 20th century mixed with the exciting prospect of electrified aviation. But Lithun is not sentimental about Noemi's prospects and won't be over hyping its capabilities: "We don't need to lie to people because we are going to fly the plane ourselves, I don't want to pump up the potential and sell a lot of stocks, I want it to fly," he says.