Dr Angelo Grubisic is a lecturer and researcher in astronautics and advanced propulsion at the University of Southampton during the week. At the weekend he dons his jet suit and takes to the skies, wowing crowds of people at airshows with stunts.
If this sounds like the intro to a superhero comic book, it almost is. Most people online refer to the Daedalus Jet Suit as a real-life 'Iron Man' suit.
But Gravity Industries' Daedalus Jet Suit is a real endeavor. Alongside the suit's original developer, Richard Browning, Grubisic, who has a solid background in aerospace engineering, is helping to mature the jet suit's design.
They aim to turn Daedalus demonstrations from an air show curiosity into a series of major aeronautical sporting events and in the process redefine what it means for a human to fly.
Hop and pop
Whereas Browning's background is in oil trading, Grubisic's career is solidly aeronautical – he has developed jet engines and taught the development of jet engines at university. Most recently he has worked on ion thrusters for spacecraft, first with NASA and then on ESA's BepiColombo mission to Mercury.
Gridded ion thrusters remain his core area of research at the University of Southampton. But Grubisic is no sleepy academic: in his spare time he jumps off cliffs – a pastime otherwise known as the extreme sport of base jumping – and develops 'wing suits' to enhance human flight.
It's through this shared interest in human flight that Browning and Grubisic originally met in 2016, when Browning was carrying out short-duration 'hop and pop' flights with his prototype Daedalus jet suit in car parks and farmyards.
"My approach is from the top down and Richard approaches flight from the ground up. The idea is we meet in the middle," says Grubisic.
"I've come into Gravity Industries with experience of developing and testing propulsion systems. I have a background in extreme sports and I've developed wing suits – I've learned how to fly in very hostile environments, where attention to detail and risk mitigation must be applied to keep safe."
Horizontal flight
The focus of Grubisic's work with Gravity Industries has several aspects. In terms of engineering development, the aim is to integrate Grubisic's wing suit with Browning's jet suit to produce a suit capable of high-speed horizontal flight.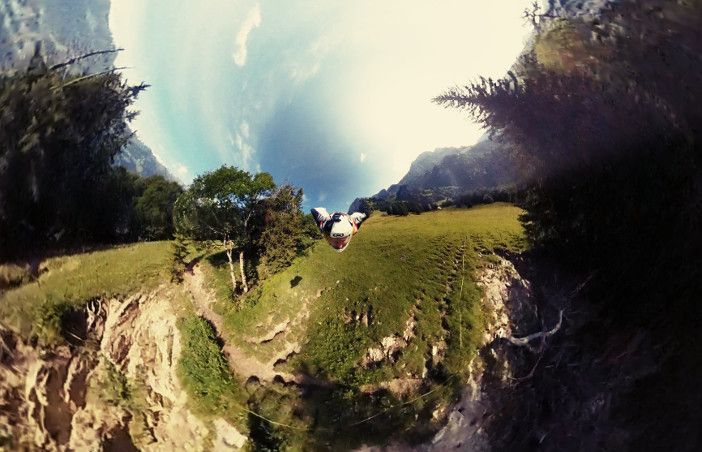 To that end, Grubisic has been testing the jet suit and the wing suit to work out how to approach the switch from vertical take-off to horizontal flight. "We're looking at concepts that will allow us to transition to full horizontal flight in the same way a Harrier or F-35 does. The aim is to build in rigid or semi-flexible wings that can offload some of the vertical lift required aerodynamically.
"It's about going faster, higher and having three-dimensional control in the airspace, whereas traditionally we've stayed below 20ft (6m).
"We can do it, but the question is can we do it within a tolerable level of risk. We won't start until there are safety measures in place, like emergency drogue chutes to slow us down while experimenting over water."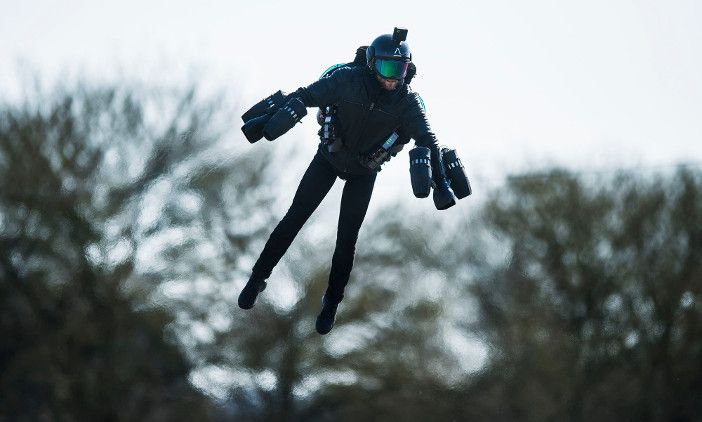 There has not been a single major injury since Browning started developing the Daedalus pack in 2016. Grubisic is taking every measure to ensure that remains the case. "It's like any other part of the aerospace industry – we fully analyze the risks," he says.
"Every time we take a step forward and test something new, we ask ourselves what the worst-case scenario is. We tread a line between being safe and pushing the boundaries, but it's most important we always stay within those boundaries. That takes a lot of discipline and rational judgement.
Air show demos
The Daedalus jet suit is a deceptively simple concept. It consists of six micro jet engines attached two on each arm and a pair on the back with the control system, linked by a metal frame worn over the body.
About a third of the weight of the jet suit rests on each arm and about a third on the rear engine. The current Mk1 version can run for up to 12 minutes.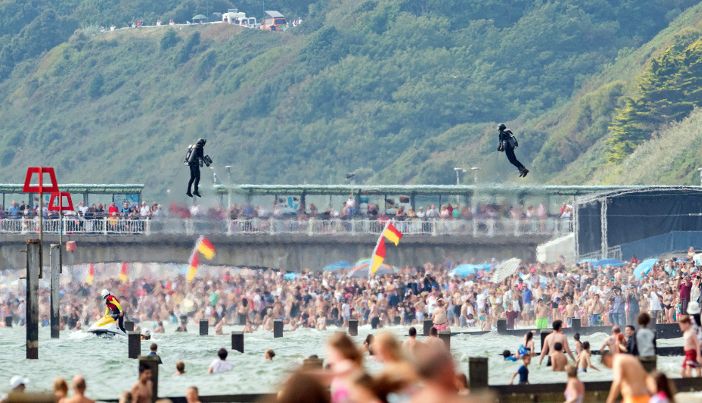 Early in 2018 Browning achieved an official world record top speed of 52km/h. In August 2018 an unofficial top speed of 74km/h was recorded by Grubisic, and the furthest distance yet of 1.2km was traveled by Browning during a demonstration at the Bournemouth Airshow in the UK.
"We're really pushing the boundaries," Grubisic says.
"Piloting the suit is an intense, visceral experience. When you start the engines up there's the smell of kerosene, flames come from your arms, you feel the torque from the engines and everything gets noisy.
"You feel like your body is completely engaged in the suit. The suit is embedded onto your physical frame.
"We use the human physical frame and the human neuro-vestibular system itself to control it. It's like riding a bike but in three dimensions.
"There is an overwhelming amount of noise and movement in your visual field. It's a lot to process and you need to learn how to deal with that."
Buy your own jet suit
The Daedalus jet suit has been available to buy since July 2018 for US$440,000. Gravity Industries recently sold its first suit to a "US businessman" and Grubisic traveled to the USA in October to train the purchaser in its use in a hangar on a former nuclear base.
Despite this, Grubisic is aware of the limitations of the device and says that the company will not be developing a commercial project.
"We are trying to move to a point where we can race the suits against each other. At the Bournemouth air show, when Richard and I flew together we showed that this type of event could be a great source of entertainment.
"This will not be the next way to commute to work. We're bound by physics and chemical energy. We're in the business of entertainment."
The current vision is to scale up the size of demonstrations and the business by organizing a jet suit race championship. Races will feature four pilots racing against each other: "Clad in neon, through gates lit up on a marina – it would be amazing," says Grubisic.
Grubisic believes that racing will help develop the business model and fund the company in the future.
"This could easily be treated as a gimmick and we could end up doing the shows and not moving the product or business case forward. We want to move into racing, where we see a profitable and sustainable future," he says.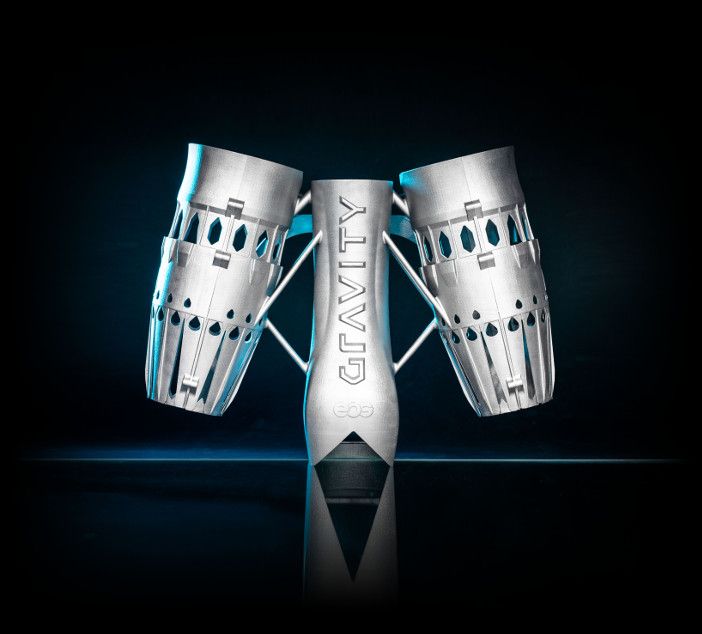 Engineering development
Meanwhile, Grubisic and several other engineers continue to develop the Daedalus concept, firming up the architecture of the suit and developing new features. The type of engine used in the suit can now be changed according to the kind of flying being done – low-level air displays or high-speed air race events.
New ways of controlling the throttle are being developed, so the power can be reduced when the pilot transitions to horizontal flight. There are developments to the way the suit integrates with the human body, to accommodate new flight control aspects, produce more responsiveness and make it more comfortable.
Engineers have also developed a heads-up display so the pilot can be given information on the state of the engines and fuel usage. They are in the process of integrating bagged fuel tanks into the backpack to enable faster refueling.
"I've worked in the aviation and space industries – I'm a scientist and engineer. We are bringing scientific and pragmatic engineering into the development of the jet suit, applying the same logic to the development and testing of our systems as you would do anywhere else in industry."
Nevertheless, the most exciting prospect is the integration of the wing suit and jet suit into one device. From his experience skydiving, Grubisic believes that a modified Daedalus can morph into a propulsion device that can fly further and faster.
"When you go fast it feels like sky diving, and I employ the skills and techniques I know from skydiving," he says.
"You use your body as an aerodynamic control surface. You produce drag as you go faster, but you also produce lift if you angle your body in the right way. We're learning all the time about how to go fast."
The dream of humans flying in such a way has been around for as long as mankind itself. Although it seems unbelievable, there is a possibility that the Mk1 Daedalus jet suit – thanks to sheer inventiveness, boldness and a solid dose of aerospace industry development and testing – could be the first step to real individual human flight. Maybe my jetpack will arrive in my lifetime after all.