Earlier this year Canadian engineering firm MDS Aero Support was named as the prime contractor for Rolls-Royce's new £150m (US$190m) engine testing facility in Derby, UK. When completed in 2020, not only will the facility be fully equipped with the latest testing technology, at 7,500m² (80,730ft²) it will be the biggest of its type in the world.
MDS is responsible for all aspects of the project, from its design to on-site construction management. It will also supply all of the test systems, including aerodynamic and acoustic elements, a thrust measurement system, engine adapters for current and future engines, and mechanical and fluid support systems. MDS's latest data acquisition and controls system nxDAS will also feature.
Aerospace Testing International caught up with Joe Hajjar, vice president of business development at MDS, to quiz him about this landmark testing facility.
Congratulations on the contract – what does it mean for the company?
It's a great achievement to be the size we are, 280 people, half of whom are engineers. It's great to be recognized as world leaders in our core competencies. We're a Tier 1 supplier to companies like Rolls-Royce and Pratt & Whitney in the aerospace industry now, which isn't bad for a Canadian company started 33 years ago.
Why was MDS selected?
Rolls-Royce has the expertise in-house, but we bring agility and our experience from working with different customers on different facilities to the table. We are able to manage risk appropriately and we are not saddled with bureaucracy.
We act as a systems integrator. We leverage industry expertise and couple it with our own in-house IP to be able to provide a world-class center of excellence for gas turbine testing.
How do you work successfully with clients such as Rolls-Royce?
Collaborating closely is a big part of being successful in this market. These facilities are very complex. They are not a commodity. They require partnerships to help them establish the art of the possible. Our engineers and their engineers work closely to define the requirements and conceptualize the solutions. There is full transparency, this helps us guarantee value for money.
This is a turnkey project and is mission critical for Rolls-Royce. It's being built in just over two years. We were digging the holes as we were inking the contract.
How do you work with architects and local contractors?
We manage the design and construction of the building, but we design the test systems first. The test systems dictate what the building looks like. The building has to be able to handle the loads and the interfaces from the equipment.
We also manage the local contractors under strict guidelines. It's a daunting build for many of them – the Rolls-Royce facility will be 127m long and its double concrete walls will be up to 2.7m thick. But local contractors have the skills and we have the experience. The responsibility is on us that it is built properly.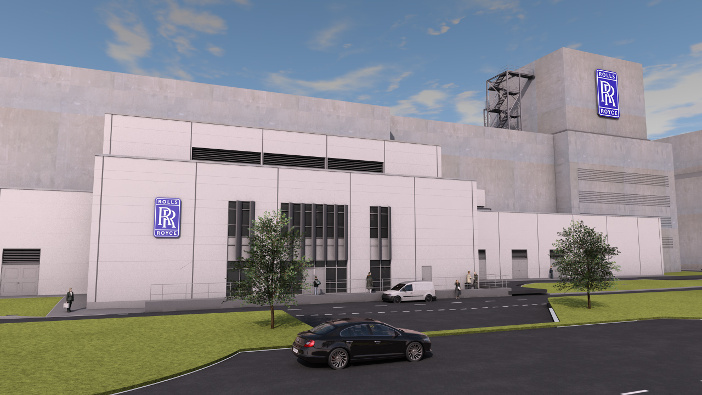 How are you future-proofing the Rolls-Royce facility?
The facility is being built to last at least 35 years. Potentially it's going to last entire careers. It's being built primarily to certify the UltraFan engine, but it will be used for other projects. So it has to be robust. It's also highly automated, so you can bring an engine from pre-test to test within one hour.
What's most impressive about the project?
It's difficult to explain just how massive it will be. This facility will be the biggest in the world and house the world's largest test cell. At the moment the biggest is around 14m2. The floor to ceiling height of the new Rolls-Royce cell will be 15m, and it's 15m wide.
What engineering challenges is MDS facing with engine testing facilities?
The engines are getting bigger. The challenge is running large engines indoors and making them think that they are running outdoors. That means the equipment you install and how you manage the airflow shapes the test cell.
The major challenges are dealing with the airflow limitations and how much energy you are putting into the test cell. The amount of airflow is growing and the size of the fans are growing. Another challenge is balancing the aerodynamics with the acoustic signature of the test cell.
What are the integration challenges?
We are trying to improve the management of the facility's various systems and interoperability. In our industry there is no standard operating system for engine testing. These past few years, MDS has focused on bringing industry together to form a working group with more than 80 members, including supply chain and OEMs, in an effort to standardize communication and data measurement for things like pressure, temperature and vibration.
Does MDS supply any of the test equipment itself?
Yes. MDS as an OEM supplies more than 50% of the specialty test equipment for the facilities. There are certain systems we supply ourselves because they are the critical parts of the facility – such as the thrust measurement system, aeroacoustics systems and data acquisition.
We have IP-protected technologies in how the engine is supported from the ceiling and the thrust measurement system. The readings have to be pure and beyond question. There is an exacting science to compliance and we provide certainty.
With so many stakeholders, keeping the client happy must be tricky – how important is project management?
Project management can make or break the development of a facility like this. The decisions we make every day are very complex. This requires a very robust internal project management process; one that goes beyond traditional project management. We have developed an in-house signature process that we call 'RPM' to support the demands of our industry, while effectively managing risk.
How do you think test facilities will change in the future?
The engine OEMs are in a very competitive market and are pushing the envelopes of what is possible with technology. Customers want universal test facilities. They want low uncertainty, high accuracy data. There is a lot of information and calculations are being done to help them make important development decisions about their engines.
I think we're going to see a shift in how test cells and their systems are managed and owned. Customers want better data faster. Acquiring that data and delivering it in a way that gives them ultimate flexibility in what they can do with it is what is shaping new facilities like one for Rolls-Royce.