Martin-Baker is the largest maker of ejection seats in the world with 53% of the market. It produces around 500 seats a year, rising and falling in line with military aircraft programs.
Around a quarter of the Martin-Baker's seats are used in training aircraft, a quarter in fighter trainers and about half in fighter jets. The seats are developed, built and tested at its site in Denham, UK, the location of the company's headquarters since 1934.
An aircraft's escape system is the mechanism of last resort for a pilot and must be trusted to be infallible in desperate and extreme emergency situations. Testing is therefore central to Martin-Baker's business. 
Aerospace Testing International was given a rare look behind the scenes at its testing facilities and the opportunity to talk to some of the company's test engineers.
Environmental Test

 
Martin-Baker's environmental test department at Denham handles the crashworthiness of the seats and conducts test that demonstrate the robustness of the integrated seat and its components. A separate seat test department at nearby Chalgrove Airfield in Oxfordshire handles the seat ejection testing and relevant certification testing. 
Stuart Driver, chief environmental test engineer at Martin-Baker says, "One of our most important capabilities is vibration of our product for functional performance testing.
"We have to show that up until the point of use the seats are resilient to their operational environment – the aggressive shaking and vibrations it experiences during flight, as well as things like gunfire."
Protecting a seat against moisture and heat is also a big challenge. Physical testing at Martin Baker primarily uses eight climatic chambers and several vibration machines to conduct structural and corrosion testing on all parts of the seat.
A large climatic chamber is used for temperature, humidity and pressure testing. Two chambers are used over vibration machines.
A typical test involves a seat's actuator being placed inside a climatic chamber as part of certification testing. Thermocouples are attached to parts of the electronics to measure temperature. Instrumentation inside the chamber then measures at a rate of 25,000 samples a second over 30 channels, with data communicated over fiber optics.
Tubes and centrifuges
Although primarily a mechanical product, ejector seats contain pyrotechnics and electronics, complicating tests considerably. 
"As we push the boundaries, we are making more complex systems for the seats. Testing then becomes more challenging. We are also getting more requirements from customers. They want to fly faster and higher and cater for a broader range of occupants," says Driver.
Outside of the Denham workshop is a metal tube, 25m (82ft) long and around 5m (16ft) in diameter, used for test firing the seat's rocket motors. Each rocket motor installed in a seat produces around 3,000 lbs of thrust when fired, with multiple firings occurring during just 0.3 seconds.
Engineers measure loads, forces and pressure inside the rocket testing tube. Testing at different temperatures is accomplished by putting the rocket motor inside a climatic chamber, then quickly moving it outside to the rocket tube. 
Also located outside is a centrifuge, used for testing seat electronics and power systems. Electronics are used to fire the seat's systems and communicate with the aircraft. The seat's batteries must also be able to operate within the same extreme environment the aircraft does.
Driver says, "We develop the test equipment around the items to ensure its safety. We work hard to ensure that the equipment we use is robust and will not affect the test results."
The seats can be in service for up to 40 years and must meet an array of standards, many of which Martin-Baker engineers themselves have helped to develop. Test engineers also work closely with the design and manufacturing departments to ensure that requirements can be met.
Safe ejection is always the primary aim for a seat, but derived from that are other requirements such as ensuring effective separation from the seat, canopy and ejection parts, and managing head and neck loads.
"What differentiates our testing from most other places is the interaction between so many different elements," says Mark Cooper, environmental test manager at Martin-Baker. "We have a human sitting on pyrotechnics and a mechanical system with integrated electronics, in a relatively compact package, being used in extreme conditions.
"The seat could be travelling 700mph [1,100km/h] at 30,000ft and all these complex pieces have to come together and work right just once at any time over decades of use."
Meteors, launchers and sleds
Chalgrove Airfield in rural Oxfordshire hosts Martin-Baker's test aircraft fleet and a suite of bespoke equipment used for ejection testing. The company also operates a sled and rail at a separate site in Northern Ireland called Langford Lodge. 
The company uses the world's oldest fleet of flying testbeds – two Gloster Meteor jets made in 1944 – two of the last four flying examples of the aircraft. Incredibly, these vintage aircraft are powered by Rolls-Royce Derwent jet engines made in the 1940s.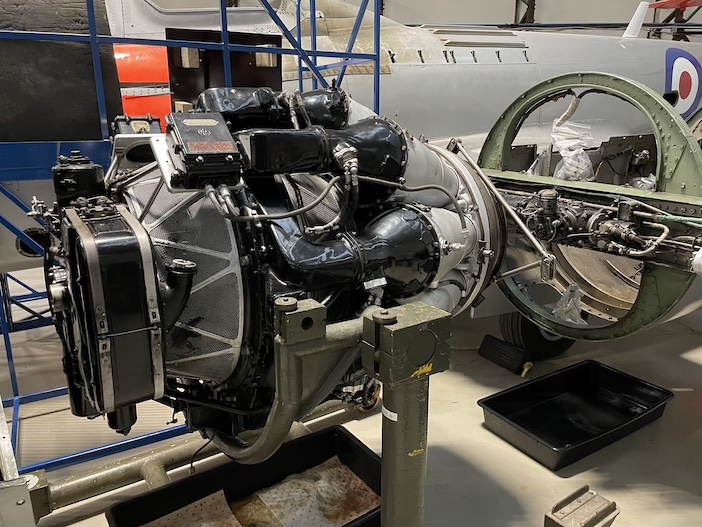 The Meteors were first used for flight testing in 1946. They were last used as recently as October 2021 for high-altitude testing of a seat's sequencer at RAF Lossiemouth in Scotland.
Elsewhere at Chalgrove the equipment ranges from a 70ft (21m) "ejection" tower to sewing machines used to produce flight suits for crash test dummies. The recently refurbished and extended testing building features workbenches laden with instrumentation and sensor packages, wires, electronics and enclosures surrounded by battered crash test dummies in various macabre states. 
There are hangars full of test equipment, including a modified flat-bed truck capable of reaching 100mph (160km/h) in 10 seconds, used for low-speed testing. There are massive fixtures and jigs alongside cockpits from fighter jets, from the skeletal remains of an F-16 to a mock-up to the latest Korean fighter, the KF-21 Boromae.
Meanwhile the track at Langford Lodge is used for high-speed testing. The track is 6,000ft (1829m) long and straight within a tolerance of 0.010in (0.254mm) over 125ft (38.1 metres). The accuracy is essential to minimise horizontal and vertical vehicle loads when travelling at high speed.
Zero-Zero
The seat test department has 22 people with 259 combined years of experience. Technicians prepare seats for test, perform machining, build rigs and fixtures, and work with instrumentation, sensors and data acquisition equipment. Test engineers handle the planning and report writing while technical photographers use high-speed cameras to capture visual data – as many as 20 cameras can be used on a single test.
A single seat test takes between 200 and 1200 hours of work overall, while the actual test may only take a matter of seconds. A test program for a seat normally consists of 71 tests and seats are usually scrapped
after each test. Seats are certified to MIL-STD 108DE for each different aircraft they are used in and undergo at least 22 test ejections to cover the entire speed range for an aircraft.
A seat's performance during flight is proven via tests conducted in the air, on sleds and in machines such as the ejection tower. But held in highest esteem by Martin-Baker's engineers is the zero-zero ejection – an escape from an aircraft that is stationary – at zero speed and zero altitude. 
Joanne Staton, seat test manager at Martin-Baker says, "Zero-zero is an important and impressive configuration to achieve, with several test points that are hard to meet because there is no wind pushing or inflating the parachute. The tests are performed in the center of the airfield using our instrumented test range which has surveyed positions and trajectory lights in four locations, and then two trajectory cameras further out. 
"When we do the test, we see where the wind is coming from and point the fuselage into it. We test in all the possible orientations using actual fuselages or test rigs for all our development and qualification programs."