Words by David Hughes
Beyond visual line of sight testing corridors such as New York State's provide a template for future autonomous drone operations.
The FAA-designated New York UAS Test Site obtained approval to conduct flights beyond visual sight of their operator for 35 miles of its 50-mile drone corridor at the end of last year.
The corridor, which runs from Rome to Syracuse in New York State, USA is surveilled by an array of
ground-based sensors and was created with a US$30 million investment. It is the region's main drone testing capability and has several features that differentiate it from others found in the USA.
"Every FAA test site has its sweet spot and ours is a 35 mile, hopefully soon to be 50 mile corridor approved for beyond visual line of sight operations [BVLOS]," said Tony Basile, chief operations officer for NUAIR (Northeast UAS Airspace Integration Research Alliance). "This is a big step forward."
NUAIR manages operations of the FAA-designated New York UAS (unmanned aerial systems) Test Site owned by Oneida County at Griffiss International Airport, Rome, New York. The corridor is surveilled by multiple installations of two different types of radar and by wide-area multilateration (WAM).
The NUAIR command center at the airport routinely communicates with the air traffic control tower to assure safety of manned and unmanned aircraft operations when test flights are conducted. NUAIR's main office is in Syracuse, across the street from The Tech Garden, a New York-state backed business incubator and the home of the Genius NY program for internet of things, robotics, big data and UAS startups.
Startup center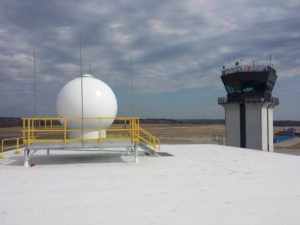 New York State is attracting a few drone and other tech startup companies from the USA and abroad with funding of US$500,000 or more if they move work to Syracuse. Over the past five years, New York has awarded four $500,000 and one $1 million prize each year to help companies develop their businesses. The selected companies have raised an additional US$73 million in follow-on funding and created 60 jobs in the state. This year's winners included startups from the USA, Germany, Poland and Switzerland.
"The investments made through the Genius NY program, coupled with resources and support programs, will accelerate the growth of these high-potential UAS companies and the UAS sector in our region," said Rob Simpson, the president of CenterState CEO, an independent economic development strategy and business leadership organization.
There are other reasons why those who want to test fly drones use the site in central New York. There are many companies involved in UAS in Northeastern USA, mostly with government partnerships, including with the Department of Defense. Another is that New York has four seasons, and a lot of customers want to do test flights during the winter.
Griffiss Airport is a former Strategic Air Command B-52 base and its inclusion in the corridor makes it advantageous for drone testing in and around an airport's airspace. The corridor also offers the opportunity to flight test drones over rural, suburban and urban areas. Most is done over rural areas, but at times drones cross-roads and bridges. There have been some flight tests in downtown Rome, a town with more than 30,000 people. But NUAIR is not currently conducting any operations over people or houses and plans carefully to avoid them.
Facilities and equipment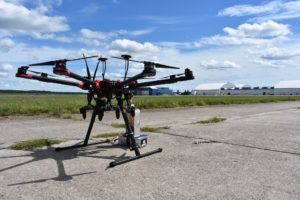 Since 2014, NUAIR has conducted more than 3,800 UAS test flights, accumulating 950 flight hours within the 50-mile corridor. The ground-based surveillance systems detect intruder aircraft flying at or below 5,000ft to keep operations safe.
Basile was once the commander of the New York Air National Guard's 174th Attack Wing which operates the Reaper MQ-9 remotely piloted aircraft from Syracuse Hancock International Airport at the opposite end of the UAS corridor.
The Reaper can carry Hellfire missiles or joint direct attack munitions. Basile still finds the scene at Syracuse unusual when he flies commercially and looks out of the airline passenger lounge to see a Reaper takeoff followed by a regional jet.
NUAIR makes use of two SRC-made LSTAR (Lightweight Search and Track Acquisition Radar) systems to monitor UAS flights, one of which it owns, and it may add a third. According to mobile ground radar manufacturer SRC, its software extends LSTAR coverage using air surveillance specific waveforms. This enables it to track traditional civil and military aircraft, both fixed and rotary wing, as well as small radar
cross-section targets including UAS from Group 1 to 5 plus, as well as micro UAS. The radar was originally developed as a counter fire system to detect incoming mortar fire to protect American troops.
There are also nine SRC Gryphon R1400 radars scattered around the footprint under the 50 mile corridor. These 80 lbs (36kg) units are 3D active electronically scanned array (AESA) air surveillance radars designed specifically for the detection of small UAS out to 9 miles (15km).
In addition, there are six SAAB Sensis WAM sensors that use time difference of arrival radio calculations to pinpoint the location of drones and aircraft transmitting with either ADS-B or transponders. The FAA won't allow drones to transmit on ADS-B in routine operations to avoid overwhelming its receivers, but the system is used for drone test flights at the New York site in cooperation with local FAA run ATC facilities.
The NUAIR operations center at Griffiss also employs two retired US Air Force colonels, who ran operations at the NORAD Eastern Air Defense Sector before retiring. Today they help coordinate with ATC. NUAIR seldom operates more than three BVLOS drones at a time.
The extensive radar and multilateration is used to monitor the corridor airspace at 400ft and below probably as well as at any test area for drones. This coverage is monitored from the control center at Griffiss International Airport.
Large amounts of airspace under 400ft can't be covered like this across broad areas of the USA, but NUAIR's management believes corridors where drones operate hold a lot of promise for routine BVLOS commercial operations. The FAA is still working on rules and regulations that would govern BVLOS routine operations which are now conducted only on a waiver or exception basis.
Communications testing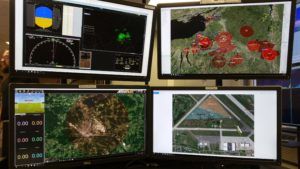 The initial BVLOS authority for the NUAIR corridor was granted in 2019 on an eight by four mile area at or below 400ft from Griffiss International Airport to the New York State Preparedness Training Center located at the former Oneida County Airport. The center provides basic and advanced UAS training for public safety officials. The site has a prepared earthquake scene, train derailment, city scape and outdoor rapid water rescue and flood training site.
"Public safety officials now understand that drones are just another tool they can use to get jobs done," said NUAIR CEO Ken Stewart. "There is a learning curve that everyone has to get over because most people are generally afraid when technology changes."
In late 2021, the FAA extended BVLOS-operational zone from a 25 mile segment of the corridor to a 35 mile zone to cover airspace over the 80 square mile Oneida Lake and the Erie Canal, which runs from the Hudson River to Lake Erie and is used by commercial barge traffic. Drone flights over the lake are monitoring for harmful algae blooms and inspection of the lake's navigational buoys.
NUAIR is also working with the New York Power Authority to see if drones flying BVLOS missions over the Erie Canal can make infrastructure inspections more efficient. Stewart joined the non-profit a year ago to lead its next phase of growth and efforts to commercialize the 50 mile drone corridor. He was previously CEO of AiRXOS at GE Aviation where he worked on UAS traffic management (UTM) technology.
At NUAIR he is setting the organization's sights on increasing R&D on UAS communications. He sees establishing effective communications infrastructure as one of the most difficult barriers to UAS achieving commercial operational status. Developing the necessary communications capabilities will require extensive flight testing.
Late last year, NUAIR added Aveopt to its alliance, to use the company's Communication Infrastructure Mesh (CIM) system in the corridor. CIM integrates cross-communications between multiple modes including cell, satellite and remote sensors for redundancy to support UAS operations. The Aveopt system monitors local communications signals to determine which has the best signal strength and reliability and then selects this one as its primary source. CIM will be tested with existing 4G and 5G networks in the corridor.
UAS operations will create an endless stream of data that not everyone is anticipating. Stewart draws comparisons with when the FCC approved cell phone use and greatly underestimated the amount of data smart phones would use. The real numbers for smart phones turned out to be "exponentially higher" than expected and the data required as drones communicate with infrastructure while downloading radar and Lidar data will also be off the charts.
"The amount of data to be communicated will be tremendous," says Stewart.
NUAIR is setting up a 5G network at its Griffiss Airport operations center for both drone command and control and the transmission of data during flight. The 5G network is part of MITRE's Open Generation 5G consortium. Nokia is providing the core and radios while Verizon is providing access to the network.
The private test network will assess if part of the 5G bandwidth can be used with drones. Stewart, who has a background in telecommunications and UAS traffic management believes this is a promising avenue to explore. He notes that no part of the RF spectrum has been assigned for drone use in commercial operations but that it will be possible to provide spectrum for UAS use on demand as operations startup.Software defined radio and AI will play a role in this, he adds.
"We don't know where the first commercial drone operations are going to pop up and demand spectrum," he says. "We believe that networks will develop where commercial UAS drone activity begins to scale up and networks will develop from there."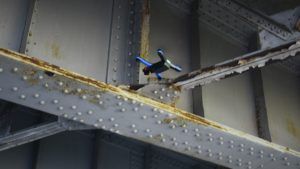 Stewart believes that drone corridors with cargo deliveries from one distribution center to another will probably lead the way in the beginning of commercial operations. NUAIR not only includes Griffiss Airport in its test area, but it also conducts some testing near the Syracuse Airport which already hosts DHL, UPS and FedEx operations. Amazon also recently opened a five-story, 3.8 million square foot distribution center on the outskirts of Syracuse which is one of the largest buildings of its type in the world. Amazon will employ 1,500 people at the center. Syracuse is becoming a distribution hub, creating opportunities for deliveries from one logistics site to another.
Last year, NUAIR also launched a program that is using drones to inspect highway bridges, pavement and to do mapping and surveying for the New York State Thruway Authority.
"Drones can provide views of hard-to-reach locations quickly and safely," said Thruway authority executive director Matthew J. Driscoll. If the trial is successful, the authority plans to use drones to inspect the 570 mile (920km) superhighway system. Drones will reduce the costs and time required for inspections that are currently done with visual examinations to determine the condition of a structure. Currently this requires a lot of equipment including ladders, scaffolding, man-lifts and under-bridge inspection vehicles. Drones will also reduce lane closures.